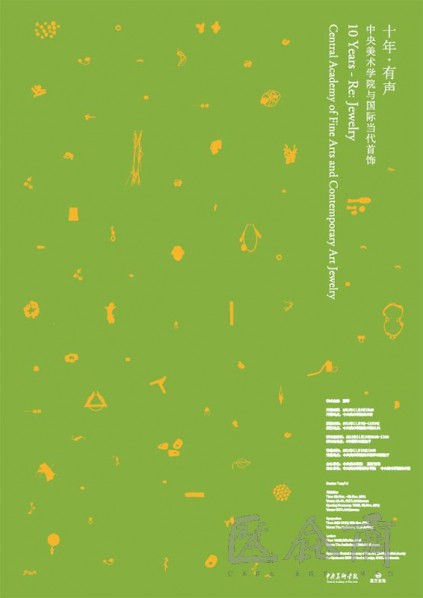 Jewelry has long been believed to have the potential to exchange or convey information. It is the carrier of time and culture, through which one can capture the characteristics of an epoch, featuring "apperceive great things through petty ones".
Contemporary jewelry focuses on research and the exploration of its intrinsic value, thus it has already got rid of the significant symbols denoting wealth, luxury, durability and privilege. Instead, it concentrates on the studies related to its material, form, value, color, body and so on.
In such an uncertain era, humans need more humane care and spiritual solace. Contemporary jewelry does not just work as an ornament but more like an enjoyment or nourishment on the spiritual level, elevating the quality of human life once again. Contemporary jewelry is no longer the "substance" but the spiritual carrier.
As the best-known academy of fine arts in China, the Central Academy of Fine Arts has gathered masters and the talented since its foundation. Masters of great learning and integrity with no equal have personally been devoted to the cultivation of numerous outstanding artists. It becomes a fine tradition passed from generation to generation. Ten years ago, the specialized subject of jewelry started from a tiny topic bred to grow up in the School of Design, CAFA. For the past decade, the professional teaching of Jewelry Art and Design has always advocated its notion that jewelry is a spiritual carrier, the bridge and media of interpersonal communications. Jewelry teaching at CAFA emphasized the exploration of design originality in the relationship between jewelry and people, concerning the interdisciplinary integration and penetration, interaction among various regions and cultures while pushing forward its constant enrichment and accumulation.
2012 is the tenth anniversary of the establishment of the specialty in Jewelry at CAFA. Titled "10 Years—Re: Jewelry", this exhibition of contemporary jewelry intends to summarize its development and introduce jewelry art and design in Europe and the United States to our fellow countryman in a more systematic way.
The exhibition includes the exhibits of Achievement of Jewelry Teaching at the School of Design, CAFA and International Jewelry Art Works. Taking "Contemporary Jewelry Art and Education" as its theme, it will hold seminars, thematic jewelry lectures as well as top academic dialogues and exchanges. The exhibition and seminars are conducted to provide an international platform for communication on most prospective issues concerning contemporary jewelry on the occasion of the retrospective exhibition on ten years of the teaching of Jewelry at CAFA. While summing up the experience of jewelry teaching in China, it strains its ears to original voices from all over the world and makes every endeavor to accumulate the cognition of "silently lubricant" Jewelry Specialty in the next decade, as well as efforts for the development of Chinese jewelry education and Chinese Jewelry Art and Design.
Teaching Achievement Exhibition
Outstanding works by excellent graduates in the past decade, Preeminent Teaching Curriculum, Featured Introduction of Teaching Programme, works are presented through the combination of the subjects and a literary documentary. Participants include over 40 outstanding young jewelry artists and designers at home and abroad from undergraduates, postgraduates, international students and visiting scholars from Jewelry Department of Design School, CAFA.
Art Exhibition of Internationally Contemporary Jewelry
24 internationally renowned jewelry artists are invited to exhibit their works and they come from Germany, France, the Netherlands, the United Kingdom, Switzerland, Denmark, Italy, Spain, Austria, the United States, Australia, Canada, Japan, Israel, etc.
Seminar
Well-known jewelry designers from China and foreign countries, traditional crafts masters, senior cultural scholars, educators, collectors and critics will be invited to attend them.
Catalogue
"10 Years – Re: Jewelry" Contemporary Jewelry Exhibition together with seminars on "Contemporary Jewelry and Education" will be published, trying to present a professional high-quality literature with broadly academic visions.
The exhibition will be held from November 9 through to December 9, 2012 at the Art Museum of CAFA providing the best experience of aesthetics for the audience.
Title: 10 Years – Re: Jewelry
Central Academy of Fine Arts and Contemporary Art Jewelry
Date: November 9-December 9
Opening: 3:00pm November 9
Seminar: 9:00-17:00, November 10 at Lecture Hall of Building No.5, CAFA
Lecture: 19:00, November 10 at Auditorium of CAFA Art Museum
Venue: 2A, 3A at CAFA Art Museum
Sponsor: Central Academy of Fine Arts, Beijing Cai Shikou Department Store Co., Ltd.
Organizer: School of Design, CAFA, CAFA Art Museum
Academic Director: Teng Fei
Courtesy of the artists, CAFA Art Info and CAFA Art Museum, for further information please visit www.cafamuseum.org.
Related posts: