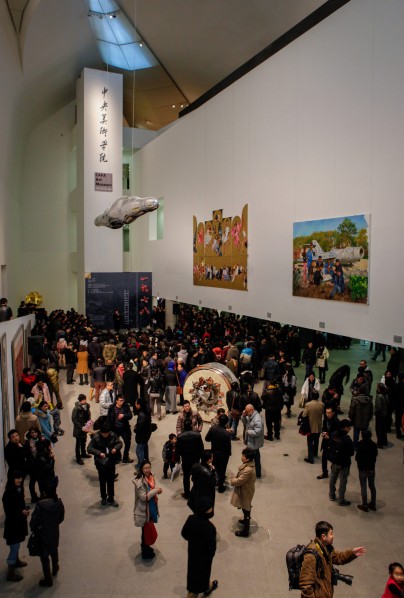 1978 served as a link between past and future, announcing the end of the "Cultural Revolution", while the artistic "way" also began to emerge in more rich and diverse forms. After the time of interruption , CAFA began to reopen for the enrolment of college students.
The exhibition aims at a collective showcase of the works by the students admitted to the Department of Oil Painting, CAFA in 1978, allowing spectators to not only see the artistic persistence, exploration and breakthrough for every individual artist; but also macroscopically reflect the ideas of oil painting teaching of CAFA and the colorful presentations of the "way" of Chinese oil painting art in the last 35 years. It produced an intersection and collision during the period, which certainly caused a variety of thinking about ancient oil painting.
All the students that were admitted to the Department of Oil Painting, CAFA in 1978 are exhibited at the exhibition, including Cao Li, Cao Liwei, Chao Ge, Ji Yunfei, Gao Tianhua, Li Baoying, Liu Changshun, Liu Yi, Ma Lu, Shi Benming, Wang Xin, Wang Yidong, Xia Xiaowan, Yang Feiyun, Xie Dongming (invited).
After experiencing a variety of changes in the social environment and ideology, this group maintains their pursuit, changing their individual expressive ways, while continuing their obsession with oil painting 35 years ago.
The exhibition structure consists of two parts that are works of 15 artists and historical literature. The exhibition hall wholly showcases the group, while it is invisibly separated by artists' individual quotations.
It applies this quiet statement as the language for display: easel paintings are hung on the exhibition walls; installations are harmoniously placed in the space; literature disperses the taste of years; discourses by old teachers and artists are interspersed with a warm exchange with the audiences.
About the exhibition
Duration: December 22, 2013 to January 5, 2014
Venue: Gallery B of 2nd floor, CAFA Art Museum
Opening Reception: 16:00 pm on December 21, 2013
Text: Li Wei, Photo by Dong Huiping/CAFA ART Museum, translated by Chen Peihua and edited by Sue/CAFA ART INFO.
Related posts: