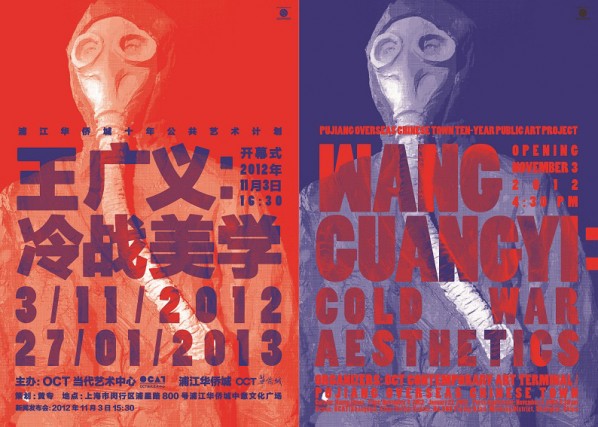 "Public Overseas Chinese Town Ten-year Public Art Project" was initiated in Shanghai in 2007 which has caused a tremendous reaction from both home and abroad, the professional press media have covered it with continuous and multifaceted reports. "Symptom", an exhibition of the large-scale theater work of Wang Jianwei has been selected as one of the nominated works of "The Original Chart of Annual Homage to Culture (Art Category) organized by the newspaper "South Weekends", which is one of the most influential annual cultural activities in China. "Public Overseas Chinese Town Public Art Project" has gradually become a culture brand of Shanghai, even across China. The program "Vanished Boundaries: A dialogue between Edwin Zwakman and Liu Jianhua" was in collaboration with the Dutch Government in 2011 and has become an internationally recognized public art project of an international standard.
The 2012 Public Overseas Chinese Town Public Art Project in Shanghai is composed of a large-scale solo show by Wang Guangyi and the sixth location of the installation " Deviate from 17°5″ by renowned artist Sui Jianguo.
Wang Guangyi is a world-recognized benchmark artist who has represented Chinese contemporary art since the 1990s and he has always been a leader of Chinese contemporary art. His latest large-scale group sculpture "Cold War" expresses his rethinking of the world politics and culture patterns after the cold war, which has attracted worldwide attention since its advent in 2008. It has been exhibited as a part of the large-scale retrospective exhibition "Visual Politics: Another Wang Guangyi", soon after, displayed in the name of "Cold War Aesthetic" in the famous British art institution, Louise Blouin Institute. Louise Blouin, director of the institute said, "In the opinion of our institute, in the era of globalization, no super-country, ideas of trust, sharing and respecting cultural differences can be valued, they are very important for the challenge of globalization. The works of Wang Guangyi not only remind us of the dangerous situation of the Cold War we have experienced, but they also warn us of the threats in the future, among which the Cold War mentality should have more attention. On the consistent attitudes of western media to China and now to Russia, we can feel the Cold War mentality. We should be patient to promote changes gradually and avoid transmitting our risks and new conflicts to the next generation."
"Cold War Aesthetics", as the theme exhibition of the Public Art Program of the Pujiang Overseas Chinese Town, Shanghai surely will further improve the standard and popularity of the program.
OCT Contemporary Art Terminal (OCAT) is a division of the He Xiangning Art Museum. Officially established on January 28, 2005, OCAT is China's only non-profit contemporary art organization connected to a national art museum, Public Overseas Chinese Town is its extension in Shanghai.
Organizer: Pu Jiang Overseas Chinese Town of Shang Hai, OCT Contemporary Art Center
Curator: Huang Zhuan
Dates: November 3th, 2012—January 27th, 2013
Related posts: