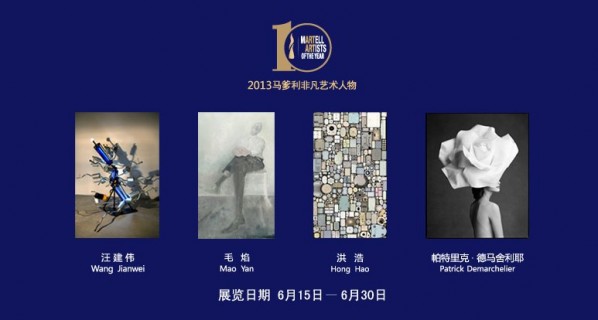 Martell will announce 2013 "Martell Artist of the Year" award-winning artists at the awarding ceremony which will be held on 15th June 2013 at Today Art Museum in Beijing. The group exhibition of the wining artists will then be exhibited from June 16th through to 30th at Today Art Museum so that art lovers can feel at close quarters the ever-lasting charm of the masterpieces by extraordinary artistic figures. For nearly three centuries, Martell has been setting benchmarks in the industry through the creation of world-renowned blends. In the meantime, as a major driving force of Chinese contemporary art, Martell has always been upholding the belief of unique understanding and unremitting exploration of art. Martell Artists of the Year has been successfully held in China since 2004, and recognized 38 prominent artists at home and abroad have been awarded in photography, painting, sculpture, and installation fields. As this year marks the tenth anniversary of the award, Martell will continue to supporting talented artists and showcasing masterpieces of art to a broader audience for discernment.
Artists: Hong Hao, Mao Yan, Wang Jianwei, Patrick Demarchelier
About the exhibition
Duration: Jun 16 – 30, 2013
Venue: 2nd, 3rd floor exhibition hall of building 1, Today Art Museum
Opening: Jun 15, 2013 Sat 7:00pm
Opening Hours: 10:00-18:00, Closed on Tuesday
Tel: 010-58760600
Add: Pingod community, No.32 Baiziwan Road, Chaoyang District, Beijing
Courtesy of the artists and Today Art Museum, for further information please visit www.todayartmuseum.com.
Related posts: