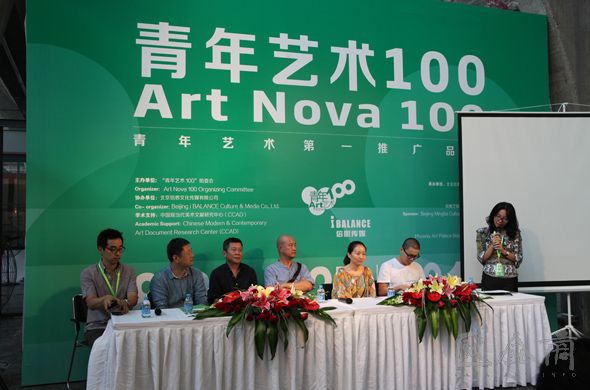 The 2014 "Art Nova 100" preparatory work is in full swing and is proceeding in an orderly fashion. For this initial Beijing exhibition, they have been working hard and sparing no effort to bring a summertime art feast for young people in the capital. The organizing committee is now pleased to announce the schedule for the 2014 Art Nova 100 initial exhibition, which is as follows:
I. All themed exhibition works have been selected
At present, the works of about 100 artists will be present in the 2014 "Art Nova 100" main exhibition and the vast majority of participating works have been sent to the "Art Nova 100" warehouse. Preparatory work has basically all been completed. In total, more than 380 artworks are due to be showcased.
II. Plans for "Extraordinary" ten micro exhibitions are confirmed
This year, Art Nova 100 is receiving special support from Levy International Group. With this support, a new project, known as the "Extraordinary" ten micro exhibitions, will be launched, overseen by ten artists selected from previous Art Nova 100 exhibitions. Following several meetings, the plan for ten micro exhibitions has been adjusted and refined. These artists are now putting the finishing touches on their exhibition schemes, and will soon present their ten distinctive "art boxes" to the public.
III. Invitational exhibition for ten South Korean contemporary young artists is ready
The ten South Korean young artists participating in this Art Nova 100 invitational exhibition have all been selected. In the Shengzhi Space of 798 Art District, related lectures will be held for the Korean and Italian special foreign exhibitiors. In these lectures, we will initiate and explore dialogues between Chinese and South Korean curators. Wang Chunchen, director of the China Central Academy of Fine Arts's Academic Department and Cui Zhengzhou, Director of South Korea OCI Art Museum Planning Department, will be invited to the lectures to introduce (respectively) the current situation in Chinese and South Korean youth art creation.
IV. Italy's "Laguna Art Award" 10-person image exhibition debut
This year, Art Nova 100 will cooperate with Italy's Laguna Art Award, launching a special exhibition for 10 image artists who have received this prestigious prize. The ten artists recommended by Italy's Laguna Art Awards hail from a wide range of countries across the Asian, European and African continents. Several European artists will be making a special trip to Beijing for the purpose of participating In Art Nova 100, adding international enrichment to this year's seminar on video art.
V. "Lalique Youth Art Prize" will be selected
This year, Art Nova 100, in cooperation with the international top art crystal brand LALIQUE, will launch the Lalique Youth Art Prize. The invited judges for this award will select the Lalique Youth Art Prize winners from previous award-winning Art Nova 100 artists, and will announce the outcome at the start of the exhibition. Recipients will be given the opportunity to travel to France. The judges for this year's Lalique Youth Art Prize include professor Zhao Li from Central Academy of Fine Arts, renowned artist Mr. Liu Ye, LALIQUE French managing director Mr. Roger von der Weid, Lalique Asia Co. general manager Ms. Xiao Mengshan, and "Art Nova 100" executive director Peng Wei. It is, indeed, a venerable line-up warranting great anticipation.
VI. 2014 Art Nova 100 album is under production
The layout and design of the 2014 "Art Nova 100" album is progressing in good order. This will be an annual documentary of material for young artists, covering a very wide range of styles. It will include a works catalogue of hundreds of young artists from the Chinese mainland, Hong Kong and Macao, ten South Korean young artists, and ten young artists recommended by Italy's Laguna Art Awards.
VII. "Extraordinary" collection painting album will be published concurrently
A hardcover painting album featuring the ten artists of the "Extraordinary" project, focusing on an introduction to their works and methods, will also be published together with the 2014 annual Art Nova 100 album. After the exhibition, the organizing committee will also combine material from the various exhibition sites and publish one painting album for each artist. In total, a series of 10 albums will be published to showcase the work of young artists.
VIII. Art Nova 100 VIP cards will be launched in a limited quantity
To better serve collectors with particular concern and care for young artists, the 2014 Art Nova 100 will launch VIP cards in a limited quantity. Meanwhile, the Art Nova 100 official web chat will launch its "art speed 24 hours" column before the exhibition. There will be ten periods of programs, with ten works by ten artists to be previewed in each period, bringing hot topics to the fore and stimulating debate and discussion before the exhibition begins. The Art Nova 100 VIP special line (wechat: artnova100_vip) will be online during the same period. Please stay tuned.
IX. More than 10 activities to be on stage, impacting your thinking and perception
Art Nova 100 has been committed to popularizing education about China contemporary art and exploring cross-border cooperation. During the exhibition, there will be more than ten educational activities on the subject, with lectures and salons being held in both the Agricultural Exhibition Hall and 798 Shengzhi Space. Well-known domestic and foreign curators, critics, artists, and market experts will be invited to analyze developing trends in Chinese contemporary art from different angles, and to discuss China's growth environment for young artists in the future.
X. Youth Art 100 is ready and just waiting for you to come!
Art Nova 100 belongs to young people, and to every person who has a passion and dreams about art. The 2014 Art Nova 100 is now fully ready to receive art lovers of all persuasions. On August 15th, save the date for Art Nova 100. Be there or be square!
About the exhibition
August 15, 2014
17:00 — 18:00 Media Preview Show
18:00 — 22:00 VIP Night
August 16-18, 2014 10:00 — 17:00 (the whole day) open to the public
Venue:
No. 1 Hall of Beijing National Agricultural Exhibition Hall (an area of 3000 square meters, presenting works of all participating artists)
Shengzhi Space (located in the 798 Art District, an area of 1200 square meters, presenting Laguna Art Prize winning South Korean and Italian works)
Courtesy of Art Nova 100, for further information please visit www.artnova100.com.
Related posts: