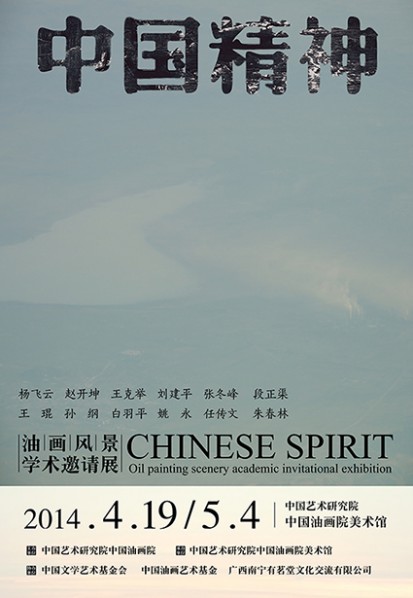 Sponsored by the Chinese Academy of Oil Painting Affiliated to the China National Academy of Arts, "2014 Chinese Spirit – Oil Painting Scenery Academic Invitational Exhibition" is about to open at the Art Museum of the Chinese Academy of Oil Painting at 3:00 pm on April 19, 2014. The exhibition has invited 12 contemporary Chinese oil painters: Yang Feiyun, Zhao Kaikun, Wang Keju, Liu Jianping, Zhang Dongfeng, Duan Zhengqu, Wang Kun, Sun Gang, Bai Yuping, Yao Yong, Ren Chuanwen, and Zhu Chunlin. It will showcase more than 100 scenic oil paintings, and publish a catalogue of the same name.
Yang Feiyun: Oil Painting Scenery and Chinese Spirit
Chinese oil painting scenery has developed in between the elements of Chinese and western poles. Contemporary oil painting scenery contains not only Chinese poetic features, imagery, calligraphic features of brush and ink, but also a rational framework and structure including Western construction of color, and black and white, light and shadow, language of personality and frank expressive characteristics and also the vision of modern life.
If the thinking of Chinese painting is that itemphasises oil painting scenery too much, it will miss some characteristics and the expressive tension of oil painting, especially the expressive tension of light and color as well as realism. For example, if focusing on the personal symbol, whatever painting the southern landscape or the northern one, Chinese or foreign landscape, it is a kind of symbolic pattern; for example, focusing on the performance of the ethereal and artistic conception rather than the things that come from a touch or feeling; for example, modern landscape painting lacksthe big realm that focuses on the unity of human beings and nature in traditional Chinese landscape painting, but the majority are the fragments or small detailed landscapes limited within the visual scope.
It holds the "Chinese Spirit – Oil Painting Scenery Exhibition" in order to promote landscape oil painters to use the vision of contemporary people to explore a kind of contemporary oil painting scenery that comes from oil painting ontology, and inherits the spirit of ancient Chinese landscape and embodies Chinese aesthetic feelings and the national temperament.
During the "Chinese Spirit – Oil Painting Scenery Exhibition" of the year, the participating artists will invite some outstanding young landscape oil painters to participate in the discussion, for an academic exchange and interaction, and gradually promote the formation of a virtuous circlefor two generations of artists, hoping to introduce more talented young artists who love landscape painting to come together working hand in hand for further exploration of academic research in the field of Chinese oil painting scenery, through knowledge, improving ability, opening up a new way, striving to develop a diverse appearance of scenery oil painting in China.
Zhang Dongfeng: Self-confidence is a kind of maturity and puts forward the spirit of Chinese landscape painting as a symbol of self-confidence.
All the artists were born in the 1950s or 1960s, with a mature psychology and artistic practice, with their own individual art gene and painting experience. It includes Yang Feiyun, a leader of realistic oil painting, Zhao Kaikun, good at writing in his painting, Wang Keju, more lovingly uses pure color in the painting more than any other painter, Liu Jianping, has been trying to explore an art taste, an oil painting language as well as focusing on a depth in art, Zhang Dongfeng, naturally revealing the exquisite and euphemistic nature of the South, Wang Kun, whose paintings are full of appealing Chinese calligraphy, Duan Zhengqu, whose paintings reveal a persistence and confidence, Sun Gang, seemingly simple, but full of inner pursuit, Yao Yong, whose paintings have a strong relationship of construction, Bai Yuping, a poet of oil painting scenery from the northwest, Zhu Chunlin, an elegant and gentle man with an elegant and gentle heart in the paintings, Ren Chuanwen, whose paintings are stories, depict his unique way.
About the exhibition
Duration: April 19 – May 4, 2014
Venue: Art Museum of Chinese Academy of Oil Painting (No.1704, Gaobeidian Cultural Arts Street)
Courtesy of the artists and Art Museum of Chinese Academy of Oil Painting, translated by Chen Peihua and edited by Sue/CAFA ART INFO.
Related posts: