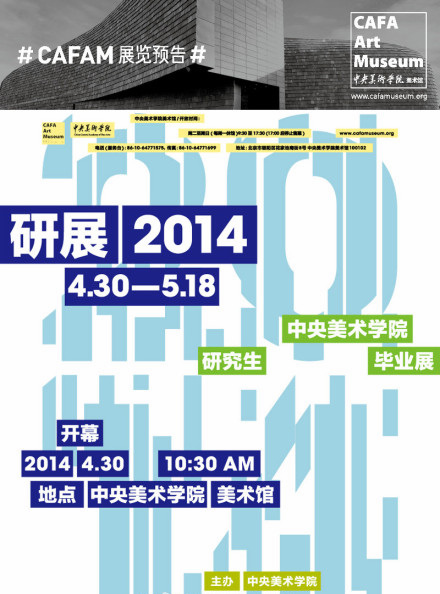 The Graduate Exhibition celebrates art research in all its aspects of graduate education at the Central Academy of Fine Arts (ab. CAFA), including plastic arts, Chinese traditional painting, calligraphy, humanities, architecture and design. The exhibition provides an opportunity for graduate students to share their creativity, and to appreciate the quality research developing at CAFA. Each year, graduate students throughout all departments of CAFA are invited to participate. With a special emphasis on communications of research and creative endeavor to a general audience, it also offers graduate students opportunities for professional development in the future.
About the exhibition
Dates: April 30 – May 18, 2014
Opening: April 30, 10:30AM
Sponsor: The Central Academy of Fine Arts
Organizers: Graduate Division of the Central Academy of Fine Arts, CAFA Art Museum
Courtesy of the artists and CAFA Art Museum, for further information please visit museum.cafa.com.cn.
Related posts: