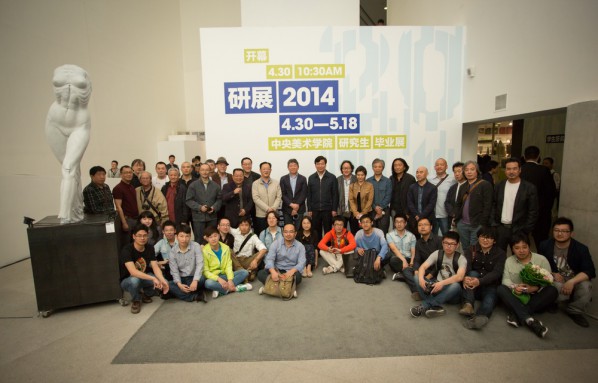 On April 30th, the third season of "The CAFA Graduate Exhibition" was unveiled at the CAFA Art Museum. It celebrates art research in all its aspects of graduate education at the Central Academy of Fine Arts (ab. CAFA), including traditional Chinese painting, oil painting, printmaking, sculpture, experimental art, design, architecture, film and television with over 400 works from 307 graduate students and doctoral students of CAFA.
The opening ceremony was presided over by Director Wang Huangsheng, Gao Hong, Secretary of the Party Committee, CAFA, Sun Hongpei, Deputy Secretary, Tan Ping and Xu Bing, Vice Presidents of CAFA, directors and staff members from various schools of CAFA attended the ceremony. Gao Hong, Tan Ping and Wang Huaxiang respectively addressed the audience to express their congratulations to the students while showing their respect to the tutors.
Gao Hong, Secretary of the Party Committee at CAFA indicated that the exhibition showcased important achievements of art education at CAFA. Tan Ping, Vice-president of CAFA introduced the preparations of the exhibition and briefly summarized the features of this exhibition. With the support of CAFA Art Museum, the exhibition contained more larger scale works than previous years while many graduates chose to represent their thinking in trans-boundary ways. Wang Huaxiang, on behalf of all the tutors, conveyed his expectations in his speech, "When you graduate, you will be like seeds falling on the ground, and you will certainly grow up to be the pillars of society,more promising than us.
The exhibition provides a platform for graduate students to share their creativity and achievements, a kind of innovation from the form to the content. It cannot only be taken as an extension of the educational activities of these graduates, but it also builds a creative platform of talented artists. Rather than a summary of their graduate study, it is the extension and inauguration of their art ideals. With a special emphasis on the communication of research and creative endeavourfor a general audience, it also offers graduate students opportunities for professional development in the future.
About the exhibition
Dates: April 30 – May 18, 2014
Opening: April 30, 10:30AM
Sponsor: The Central Academy of Fine Arts
Organizer: Graduate Division of the Central Academy of Fine Arts, CAFA Art Museum
Text: Ye Yuanfeng, Photo: Hu Zhiheng, edited by Sue/CAFA ART INFO.
Related posts: