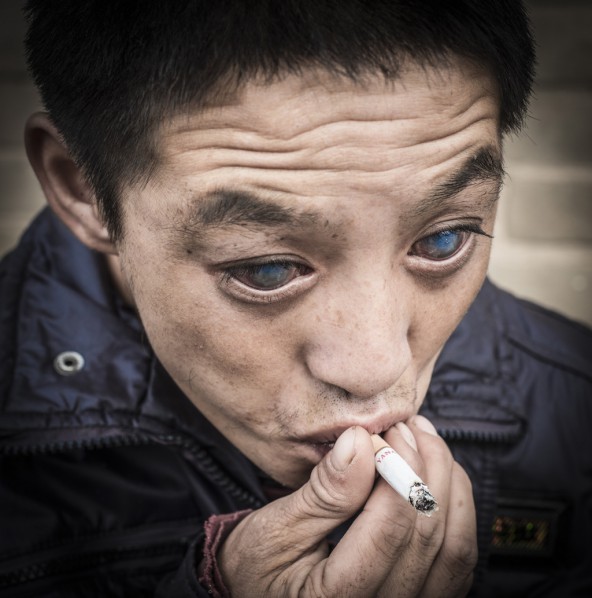 The ten finalists for the 2014 Sony World Photography Awards Student Focus competition are announced today by the World Photography Organisation. Student Focus is one of the largest international programmes for photography students. Involving 230 educational institutions worldwide, its aim is to support and inspire the future generation of photographers.
It provides a professional network of contacts and offers a variety of competitions, tutorials and opportunities to help talented emerging photographers to turn professional. Many of previous finalists of the Student Focus competition are now working regularly in the photography industry. Students worldwide were asked to submit a single image to the brief "Tomorrow's News". The response was wide-ranging and a jury of industry experts selected ten finalists.
The finalists are:
• Argentina – Nadia Navarro, Al Aire
• Bangladesh – Rahul Talukder, Pathshala South Asia Media Institute
• China – Li Dandan, Nanjing University of the Arts
• Denmark – Tor Birk Trads, Danish School of Media
• New Zealand – Chloe Riddell, University of Auckland
• Romania – Sebastian Vacariuc, Babes-Bolyai University
• South Africa – Russell Bruns, Rhodes University
• South Africa – Tara Mette, Stellenbosch Academy of Design & Photography
• United Kingdom – Scarlet Evans, Central St Martins
• USA – Jordan VanSise, Marylhurst University
All ten finalists have now been set a second brief and asked to submit a series of images under the title "Self-portraits". The work is to be shot using the latest full frame camera from Sony – the α7 – given to each finalist as part of their prize. The resulting images of all finalists will be shown as part of the 2014 Sony World Photography Awards exhibition at Somerset House, London from 1-18 May and published in the 2014 edition of the annual Sony World Photography Awards book. From this work, the Student Focus judges will choose one overall student winner who will be announced at the Sony World Photography Awards gala ceremony in London on 30 April.
All ten finalists, and their tutors, will be flown to London to attend the ceremony and to discover the recipient of the 2014 Student Focus Photographer of the Year title. This student will receive €35,000 worth of Sony photographic equipment for their university. For more information about the Student Focus programme go to http://www.worldphoto.org/student-focus/
The Student Focus finalist images are available to download at press.worldphoto.org/ If you require press membership please register at press.worldphoto.org/register
For further information please contact: Jill Cotton, Press Manager, World Photography Organisation, +44 (0) 20 7886 3146/ + 44 (0)7557 261 537 / jill@worldphoto.org
Notes to editors:
• The finalists were chosen by a panel of photography experts including: Rob Taggart, Director of Commercial Photo Operations, Europe, Middle East and Africa, Associated Press (AP); Moni Haworth, Photographer and Anne Bourgeois-Vignon, Creative Content Director of NOWNEWSS.com
• Interviews with Student Focus photographers and judges are available via the World Photography Organisation.
• Judges were required to select one finalist per continent (six in total) plus a further four student's work from anywhere in the world. Students who entered the competition were initially judged on a single image.
• About World Photography Organisation (WPO)
WPO supports professional, amateur and young photographers, lending a global platform for the photographic industry to communicate, converge and showcase current trends across all genres of photography.
Delivering various initiatives to this global community, these programmes involve the photographer in commercial, cultural and educational activities within the many industry sectors, whilst also creating events for the public to participate in.
Currently included within the WPO portfolio are: the Sony World Photography Awards; the World Photography Student Focus Competition and Youth on Assignment. In addition the WPO have recently launched Photo Shanghai, Asia-Pacific's premiere international Art Fair focused on photography and The Magazine, a monthly online publication where photography is explored, debated and discussed.
WPO also has a thriving online presence via its website, Twitter, Facebook and Instagram and engages its online audience via regular PhotoTALK discussions. For more information go to http://www.worldphoto.org.
• About Sony
Offering an integrated entertainment experience through its electronics, mobile, music, pictures, game, and networked entertainment business, Sony is uniquely positioned to be one of the world's leading consumer brands. Sony is renowned for its audio-visual products in both the consumer and professional markets, such as the 4K Ultra HD and Full HD LED BRAVIA™ TV, Cyber-shot™ digital camera, Handycam camcorder, "α" (pronounced Alpha) digital SLR camera, Sony Tablet, and Walkman MP3 player, as well as its VAIO personal computers and 3D HD professional broadcast equipment.
For more information on Sony Europe, please visit presscentre.sony.eu. For more information on Sony Corporation please visit www.sony.net. "Sony", "WALKMAN", "VAIO", "Cyber-shot", "Handycam", "α", "BRAVIA" and "XDCAM" are registered trademarks or trademarks of Sony Corporation. All other trademarks or registered trademarks are the property of their respective owners.
Related posts: