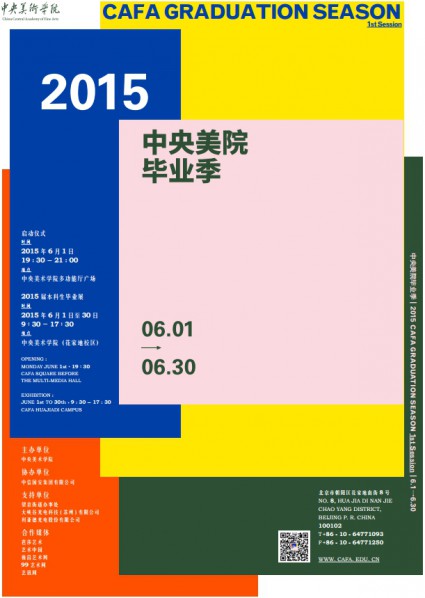 China Central Academy of Fine Arts (abbr. CAFA) is the top art academy in China, and gives birth to many artists who gain a domestic and world-wide reputation, such as Xu Bing, Tan Ping, Su Xinping, Liu Xiaodong, Fang Lijun, etc., at the same time it offers society a large number of outstanding artistic talent while the graduate exhibition is the most important summary after the years of the study and creations by each art student.
"2015 CAFA Graduate Exhibition for Postgraduate Students" which was held at CAFA Art Museum from April 30 to May 18, 2015, was concerned and highly praised by the art circles, attracted a massive number of visitors, and has had anunexpected effect, among which, some graduate works are collected by many art institutions and private collectors at home and abroad.
Following on from this, the "Graduate Season – 2015 CAFA Graduate Exhibition for Undergraduates" is about to be grandly inaugurated at CAFA from June 1 to June 30, covering CAFA Art Museum, Multi-functional Hall, Underground Exhibition Hall, Building 7, Exhibition Hall for Rotating Building, Library, Red Chair Lecture Hall, etc. It is also the first time for CAFA to showcase the graduate works by all the undergraduates at the same time. It will certainly to be an important cultural and artistic activity in Beijing in June.
About the Graduation Season
Opening: Monday June 1st, 19:30
Venue: CAFA Square before The Multi-media Hall
Duration: June 1st through to 30th, 9:30-17:30
Venue: CAFA Huajiadi Campus
Courtesy of CAFA, translated by Chen Peihua and edited by Sue/CAFA ART INFO
Related posts: