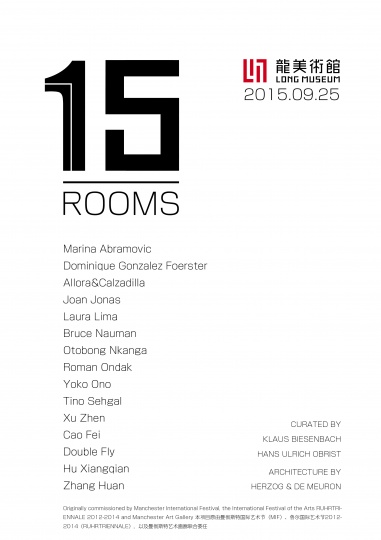 15 Rooms, is a major live-art exhibition curated by Klaus Biesenbach— Director of MoMA PS1 and Chief Curator at Large at The Museum of Modern Art—and Hans Ulrich Obrist—co-director of the Serpentine Gallery—the exhibition features performative works by artists spanning different generations and continents.
For the 2015 edition, one more work than the previous edition at Art Basel will be presented in the architectural environment conceived by Herzog & de Meuron.
For the 2015 edition, curators will invite 15 international and Chinese artists to activate a room each, exploring the relationship between space, time and physicality with an artwork which uses human beings as 'material'. Giving visitors an insight into a more performative and interactive practice, visitors encounter a new situation inside each of the 15 rooms, engaging in a diverse series of immersive and intimate experiences.
By bringing to Shanghai this singular project, the Long Museum West Bound reflects on the blurring of the line between audience and artwork, while embracing the belief that visual artists can just as well create their artworks by working with human beings as by deploying bronze, canvas, inkjet, oil paints, video or any other method of physical production.
As the curators declared, the concept for the show developed from the idea that live art can also be sculpture and have a duration similar to that of a physical object; that is, last from morning to night, throughout the opening hours of the museum. But when the last visitors leave, when the gallery closes its doors for the evening, the sculpture will all walk out as well.
15 Rooms also reflects on how performative art can create the possibility of an exhibition that might be restaged later, of something that can be reproduced endlessly. Art can travel over time not just through objects and not just through documentation. Paintings have always been a lasting, valued art form. Instructional art creates a valid possibility for art to travel and last. 15 Rooms is like this: from the basic text it can be restaged in different places all over the world and it can also take place again in 50 years' time, or when we will all be dead in 100 years time.
Slowness it is not only important for the curatorial process but also for the experience of the 15 Rooms exhibition. The experience of 15 Rooms creates the opposite of the acceleration that characterise the way in which visitors pass through exhibition: it is a deceleration. Movement is slowed down by the fact that you have to open the door—it's like entering into somebody house.
It is an intimate encounter.
Herzog & de Meuron's purpose built architecture plays a crucial role in shaping the exhibition, serving as the interstitial structure tying together a series of intimate experiences in the space of the Museum. The idea is not only focused on what happens in the exhibition, but also on what occurs around an exhibition. What interested the curators and the architects was the idea of opening up towards the outside, the creation of public spaces, and how it is possible to create such spaces.
First presented as 11 Rooms in July 2011 as part of Manchester International Festival, the exhibition was originally commissioned by Manchester International Festival, the International Arts Festival RUHRTRIENNALE 2012-2014 and Manchester Art Gallery. The project was then shown as '12 Rooms' at the International Arts Festival RUHRTRIENNALE 2012-2014, as '13 Rooms' by Kaldor Public Art Projects at Pier 2/3 in Sydney's Walsh Bay in April 2013, and as '14 Rooms' by Art Basel in June 2014. For each edition, the artists list partially changed.
About Curator
Hans Ulrich Obrist (b. 1968, Zurich, Switzerland) is Co-director of the Serpentine Galleries, London. Prior to this, he was the Curator of the Musée d'Art Moderne de la Ville, Paris. Since his first show "World Soup" (The Kitchen Show) in 1991 he has curated more than 250 shows.
Klaus Biesenbach is Director of MoMA PS1 and Chief Curator at Large at The Museum of Modern Art, New York, where he has curated groundbreaking retrospectives like Kraftwerk: Retrospective 1 2 3 4 5 6 7 8 (2012) and Marina Abramovic: The Artist is Present (2010) both at MoMA. Prior to this he co-founded the Kunst-Werke (KW) Institute for Contemporary Art in Berlin (1991) and the Berlin Biennale (1996).
About Architectural Designer
Herzog & de Meuron established in 1978, is now a partnership led by five senior partners – Jacques Herzog, Pierre de Meuron, Christine Binswanger, Ascan Mergenthaler and Stefan Marbach. Herzog & de Meuron designed a wide range of projects from the small scale of a private home to the large scale of urban design. While many of their projects are highly recognized public facilities, such as their stadiums and museums, they have also completed several distinguished private projects including apartment buildings, offices and factories. The practice has been awarded numerous prizes including The Pritzker Architecture Prize (USA) in 2001.
About the exhibition
Dates: Sep 25, 2015 — Nov 8, 2015
Organizer: Long Museum
Artists: ALLORA AND CALZADILLA , ALLORA AND CALZADILLA , OTOBONG NKANGA , BRUCE NAUMAN , CAO FEI , DOMINIQUE GONZALEZ-FOERSTER , HU XIANGQIAN , LAURA LIMA , ROMAN ONDÁK , MARINA ABRAMOVIĆ , JOAN JOANS , DOUBLE FLY ART CENTER , TINO SEHGAL , Yoko Ono , Xu Zhen , ZHANG HUAN
Courtesy of the artists and Long Museum, for further information please visit http://thelongmuseum.org/en.
Related posts: