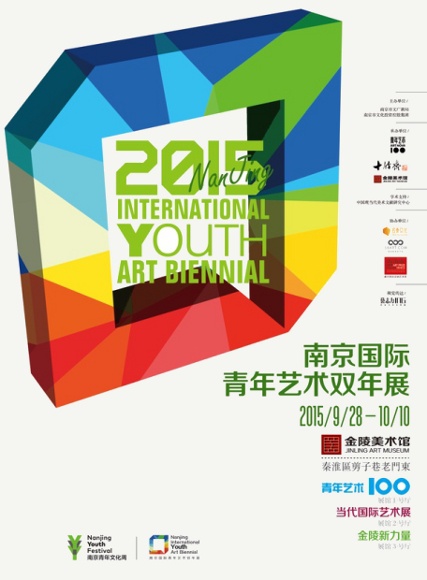 Nanjing with its clear and crisp autumn climate is welcoming an unprecedented cultural feast. As an important constituent part of the Nanjing Youth Festival event series the "Nanjing International Youth Art Biennale" was opened on Sept 28. Nanjing Youth Festival in the everlasting theme of "Dream of China, Dream of World, Dream of Youth", will hold a series of events. Member of Standing Committee of Jiangsu Province and Secretary of the Nanjing Municipal Committee, Huang Lixin spoke at the opening ceremony, "This will be a bridge for global youth to communicate with each other, and a pageant which will never ends." The exhibition will continue to October 10th for approximately two weeks at the Number 1, 2, 3 exhibition halls in the Jingling Art Museum.
The "Nanjing International Youth Art Biennale" is sponsored by the Nanjing Municipal Culture, Radio, News, and Publishing Bureau and the Nanjing Municipal Cultural Investment Holding Group, co-sponsored by the Art Nova 100, Nanjing Painting and Calligraphy Institute (the Jinling Art Museum), the Nanjing 10 Bamboo Book Study Art Courtyard, and co-organized by Mingtai Culture, Arte Laguna Prize, and 58 Art.com. This exhibit has been in intimate cooperation with the "Art Nova 100" project. "Art Nova 100" is devoted to promoting large scale yearly exhibit events for artists. Many artists become famous through this platform. The exhibition will be split up into three large sections: Modern International Art, Art Nova 100, and New Nanjing Power. It will incorporate youth artist resources from Asia and countries around the world. The hundreds of pieces of artwork include various art forms like traditional Chinese painting, oil painting, sculpture, woodblock prints, and photography. In order to make sure visitors did not feel too dreary during the exhibit the sponsor invited a professional team, which included senior curators, art institution managers, and market specialists, to the event to interact with youth artists and art enthusiasts.
Courtesy of Nanjing International Youth Art Biennale, for further information please visit www.njyouthfestival.org.
Related posts: