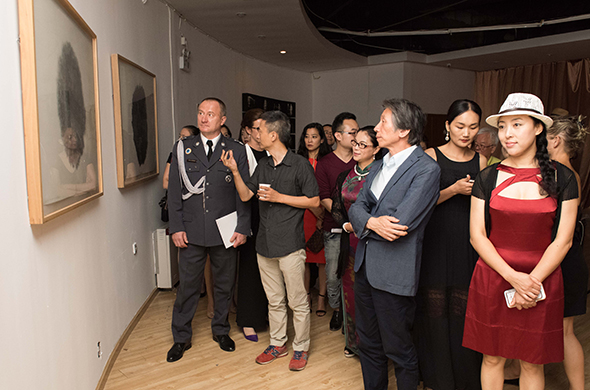 On August 30, 2016, art works from distinguished art scholars in Central Academy of Fine Arts and Eugeniusz Geppert Academy of Fine Arts in Wroclaw, "Current Dreams" China & Poland International Art Dialogue Exhibition was launched in Beijing. As one of the cultural exchange achievements of China with 'One Belt One Road' countries, this activity also lifted the curtains on '2016 Future Art Annul' thematic activities.
'Current Dreams' China & Poland International Art Dialogue Exhibition was planned by the vice director in Culture Department, with an academic committee led by Prof. Shao Dazhen, President of CAFA Fan Di'an, Song Xiewei, Director of the School of Design at the Central Academy of Fine Arts, Professor Peng Feng from Peking University and the founder of Starry Opera Village Fang Xing. And Reng Xiaofang was the secretary of the organizing committee and brand director. Renowned artist and curator Wu Qiuyan served as the chief curator and general director with youth curator Chen Yunbing served as the project coordinator. A strong academic team is provided to ensure the activities of authority, being academic and oriented.
The activities included eight exhibitions and one theme forum, and it will last for three months, held in Beijing Starry Art Block owned by Tian Yi Tong Ge Company. And those activities exhibit fine arts from China and eastern European countries, covering plays, art, architecture, image, technology, poems, food, music, etc. With diverse substance and novel style, the exhibitions conects traditions with modernity closely. What's more, it shows both internationality and grass-root propinquity.
It is reported that professor Zhang Baowei, Fei Ju from Central Academy of Fine Arts, Cao Lin, President of Chinese Stage Art Association, Chen Xiaobo, leading editor of Xinhua News Agency, Xu Zhengfu, director of Taiwan Guangxiang Museum, professor Piotr Kielan, Dean of Eugeniusz Geppert Academy of Fine Arts in Wroclaw, Dariusz Jaworski, president of Poland Book Society, Sławomir Klauzinski, Poland military attache of Poland Embassy together with his wife, Cai Mengling, culture counselor of Poland Embassy, Lu Youyou, president of Poland Chinese Culture Art Association as well as guests from Poland Book Association and Poland Travel Agency also attended this event.
As opening work, 'Current Dreams' China & Poland International Art Dialogue Exhibition bears the mission of communicating cultures. It features more than 100 works by Chinese artists – Fei Jun, Jin Jun, Miao Xiaochun, Song Xiewei, Yao Lu, Zhang Baowei and Polish artists – Agata Gertchen, Anna Janusz-Strzyz, Malgorzata ET BER Warlikowska, Przemyslaw Tyszkiewicz, Tomasz Broda, Jacek Szewczyk, Agata Szuba, Ewa Buchta are displayed. The curator put those works on a measurable time-base, making people look back to the infinite thought in the finite history and understand a few truth in dreamland so as to let them be aware of how free and perpetual the idea of quiescence and motion in art history. Consequently, the art works are transformed into a synesthesia experience.
The director of organizing committee, Fang Xing said, as the opening activity of '2016 Future Art Annul', China & Poland International Art Dialogue Exhibition is an important international communication program of 2016 European Culture Capital, which will promote the culture exchange and cooperation between China and Poland to better play an active role in cultural globalization for both countries.
As the core of Future Theater Art Block, Starry Art District hosts a series of theme activities while cooperating with surrounding to expand innovation. Museums of fine arts, theater, book club and coffee shop feature a modern atmosphere of future theater art during all kinds of exhibitions. It represents a new lifestyle with creativity. Various cultural ecologies are gathering here. Drama was turned into moving building space, images reflecting another rustic meal culture, poetry containing momentum for technology, etc. They are here to exchange, collide, build a cycling system, and finally generate changes. It emphasizes on 'the quality of life' which is also an evidence of diverse cultural latitude in art.
About Eugeniusz Geppert Academy of Fine Arts in Wroclaw:
Eugeniusz Geppert Academy of Fine Arts in Wroclaw was founded in 1946, one of the eight public art schools belonging to Ministry of Culture of Poland. It celebrates its 70th anniversary in 2016, coincided with the 2016 European Capital of Culture landing in Wroclaw.
It has 4 departments and 11 majors, including: Painting and Sculpture Department: Painting, Sculpture and Art, and Art Media; Image and Art Media Department: The Image and Multimedia Art; Interior Design and Design Department: Interior Design and Drama Stage Design; Pottery and Glass Department: Pottery Art and Design, Glass Art and Design, Pottery and Glass Professional Repair and Maintenance. Piotr Kielan has severed as Dean of Academy of fine arts since 2012.
Courtesy of Beijing Starry Art Block owned by Tian Yi Tong Ge Company, edited by Chen Peihua and Sue/CAFA ART INFO
Related posts: