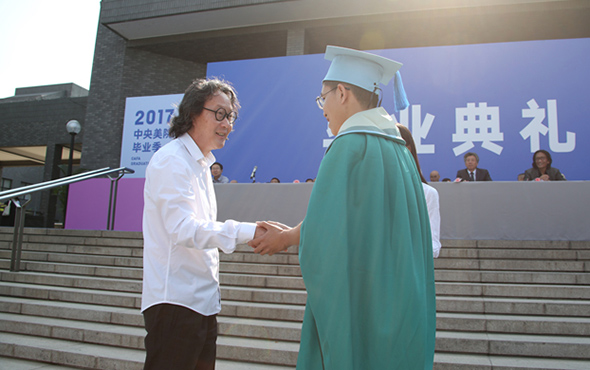 On June 20, the 2017 graduation ceremony was held, announcing the winners of the 2nd "First Step Award". Prof. Xu Bing, Director of the Academic Committee, gave the award certificate to the winner of the award Su Yongjian, a graduate from the School of Design, and Liu Hongbo, the representative of Qingdao First Step Group, presented the award certificates to the winners who won the "First Step Nominated Award".
Sponsored by Qingdao First Step Group Co., Ltd., "First Step Scholarship" was established in CAFA in 2016 and it is an academic scholarship that aims to commend and encourage the outstanding academic, pioneering and innovative talent in the fields of specialisms. In 2016, "First Step Scholarship" selected a total of 8 students' graduation works or theses to win the prize. Summing up the experience of the first selection of "First Step Scholarship", there have been some adjustments to the awards in the settings and reviewing systems. In terms of the awards setting, it first made the previous two quotas become one which aimed to select the students' works or theses which perfectly represent the most prominent academic ability and standard at graduation level; secondly, the quota allocation was given up, so that all undergraduate and graduate students were reviewed together. In terms of review, the academic committee set up the review committee and the nomination committee in 2017, nominated by "First Step Award Nomination Committee", followed by "First Step Award Review Committee" for a special nomination and review. "First Step Award Nomination Committee" of the year is composed of the head of each faculty and organization, nominating a total of 38 graduates' graduation works or theses.
Prof. Xu Bing said that it would always adhere to the use of academic vision and standards to judge the selection of this award, and "First Step Award" was able to represent the highest standard of graduates of CAFA. On the morning of June 15, an assessment meeting was held, 9 judges including Xu Bing, Su Xinping, Yin Ji'nan, Liu Xiaodong, Yin Shuangxi, Lv Pinjing, Song Xiewei, Jiang Jie and Liu Qinghe reviewed the nominated works or theses, and specially nominated several works in each specialty, the first prize of "First Step Award" and 6 "Fist Step Nominated Awards" of the year were finally selected by casting a written vote.
Text by Tang Yu, translated by Chen Peihua and edited by Sue/CAFA ART INFO
Photo by the Propaganda Department & the organizer
Related posts: