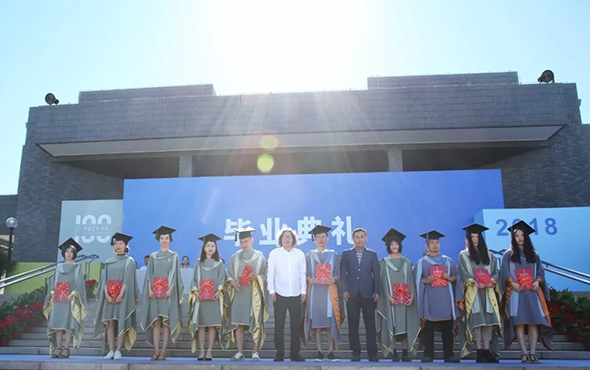 Funded by Qingdao First Step Trading Co. Ltd's 10 million RMB career development donation, the Central Academy of Fine Arts established the "First Step Award" scholarship in 2016 to bestow awards on graduates who are highly academic, pioneering and creative in the field of professional art. The prize involves "First Step Award" and "First Step Nominated Award," and the decision on award winners is made by the CAFA Academic Committee.
After rigorous selection, the 2018 "First Step Award" had no champion but ten graduates earned nomination, including Wu Yishan from the School of Chinese Painting, Ding Hongdan, Ni Xiang, Chen Yang, Wang Yunpeng, and Fu Qiang from the School of Plastic Arts, Chen Guannan from the School of Design, Deng Wei from the School of City Design, Liang Zhihao from the School of Architecture, and Liu Shuang from the School of Humanities.
Wu Yishan, undergraduate student from the School of Chinese Painting
Acceptance Speech:
It is my honor to be nominated and I would like to thank all my teachers for their recognition and support! Over the past four years, their teaching and guidance have broadened my horizon, honed my professional skills and helped me to find my faults. Also, thanks goes to my parents for their effort and understanding. Without their trust and encouragement, I would not have such immense confidence and motivation. I hope I can continue to explore the unknown and never let go of my original will!
Statement of the Prize-Winning Work:
I want to express and touch on the mystery of self-existence, origin and life. The first and second pictures from the left side are "Narration"—she slightly stretches out a hand, looking into the distance and asking questions; the other hand is presented like a gentleman's pose, making the inner bones and lungs a little visible from the contour, which is all about being wholehearted and innocent of worry. The third one from the left is "Contemplation"—she closes her eyes and has a deep breath, everything is gone, what she sees is a personal black galaxy; placing the two hands together and slightly opening her mouth so "realms are intrinsically objective and meaningless, they will remain constant only if one does not harbor any distracting thoughts." The fourth one from the left is "Life"—a skeleton opens his hands to greet life and light, to embrace rosiness and being somber, the absence of expression is the normal state, just like "not to be pleased or saddened by external things and personal gains." The fifth one is "Exploration"—our brain works secretly and incessantly yet we are unable to see it, and our heart is telling us something. The sixth one, lastly, is "Independence"—Cleopatra is admirable since she guarded and assured an entire dynasty with beauty and wisdom.
In the foreground of the left side stands the sacred bronze tree unearthed from the Sanxingdui archeological site. It is the symbol of Fusang and Ruomu, and the portrayal of Jianmu, representing the origin of life. The bones of the first person on the left side are transparent and chaste, lacking in secrecy or concealment, akin to the preliminary stage of human lives, which are characterized by the pure and simple heart. The second woman on the left and her shadow are hidden inside dark clothes. Her face looks solemn and she appears to have great concerns, which is analogous to my own daily live. Life is like a journey. We can smell the sweet sense of flowers, touch and feel the running stream, hear the wind that blows in the woods, and taste the raspberries and honey in the forest. "Narration, Contemplation, Life, Exploration, and Independence" are the core thoughts that I endeavor to present: telling of the self through actions, pondering over truth, perceiving life, exploring the unknown with my whole life…
Ding Hongdan, undergraduate student from the Oil Painting Department of the School of Plastic Arts
Acceptance Speech:
First, I want to say thank you to my teachers, friends, and family. Their approval has made me more determined than ever. I did not have any hesitation or doubt during the course of this creation. Whenever I encounter a problem I will tackle it. The entire process goes pretty well, and I paid a hundred percent attention to this creation. Before this project, I also tried other innovative manners of expression such as digital images, installations and etc. Perhaps these are more arresting than paintings on the shelf. But as for my personal experience, painting directly on canvas is a more realistic way than working on a computer because it assists me in figuring out what I truly want and what I desire to express. I want to say thank you to my roommate who accompanied me to Heiqiao and witnessed the beautiful ruins. If I was alone at that time, I might not dare to step into the blue fences and would definitely miss the colors from that day. Finally, I am grateful to be awarded and praised.
Statement of the Prize-Winning Work:
When artists are biting their nails with the removal of the Heiqiao Art District, they have no choice but to pack their belongings and move into low-cost, politically freer places. When urbanization crushes down on one art district after another, artists build more and more new districts in secluded places. So what kind of form will the next art village have? Will they always be "on the road?" Nevertheless, what decides the fate of art villages is not art itself.
Chen Guannan, undergraduate student from the School of Design
Acceptance Speech:
The last four years past so fast, it feels like yesterday that I received the admission letter from the Academy. It is my honor to be an alumna and do whatever I like in this place where dreams will take place every single day. I am grateful to have my graduation project chosen to exhibit at this important moment. Doing my best to finish this project is, in my eyes, the best gift to me and the Academy. The accomplishment of my work Oyster/The Birth of Venus cannot be discussed separately without mentioning the help and guidance of my three mentors: Teng Fei, Liu Xiao, and Wang Ziyuan. From the formulation of plans to the selection of materials, I am thankful for my teachers' earnest assistance. Over the four undergraduate years, I made a lot of like-minded friends that come from different fields. Because of their diverse background, they always offer me suggestions from various professional aspects. I am now about to graduate, whenever I encounter dilemmas and try my best to cope with them, I feel that my original dream is full of significance. I have a million thanks to say in this short time. I will definitely work harder in the future and hope that I can become the pride of the Academy.
Statement of the Prize-Winning Work:
I want to redefine the growth of a pearl through my work. Oyster/The Birth of Venus is about designing a production process. Its operational mode is that any commemorative things being put into it would become production models of pearls in different shapes. Originally, I started from the cultivation process of a pearl as an organic gemstone. After the emergence of cultured pearls, in order to mass produce this treasure and achieve the fast-food style production chains, people implant different types of pearl nucleus to quicken the secretion of nacre. With this development, pearls can reach maturity within three to four months and their color is controllable. I surveyed the pearl breeding base in Changde, Hunan province, participated in the pearl harvest, analyzed the entire cultivation process, modeled the condition of nacre when they are excreted and wrapped within the shells, and devised a series of production models under artificial conditions, thereby redefining a pearl under a completely mechanized production mode. The second is to combine the handmade method in determining the manufacturing procedure, which involves repeated powdering and polishing, addition of multifarious items in the machine, streamlined machining, and another round of refining and wrapping, consequently bringing out pearls that have different physical appearances. Pearlizing people's most private and commemorative items, such as rings, pills, keys, etc., and creating emotional resonance which the wearers will give rise to unique and personalized pearl jewellery.
Liu Shuang, postgraduate student from the School of Humanities
Acceptance Speech:
This is the seventh year of me studying at the Academy and the second time of me to face the termination of a momentous stage in my life. I am more than happy to be eulogized by the "First Step Award" committee. It is also a pivotal recognition of my two-year research. The importance of this research topic cannot be expressed in a few words. It records my every single footprint with the support from the Academy and is the final epitome of my experiences in the past three years. I thank the Committee for marking my journey with a perfect period. More essentially, thanks to the teaching and support from my mentor Prof. Li Jun over the three years, which leads me into a new stage with an advanced vision and provides me with valuable study and practice opportunities. Thanks goes to all the teachers in the School of Humanities for their kind guidance and encouragement, they always remind me to hold fast to my real self and keep faithful to my original will. As I am about to embark on a new journey, I wish that I can continue to observe and reflect, harboring curiosity and gratitude, recording each scene, and getting ready to welcome the next adventure.
Statement of the Prize-Winning Dissertation:
In 1490, Lorenzo Costa, a painter from Ferrara, completed a set of victory-related thematic murals at the Basilica of San Giacomo Maggiore—The Triumph of Fame and The Triumph of Death. With unique circular composition and intricate content presentation, it formed a pictorial spectacle in the Bentivoglio Church. Among them, the figures, texts, and landscape of The Triumph of Fame have distinctive features of geographical pictures in the concept of expression and specific techniques, which is said to have intimate connections with the Medieval world map. In the context of continuous development of the fifteenth-century geography and Bentivoglio court cartography, does Costa's creativity originate solely from this single root? What is the actual meaning behind his images that have strong regional direction? Built upon previous iconographical studies, this dissertation teases out the delineation of maps, including the victory theme, from paintings of the thirteenth to fifteenth century and combines images created by Costa with related portrayal from northern Italy, reconsidering the geographical features depicted in The Triumph of Fame, interpreting the key geographical information embedded in it and ultimately showing the dual localization of Rome and Bologna devised by Costa through the application of the Roman map and his family reality. The last chapter, on the other hand, discusses the development and spatial representation of geographical images in the artistic themes in the backdrop of the Renaissance city "Reputation," combining family background to display the imagery program of The Triumph of Fame and The Triumph of Death, thereby leading to the iconographical logic of the entire Bentivoglio Church.
Liang Zhihao, undergraduate student from the School of Architecture
Acceptance Speech:
I would like to say thank you to every teacher and friend who has helped me. The graduation project, from the opening proposal to the graduation thesis reply and to the final end, took nearly three months. During this process, I went to Chongqing eight times, and also visited Shanghai once. Other than these trips, I also had a very busy schedule and high work intensity. The first stage is an in-depth study of the venue executed by a three-person team, inspecting the area from their own perspective and finding problems. The second stage is to propose a general strategy for solving these questions, gradually leading to the coping method for each question and the overall layout design. The third stage is to pick three to five hectares from the projected areas and let members of the three-person team remold them separately. Lastly, each person had to finish the design of each individual building independently. In the end, I want to express my gratitude to Li Lin, teacher of the Studio No.18, for her guidance, and also to all the teachers and friends who have helped me!
Statement of the Prize-Winning Work:
This architectural design focuses on the renewal of the Chongqing Power Plant in the Kowloon Peninsula Activation Plan. The work first carried out an overall planning of the target area and then stressed the transforming of the industrial area into an industrial art district, developing a corridor that tailors to art and cultural tourism, and later on the construction of a modernized industrial art amusement park, which encompasses five themes: adventure, science fiction, space, art, and fantasy. In this way, people can immerse themselves not only in the intensive and rich space experiences but also art, thereby achieving the goal of energizing the surrounding areas through the creation of a central architectural activity complex. The renovation concept derived from the fact that the building used to be a boiler room, a place where energy is transformed and there was an output. I hope the remolded building could work as a convertor, capable of transforming the energy of the industrial place into an innovative one-stop site, bringing people joy, experiencing art, and spreading knowledge. With all these conceptions, the transformed industrial-art symbiosis would soon materialize into a valuable conversion and consequently spur the development of the districts. How to integrate the original industrial culture with art, how to deal with their mutually beneficial relationships, thus creating an updated composite space to carry new functions, activating the value of outmoded buildings by transforming them into vibrant places, changing people's obsolete ideas about industrial areas, getting rid of restraint, taking part in the creation of art, will be the focal points of the aforementioned industrial-art symbiosis. Through the establishment of the five themes, people get to know industrial cultures and it is also an attempt to link industry with art.
Wang Yunpeng, undergraduate student from the Sculpture Department, School of Plastic Arts
Acceptance Speech:
Every time I recall my experience at the Academy over the past five years, my heart will be filled with all kinds of emotions. Students and teachers are pretty close at the Sculpture Department. And interestingly, such intimacy is nurtured by the "volume of sculptures." In other words, the bulky size of sculptures promotes friendship as they are too large and heavy to lift by one person. There are a wide variety of courses offered in the studio and our teachers always advise us to accumulate knowledge, saying that each of the courses is a cornerstone of our creation. They will push you to keep finding problems and solutions. In retrospect, our discussion often progresses like this: each one of us holds a "proposal" in their hands, whenever we propose something, our teacher will encourage us to leave this stage behind and set out on another journey. Starting from here, opens up all kinds of possibilities, but undoubtedly, we all harbor gratitude. This type of teaching will not dehydrate us, it will only load us with more and more knowledge. Additionally, the Academy and teachers kindly set up many scholarships for students who have financial problems and they are the fundamental conditions for our creations and practices. As I entered the graduating class, immense pressure overwhelmed me because it was now the time for us to present what we have learned over the few years. Facing the uncharted graduation project as well as the perplexity of stepping into society, I once again looked back to my "proposal" and realized that we have learned far more than its documented contents. The graduation project is just a beginning, we will apply things we learned in class to manage our future study, improvement, trial and error, and decision making. In light of this, I have to return to this class and will still be a CAFA student. This prize means so much to me: it is not only the approval and support of my work, but also a recognition of the outcome of my five-year study. With this belief, I will continue to pursue "sincere" art in the future. Again, it is with thanks to my studio peers for their help! Thanks to the leaders of the Academy! Thank you, Prof. Lyu Pinjing and Cao Hui, and all the teachers of the Studio No.4 from the Sculpture Department!
Statement of the Prize-Winning Work:
As you can see from my work, all of the materials that I used come from ruins. But they are different from what they used to be; those dirty, dilapidated, perilous, negligible and even disgusting materials are now arresting and touching. This worn-out stuff is actually closely related to our lives. They used to be part of our residences and all bear traces of our lives. I started to polish them from last July, from this long-term dialogue, I gradually thought deeply about materials and their physical properties. I stuck to this seemingly humdrum work with the hope of changing the visual and tactile sensations of these low-end materials until they were fully transformed. The name of this work stems from the numbers noted on the back of the sandpaper. The greater the number, the finer the objects being polished will be. Referencing this notion, I named it 3000 Catalogs, which stands for an effect and an attitude as well. Unlike the traditional way of experiencing sculpture, it allows audience to touch each work.
Chen Yang, undergraduate student from the Sculpture Department of the School of Plastic Arts
Acceptance Speech:
I am not an academically outstanding student. I do not even know what to draw in the preliminary stage, and like me, all of my paintings seem to lack personality. I chose this major only because I was impressed by the song A Rolling Stone from the Red Song Party. As I recalled the memory of it when first entering Studio No.4 and crafting a clay head portrait, I was once disliked by teacher Cao Hui because of my poor modeling skill. I also felt that I am too stupid and used to secretly cry. Later, with the perfection of studio courses, Prof. Lyu Pinjing provided us with more and broader platforms, ensuring a condition for us to create freely. I am especially grateful to Prof. Lyu's tolerance, which makes me feel cheerful with creation. I also wanted to thank teacher Cao Hui for his patient guidance, which assists me in discovering my direction of creation. He not only supervises the academic level of our works, but also points out academic concepts for us to improve our skills. Moreover, I would like to say thank you to all of my fellow classmates and friends, though they had once teased me and recorded my predicament when I was blamed by the teachers, they always lend a hand whenever I got into trouble. It is quite surprising that I won a prize and this honor will definitely become a huge stimulus. In a word, my greatest fortune is that I chose the Sculpture Department and Studio No.4.
Statement of the Prize-Winning Work:
"Yard" is a kind of life attitude or artistic conception that is independent from contemporary values. It is the destination of my heart, it belongs to the illusory yet real little world in both the audiences' heart and my own heart. When reality becomes increasingly real, the imagination that it brings to the audience will be restricted. Hence, the purpose of inserting real elements in Yard is to blur the dynastic background, using solely the vague traditional elements to place its interest. From viewing to experiencing, from sculpture to immersive installation, I hope to trigger their thinking and imagination as they fully engage in this work.
Ni Xiang, undergraduate student from the Printmaking Department of the School of Plastic Arts
Acceptance Speech:
Follow yourself and listen to your heart.
Fu Qiang, graduate student from the Mural Painting Department, School of Plastic Arts
Acceptance Speech:
Thanks to teachers at the Academy for their approval and encouragement of my work Salute to The Masters—Dedicating The Last Rose To You, Please Leave The Last Love To Yourself. Thanks to my mentors Sun Tao and Ye Nan for their guidance and support, and also the help from my peers and all the teachers at the Mural Painting Department. Painting is the ultimate impetus of my life. Those beautiful words, such as talented and extraordinary, never belong to me. So what kind of quality do I have to match my zeal in painting? Quoted from the 1993 American movie Ruby, the so-called genius is actually someone who has perseverance, diligence, enthusiasm, and selflessness. Bernard Shaw's inspiring words motivated such an ordinary me. When I was on the brink of collapse, I often told myself to hold on to my goal for another second. Having no gift to rely on, the only thing I possess is determination. I am lucky to meet my mentors Sun Tao and Ye Nan. During my CAFA years, they played not only the role of teachers but also parents. Lastly, what I am proud of and cherish the most is the time I spent with all the outstanding teachers and classmates at the Academy!
Statement of the Prize-Winning Work:
"We already walked too far, down to we had forgotten why embarked"—Bernard Shaw. This quote perfectly epitomizes my creation process. I do not possess his great soul, but as a student who engages in artistic creation, the reason for me to keep going forward is that, aside from pure devotion, art can express my anxiety and expectation regarding ecology, life, and living in a figurative way, which may make the viewers empathize with the interpretation and prospect of nature, living environment, and conditions embedded in the monochromatic paintings. Every day we consume unhealthy food, breath substandard air, and eventually contract peculiar diseases. We sharpen our knives and trample on other lives, only for the sake of satisfying our villainous desire. How many species are verging on extinction every day? At the same time, we never forget to exploit nature, leaving nothing but a dilapidated planet for our offspring in the era of eugenics. Now we live in a world where our neighborhoods are impersonal and inhumane, and every day we say too much in order to be trusted. There is the status quo of our ecology, life, and living. So where should we head, what should we do? That is, ecology, life and living, the themes discussed in my work. In the end, I think all artists should be noted as "enthusiasts." Because we are passionate enough, we get to have a sensitive heart and sharp eyes. Because we do not follow the masses and instead have our own critical thinking, we offer superior possibilities for the world to become better.
Deng Wei, postgraduate student from the School of City Design
Acceptance Speech:
It is my honor to be awarded. Thanks to my mentor director Ning Ying for all the guidance and help, thanks to my teacher Wang Zhong for the recommendation, and the recognition from each one of you. The seven years that I spent at the Academy is the most significant time in my life. My aesthetic consciousness improved and my understanding of life and the society deepened. More importantly, I defined my goal: telling Chinese stories via films, letting more and more people understand the uniqueness and complexity of China in the new era as well as the urgency of Sinicized modernization, thinking about contemporary China from a fundamental "human" perspective. This work narrates the last stage of my grandfather's life. It is a reflection of personal hardship and issues of the time. Standing by his deathbed, I promised him to finish this film and show it to more people. Thus, it is my responsibility to perfect it, make it come true, and push it further. Thank all of you again!
Abstract of the Prize-Winning Work:
My grandfather is a fortune teller. He lost his sight when he was three years old. Throughout his life, he has presaged the future of countless people and now he predicts that my father and himself are about to die. Many years ago, my father who worked in the real estate industry demolished our ancestral house regardless of my grandfather's objection. This incident resulted in the exacerbation of their already hostile relationship. Grandfather knew that he was running out of time and my father will fall from a high place, so he hoped to warn him to quit the real estate job. On the other hand, he wished to return to his hometown after he passed away.
Statement to the Prize-Winning Work:
I have been studying and working outside my hometown since I graduated from my middle school and I seldom have a chance to go back. When I was in high school and went back there, I suddenly found that my familiar old buildings had disappeared. Instead, there was a skyscraper apartment buildings being constructed. Witnessing this scene, I started to mull over the significance of "home." Leiyang, a typical southern city under the influence of urbanization. Every time I leave and return, it gives me a brand-new face and impression. The place that I used to be familiar with becomes increasingly strange. Last year, I incidentally learned that my father was trapped in a debt crisis due to an accident that happened at his construction site, which was in line with grandfather's prophecy. My father is a property developer and an engineer. While he was leading the construction of other people's houses, he, at the meantime, flattened our house that stood for years and was cherished by grandfather. Based on this event, I began to film stories that took place between my grandfather and father. The biggest controversy of this work is that my father is the one who destroyed our ancestral house. Perhaps in the future, my generation will become the perpetrator of the ancestral recognition of "root." During the course of filming, I deepened my understanding of my grandfather, father, and family, building in-depth emotional connections through my lens. In the meantime, I continue to update my self-recognition as well as perception of the world. Which branch can we perch on? You and I, which brand can we perch on? This is the final path of an old man's life, but also an edification for our younger generations.
Text and images by CAFA, translated by Paris Yang and edited by Sue/CAFA ART INFO
Related posts: