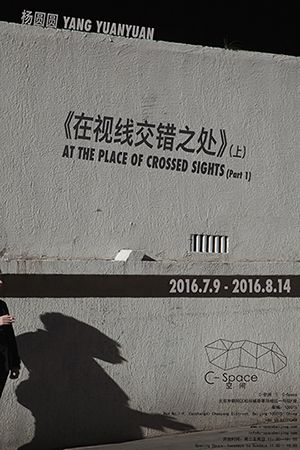 C-Space presents Yang Yuanyuan's first solo exhibition entitled "At the Place of Crossed Sights (Part one)". The exhibition will remain on view till August 14, 2016.
Yang Yuanyuan (b. 1989, Beijing) lives and works in Beijing. She received a BA (Hons) in Photography at the London College of Communications, University of the Arts London in 2013. Yang's practice involves various mediums, mainly concentrating in photography, but including video, performance and text. Yang's projects usually begin with intensive historical research, by experimenting different ways of visual-storytelling, she creates the narrative where fact and fiction coexist to speak about topics such as memory, history and time. In recent years, she describes her way of working as 'weaving': to create the structure of a complex web or system by 'weaving' different types of images into 'image atlas' combined with text. The works are usually being presented in the form of artist books and photography installations.
Yang's work has been exhibited and published internationally. Awards from past three years include: Gucang Dummy Award Martin Parr Edition (second prize, 2016); Author Book Award at Rencontres d'Arles (shortlist, 2015); Best Photobook of 2015 at Fototbookfestival, Kassel (shortlist); Bloomberg New Contemporaries (shortlist, 2014); Magenta: Flash Forward (2013).
At the Place of Crossed Sights (Part one) is set in Porto Alegre, Brazil. Based on research revolving around several photographers who had lived and worked or briefly stayed in the city, the artist created a series of works combining factual materials and fictional narrations. Through the study and depiction of the characters' individual experiences, the project intends to explore the complex relations between various elements such as photographers, photographs, cities, migration, and memory within the progression of the history of photography.
The project consists of two main parts: a novel that comprises of a collection of short stories, and a series of photographic works with intertextual relation to the novel. At the Place of Crossed Sights (Part one) consists of the following 5 chapters: 1. A Letter Written in 1975; 2. T's Photo Album; 3.Three Fragments Related to an "Exotic China" (Excerpts from Y's travel diary); 4. A Piece of Writing Based on a Murder Case in 1863 (A Novelist's Thoughts on Photography); 5. Photographers and Strangers.
About the exhibition
Dates: 2016.07.09 – 2016.08.14
Venue: C-Space
Related posts: