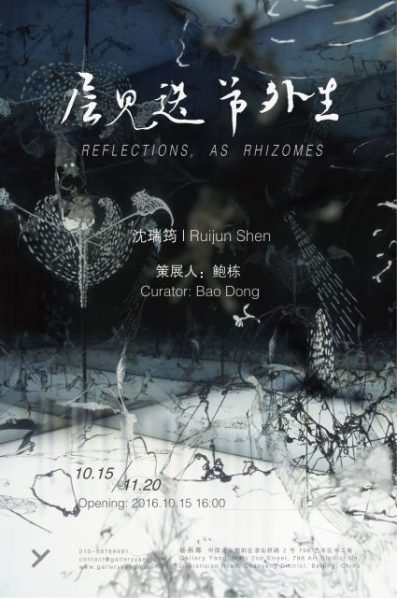 Gallery Yang is proud to present Shen Ruijun's exhibition "Reflections, as Rhizomes," which will be the artist's first solo in China and is curated by Bao Dong. The exhibition will be on view until November 20.
Shen graduated from Guangzhou Academy of Fine Arts in 2000. From 2002 to 2010, she studied and lived in the United States, where she received two MFA degrees, one from Montclair State University and the other from the School of the Art Institute of Chicago. She also taught as an adjunct professor at Montclair State University. After returning to China in 2010, she has since worked as a curator at Guangdong Times Museum. She has been awarded a Joan Mitchell grant as well as a Toby Devan Lewis Fellowship.
It has been seven years since Shen's solo exhibition in Chicago in 2008. In the years since, her artistic practice and her curatorial work both embody her ideas about art of "apperception." In her words, "Humans live in a compound state, and all articles and events are interconnected, of multiple possibilities, and constantly changing. I reshuffle dismantled elements in space and time, aiming to create an environment to enable audience to go through self-reflections in the light of associations about themselves when 'experiencing works.'" Though this approach, her work combines lines with light and shadow; different materials, media, and articles; the gaze, body, and space. Their reaction forms a chaotic, polyphonic, irreducible world, a Weltanschauung that faces the world's contingencies, and an artistic practice in which potential and conditions serves as starting points.
In this exhibition, Shen Ruijun's abilities to adapt to and steer potentials and conditions (which have developed from her experience in painting) are now put into effect in the context of this entire exhibition: the wall and audio recording from the gallery's previous exhibition are incorporated into this one's framework, and the coordination, probing, and excitation of multiple relations—such as those between one work and another, works and the space, the viewers and works, the viewers and the space, and one viewer and another—are the emphases throughout this exhibition. Yet, at the exhibition's core is the relationship between viewing and mirroring. Shen Ruijun's works, along with the space in which they are situated, provide us with a scene where gazes are criss-crossing, superimposing and echoing each other, transforming, and being reshuffled—a rhizome meandering between reflections and experiential responses. As the title of the exhibition suggests, it is a field that call for a viewer's being present and encountering unexpected growth.
About the exhibition
Curator: Bao Dong
Dates: Oct 15, 2016 – Nov 20, 2016
Opening: Oct 15, 2016, 16:00, Saturday
Venue: Gallery Yang
Courtesy of the artist and Gallery Yang, for further information please visit www.galleryyang.com.
Related posts: