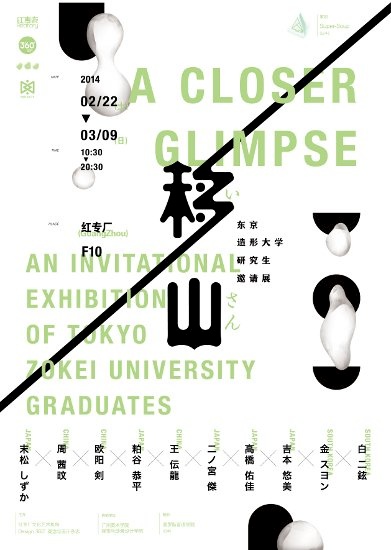 With the purpose to show the diversified development blueprints of aesthetics, break the limitation of regional culture and explore the acknowledgement of international modern arts and design, "A Closer Glimpse: An Invitational Exhibition of Tokyo Zokei University Postgraduate" is organized by Guangzhou Redtory Culture and Art Organization and Design360° Magazine, planned by SUPER SOUP team from Japan.
The exhibition gathers works of postgraduates of Tokyo Zokei University from China, Japan and Korea. These works cover design from different fields, such as industrial design, visual communication design and style design, which display condition of Japanese modern arts and design education and influence on aesthetics development of its education system. Varying from product design for improving the living quality of the aged to package design of book for commemorating the earthquake, they all spread condition and concern of new generation artists who absorb western technology and eastern traditional culture through the power of arts and design.
Through this exhibition, cross-boundary culture is embraced in Chinese environment, which can trigger the meaning of dialogue exchange. It hopes that people who know little about design education ofJapancan catch a closer glimpse of the progress of international young artists.
This exhibition is sponsored by Meros Language School and it will be held until March 9, 2014.
Preface
With development of art and design, the formation of aesthetic character is not only influenced by regional culture, but also formed by education of aesthetics, art and design. The spirit of absorbing diverse culture and breaking the limit of regional boundary and absorbs, gives birth to the communication and practice of cultural giants from various countries from East Asia, including the visit of Chaoheng (Abe no Nakamaro) who was an envoy of Japan to visit China and six visits of Jianzhen to eastern world.
The exhibition shows works of various research fields of Tokyo Zokei University, which covers art and design, such as dying, weaving, ceramics, sculpture installation, drawing animation, book decoration, industrial design and graphic design. We can find that the works preserve eastern aesthetics interest as well as explore the application of western mathematical order. It not only contains thoughts about individual life, but also all kinds of abstract expression of the modern life. It displays book decoration design about reflection on earthquake, and industrial design product concerning living quality of the aged people. These are more than value of aesthetics. They include a kind of concern, which is shown in daily life. With the connection and communication between human and object, it shows the national characters and culture of Japan.
Guangzhou Redtory Culture and Art Organization and Design360° Magazine organize this exhibition together. It is planned by SUPER SOUP team with the exhibition name "A Closer Glimpse". It hopes to provide a platform for communication of international art education. People coming from different regions and every from far away, can take a closer glimpse of works created by international young artists.
Special thanks for the sponsor Meros Language School of Japan.
SUPER SOUP
SUPER SOUP is an artist group founded by the graduate students ofTokyoZokeiUniversity. The SUPER SOUP members come fromChina,South KoreaandJapan. Despite of different cultural backgrounds and research specialties, they embrace the diversity, learn from each other, and even bring forth new inspirations and creations. We hope this exhibition would stimulate more communications among various cultures.
About the exhibition
Duration: February 22, 2014 – March 9, 2014
Venue: F10 Gallery, Redtory,Guangzhou
Organizers: Guangzhou Redtory Culture and Art Organization, Design360°Magazine
Planning: SUPER SOUP
Sponsor: Meros Language School
Artists: Chuanlong Wang, Ehyeon Baek, Kasuya Kyohei, Qianmin Zhou, Shizuka Suematsu, Sooyeon kim, Suguru Ninomiya, Yumi Yoshimoto, Yuka Takahasi, Jian Ouyang
Related posts: