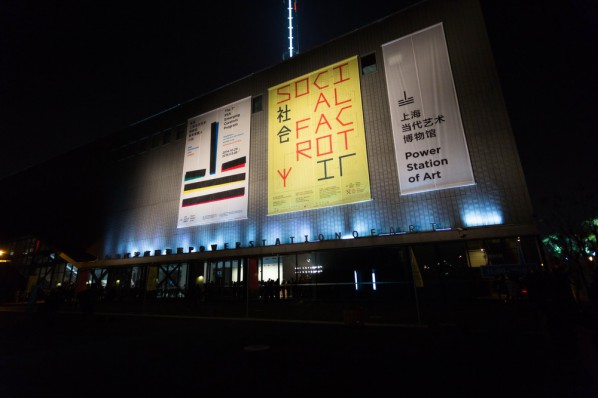 On November 22, 2014, the 10th Shanghai Biennale officially opened at the Power Station of Art, remodeled from a power plant to become a key location for contemporary art to take place in China. The 10th Shanghai Biennale invites Anselm Franke to be the chief curator, taking "Social Factory" as the main theme, focusing on the topics of "Social Production" and "Social Fact", showcasing a total of more than 100 works by more than 70 Chinese and foreign artists, including a variety of artistic categories such as painting, sculpture, installation, video and sound, the exhibition space covers the ground floor, 2nd and 3rd floors of the Power Station of Art, and the exhibition will continue to March 31, 2015.
Contemporary art is not just about art taking place in the modern age, but about artworks being created to reflect features of the times after artists immerse themselves in a contemporary cultural environment and social reality so spectators can feel their "contemporariness" in everyday life. With firm pushes from artists like Marcel Duchamp, Joseph Beuys and Andy Warhol since its advent, contemporary art has always been searching for its roots deep in society. But since the new millennium, an over-exaggerated pursuit of aesthetic and technological tendency has been gradually derailing contemporary art from the tracks of society. That's why renowned theorist Alain Badiou cried out in his 15 Theses on Contemporary Art, "My position is that artistic creation today should suggest a new universality, not to express only the self or the community, but that it's a necessity for the artistic creation to propose to us, to humanity in general, a new sort of universality, and my name for that is truth."
In fact, there are far more than just Alain Badiou who have an acute sense of the social in contemporary art, and that's also what the 10th Shanghai Biennale is seeking to explore. Curated by Anselm Franke, this year's event, under the main theme of "social factory", is aimed at overturning contemporary art's isolated tendency, re-opening it for society and the public, and rebuilding its universal roots. In fact, most are for the internationally influential biennale in China, the Shanghai event, since its launch in 1996, it has witnessed 18 years of growth and exploration, with past themes of "Open Space" (1996), "Inheritance and Exploration" (1998), "Spirit of Shanghai" (2000), "Urban Creation" (2002), "Techniques of the Visible" (2004), "Hyper Design" (2006), "TRANSLOCALMOTION" (2008) and "Rehearsal" (2010). Whether by name or by content, they have all been closely associated with the social reality. Inheriting and expanding this fine tradition, the Shanghai Biennale will embrace its in-depth artistic exploration through clues of "social" and "factory".
As to "social", just as Franke mentioned in his curatorial foreword, it is a turning point for China to embrace modernity is 1978, the year of Open-up-and-Reform. Revisiting this historical reference, the biennale explores an interlocking set of questions: What is the relationship between social and fiction in construction and re-construction of society? How has the production of the social changed throughout the modernization of the 20th century? Has the production of the social entered a new phase with the massive influx of "sociometric" technologies, the extraction of data and digital profiling, and the increasing automatization of social processes in algorithms? And does China's pre-modern history of social systematization through unparalleled bureaucratic machinery and archiving capabilities echo the country's current processes of social fabrication? How can we grasp the simultaneous impact of history and that of technology on subjectification today? And how does the general process of acceleration and diversification of subjectification play out in the case of China and its current era of social reconstruction?
What is apparent is that all these questions pinpoint the fundamental issue of "what is art for" – which is about how to present the differences between contemporary art and traditional art and those between different visual symbols and conceptual generalizations, as well as to identify different cultural contexts and social reality through sharp contrasts. In Franke's eyes, art, just as other production methods, belongs to "the production of the social", and it continues the mission to nurture public feelings for the social through care, affection and education, as well as practice towards the ambition to reconstruct society.
As to "factory", both Britain's Tate and Shanghai's Power Station of Art, host the biennale, which are based in former power plants. And across the world, there are even more art galleries and studios renovated from deserted factory plants. Even Andy Warhol, the widely-recognized prophet of contemporary art, names his non-factory-based art studio "The Factory". In China where contemporary art now prospers, Beijing's 798 and Caochangdi as well as Shanghai's M50 and Red Town are all art zones converted from industrial parks.
A factory stands for production rather than consumption; a site of ongoing events instead of a site for the non-production-related display and sales. Retaining a factory's external form during the post-Expo renovation, the Power Station of Art is now offering both its form and its content in the face of "social factory", to more accurately outline the ultimate ideal for contemporary art – something taking place right here right now, something being produced as always, something intervening and pushing forward society's historical process. It is a place that welcomes all members of the public, rather than a private residence with limited reservations.
Such two clues thus thread between the selection of participating artists, gathering established overseas artists such as Joseph Cornell, Anton Vidokle, Carlos Amorales, Harun Farocki, Nicholas Bussmann, as well as local talents like Zhao Yannian, Chieh-Jen Chen, Li Xiuqin, Sun Xun, Yan Jun, Yin-Ju Chen, Hou Chun-Ming, Huang Ran,Hu Liu, and Liu Chuang. The 77 artists share a common philosophy – to closely follow, intervene and push forward society, and to take production as art's core value. It is worth mentioning, most of these artists are young talents on rising career paths, echoing the metabolism of the "social factory", which also advocates technological innovations.
For that, Franke has also offered his unique perspective, "Different from other forms of historical records, art has its unique function – reflecting personal experiences. This year's biennale will explore notions of subjectivity and its relations with history and the collectivization process. Art can take subjectivity and the production of the social as a seriocomic creative theme. So the event seeks to present the sharp contrasts between subjective experiences, modern logic, the rationalization and standardization of subjectivity and its technological intervention. Chinese and overseas artists will gather in Shanghai to explore the theme, and they share the conviction that truth can only be evaluated from social experience".
As to standards governing truths of contemporary art, they might be always open to the whole society like factory gates. They are announcing that only with social roots can art be contemporary, and that will be the core value that contributes to the contemporary art of the 10th Shanghai Biennale.
Shanghai Biennale Completes the Internationalization and Moves towards a New Stage
Shanghai Biennale was born in 1996, it was once named "Shanghai Art Biennale", the successful hosting of the biennale of the year is also a coming-of-age ceremony of the Shanghai Biennale, looking back over the past 18 years, Li Xu, Director of the Office of Shanghai Biennale had mixed feelings, he admitted that, after 18 years of effort, the international mission of the Shanghai Biennale was complete and then it should get rid of the mode of international biennale, because many international biennales had been trapped in a rigid and conventional pattern, presenting the same group of artists, which the Shanghai Biennale needs to avoid. In reality, now a lot of art fairs fiercely compete with the biennales, and some were even cooler than the biennales, Li Xu believed that Shanghai Biennale should not depend on "star" attracting the attention of the public on the road of development from then on, but to promote the new generation of artistic potentials, to offer a new possibility to the development of Chinese contemporary art.
About Shanghai Biennale
First launched in 1996, the Shanghai Biennale is not only China's most established and influential international biennale of contemporary art, but also one of the most important biennales in Asia.
With its changing theme every two years, the biennale has always taken Shanghai as its primary focus, gathering the most talented and cutting-edge international curators and artists at the pinnacle of the industry, to explore the ultimate connection between urban life, contemporary art and the public. It has also become a large-scale biennale platform in Shanghai for the exchange and exhibition of contemporary art pieces.
About Power Station of Art
Established on Oct. 1st, 2012, the Power Station of Art (PSA) is the first state-run museum dedicated to contemporary art in mainland China. It is also home to the Shanghai Biennale.
Standing tall beside Shanghai's mother river, the Huangpu River, PSA now occupies an area of 42-thousand square meters. With an internal height of 27 meters, the museum now houses exhibition sections that add up to 15-thousand square meters, and its 165-meter chimney, being an independent exhibition space, has also become an integral part of Shanghai's world-famous skyline.
Renovated from the former Nanshi Power Plant, PSA was once the Pavilion of the Future during the 2010 Shanghai World Expo. The museum has not only witnessed the city's vast changes from the industrial age to the IT era, but also provided a rich source of inspiration for artists with its simple yet straightforward architectural styles.
As Shanghai's generator for its new urban culture, PSA regards non-stop innovation and progress as the key to its long-term vitality. The museum has been striving to provide an open platform for the public to learn and appreciate contemporary art, breaking the barrier between life and art, and promoting the cooperation and knowledge of a generation between different schools of art and culture.
Courtesy of the artists and the Power Station of Art, reported by Zhang Wenzhi, translated by Chen Peihua and edited by Sue/CAFA ART INFO.
Related posts: