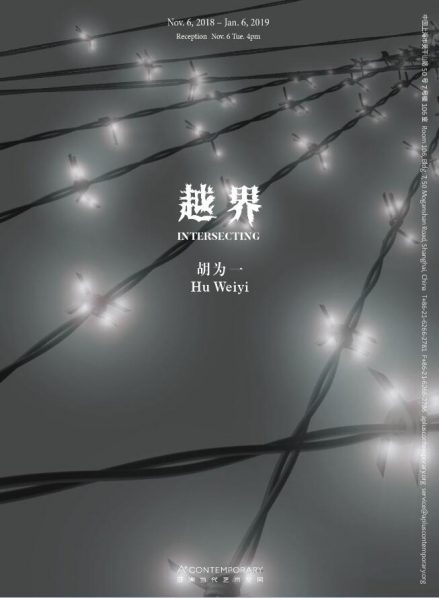 A+ Contemporary is pleased to announce the opening of Hu Weiyi's solo exhibition "Intersecting" on November 6th. This is the second solo exhibition of Hu Weiyi since his eponymous 2015 solo exhibition. Hu Weiyi's practices interweave a body of medium including photography, video, installation, sculpture and sound. Continuing with the logic trajectory of the work "Flirt", the latest exhibition threads the themes of trauma, lights and tentative restrictions. Full of an unusual state of tension, artist unfolds a whimsical yet frigid site where each element intertwines, configuring an open-misplaced relationship between the viewers and the works, challenging audience's spectatorships. The exhibition will be on view until January 6th, 2019.
Circling with exhibition room's spatial layout, the eponymous work "Intersecting" constructs a large-scale cage-like installation in the space. Vertically-structured, the precisely-orchestrated arrangements of the work form a grid-like format that restrains viewers' viewing orders. The gleaming shimmering lights entangle with the murmuring lingering sounds of the high voltage currents, interweaving the exhibition space into a highly-tensioned, forced and perilous site where the visual, the audial and the sensible reinforce and intersect with one another. Seemingly dreamlike, the work simultaneously invites the audience to step inside, yet confines viewers' movement as if a prisoned cage. Through this unpredicted attempt of intersecting, the work therefore reveals its true form, returning the experience back to the audience through the shift of actions, allowing viewers to activate a misplacement of perspective between the transition of the outside and the inside.
Resonating with "Intersecting", the photographical group work "Tentacles " threads the exhibition space once again through a line of silver string. Yet when viewing up close, the line turns out to be a current of lightening, penetrating through the petals of the full-bloom flowers. Fleeting as it was, the transitory nature of the scene contradicts with its visual effect, conjugating a second paradox through a subtle visual trick. Echoing with " Tentacles", on the opposite wall, "Rustling" series replaces the blooming floras with the withered ones, where the lightening becomes the ethereal electric streams that are modified through subtle transformations. The climax of the exhibition however lies inside this tranquil scene, where artist pushes the in-between state of trauma to its utmost with the indication of the flickering lights that are resulted from the ignited high voltage currents.
Inside these continuous layers of intersections, fantasy, tension and hurt traverse with each other, intersecting into an extravagance and restrained site where artist bounds his rational placements with emotional deeds, restaging and redefining the modes of spectatorship through multiple switches of the scenes.
About the artist
Hu Weiyi was born in 1990 in Shanghai. Graduated from BA in Public Art, China Academy of Art in 2013, and from MA in Inter-Media Art, China Academy of Art in 2016, Hu Weiyi currently lives and works in Shanghai. His solo exhibitions include: Intersecting(A+ Contemporary, Shanghai, 2018) (Upcoming), Dialogue Between HU Weiyi and Yoshua OKÓN(Don Gallery + Ghebaly Gallery, Condo Shanghai , Shanghai, 2018), Hu Jieming & Hu Weiyi –Imagination is Reality(ShanghART Singapore, Singapore, 2018), Pulp Landscape 6(Art Basel Hong Kong Discoveries, Hong Kong Convention & Exhibition Centre, Hong Kong, 2017), Daily Routine(Don Gallery, Shanghai, 2017), Hu Weiyi(organized by A+ Contemporary, Asia Art Center Taipei ll, Taipei, 2015), No Express(Ullens Center for Contemporary Art, Beijing, 2015), Flirt(M50 Art Space, Shanghai, 2014). Selected group exhibitions include: Light, Heat, Power! (The Second Frank F. Yang Art and Education Foundation , Shanghai, 2018), Turning Point – 40 Years of Chinese Contemporary Art(Long Museum, Shanghai, 2018), Out of Service(Art Museum of Nanjing University of the Art, Nanjing, 2018), Presence – Young Artists Exhibitions(Chinese Academy of Arts Nanshan Campus, Hangzhou , 2018), One World Exposition 2.2: #YOU#ME#ourSELFIES(Hong Kong Visual Arts Centre, Hong Kong, 2018), Shanghai Galaxy II(Yuz Museum, Shanghai, 2017), Shanghai Dandy(Don Gallery, Shanghai, 2017), World History(Tang Contemporary Art, Bangkok, 2017), Body Media II(Power Station of Art Museum, Shanghai, 2017),Turning Point: Contemporary Art in China Since 2000(Shanghai Minsheng Art Museum, Shanghai, 2016), WE: A Community of Chinese Contemporary Artists(chi K11 Art Museum, Shanghai, 2016), The 2nd CAFAM·Future Exhibition Observer-Creator: The Reality Representation of Chinese Young Art(Art Museum of China Central Academy of Fine Arts, Beijing, 2015), Cosmos(Shanghai 21st Century Mingsheng Art Museum, Shanghai, 2014), Summer Session(V2_Lab, Rotterdam, 2013). He won the Grand Jury Prize from "The 2nd Huayu Youth Award" at Art Sanya in 2014.
About the exhibition
Dates: Nov. 6, 2018 – Jan. 6, 2019
Opening: Nov. 6 (Tue.) 4pm
Venue: A+ Contemporary
Courtesy of the artist and A+ Contemporary, for further information please visit http://apluscontemporary.org.
Related posts: