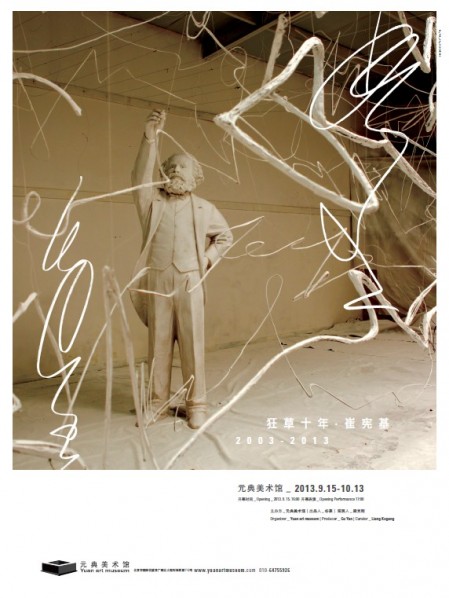 Cui Xianji is the first contemporary artist that held solo exhibition at the National Art Museum of China, and he is also the first figure among Chinese artists that were invited to Kwangju Art Biennial, which represents the top-level international exhibition in Asia. In this sense, he had already been an ambitious young man that had owned a successful career at that time. However he followed his mind to stay away from the art vanity during the ten years' boom season in Chinese art market. When Mr. Cui got hidden in an ordinary life in the suburb of Beijing, he contemplated the essence of art for a long time, concentrated himself in practicing his own art idea and meanwhile enjoyed the timeless fun in creating. After a decade of efforts, warmly invited by Yuan Art Museum, he steps up in front of the public in this solo exhibition, comprehensively showing his thinking and practicing in the past ten years.
About the exhibition
A Decade of Cursive Writing• Cui Xianji
Producer: Gu Yan
Curator: Liang Kegang
Opening: 16:00 15th September, 2013
Opening performance of Modern Dance: 17:00 15th September
Exhibition Duration: 15th September – 13th October, 2013
Venue: Yuan Art Museum ( No.112 Lizexiyuan, North Guang Shun Street Wangjing Chaoyang District, Beijing, China)
Tel: 86-01-64755926
Courtesy of the artist and Yuan Art Museum, for further information please visit www.yuanartmuseum.com.
Related posts: