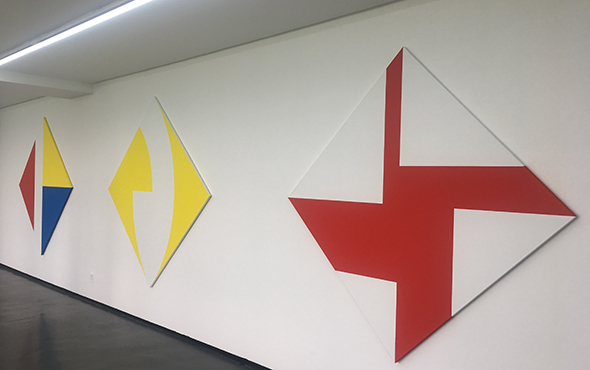 On 6 May 2018, the dual solo exhibitions of Bob Bonies and Chen Wenji which were curated by the independent curator Fang Zhenning opened at AYE Gallery in Beijing. It features 15 abstract geometric paintings by two artists, in order to construct an in-depth dialogue and exchange between abstract Chinese and Western paintings.
AYE Gallery is a small art space located in the old town of Beijing, and it appears to be a solo show of an artist presenting in two different styles, due to the works by Bob Bonies and Chen Wenji which are visually similar, using pure composition and color, so the narrative and expression of the painting is purely peeled off to become a silent emotional expression, and then it presents a cold feeling. Therefore, the curator Fang Zhenning summarized that there were dual solo exhibitions of a Dutch artist and a Chinese artist, although they were from different countries, their works were created based on the same thinking, and they were both included logical thinking. The "art of logical thinking" is a visual form made by the artists in the process of reasoned thinking.
Apart from this they live and work in different countries, the two artists have some things in common, which also forms the basis of their artistic dialogue. Bob Bonies is an independent artist, and he was a former president of the Hague Freedom College in the Netherlands; Chen Wenji taught at the CAFA for a long time, and now he is also a professional artist. Both artists from the academies have continued to explore in their own fields and the exhibition is an intersection of their artistic explorations. Chen Wenji's works imply an unusual harmonious visual symmetry. It is an axis of symmetry that depends on which colors and graphics of both sides of the screen that can perfectly overlap with each other. Because Chen Wenji's works are usually presented with group paintings, perhaps we can regard this painting as a mirror image. Bob Bonies's painting is composed of geometric color blocks. These color blocks are rotated and twisted, and the rotation and twisting is a movement conducted around a point or a line. Therefore, Bob Bonies's painting is essentially another relationship with symmetry.
In terms of color, Bob Bonies comes from the hometown of Mondrian of de Stijl. Mondrian loved to use the three primary colors to explore a sense of harmony, while Bob Bonies just adds the green beside the three primary colors. While Bob Bonies's paintings are extremely colored, Chen Wenji's paintings are extremely colorless. His paintings do not contain any color, and are only gray paintings. Bob Bonies makes the painting planarity, while Chen Wenji presents the gradient of gray, so that a three-dimensional real illusion has been created using this gradient, which is also an artist's visual game as arranged on aluminum-plastic panels.
In the age of globalization, geospatial forms have minimally influenced art. Both Bob Bonies and Chen Wenji use descriptive geometric graphics to interpret art and explain the world. Curator Fang Zhenning made a comment on their art that, they move up with a form of slashing in different positions and intersect at the top of the pyramid of art, which is called the "art of logical thinking".
The exhibition remains on view till 1 July.
Text and photo by Zhang Wenzhi, translated by Chen Peihua and edited by Sue/CAFA ART INFO
Related posts: