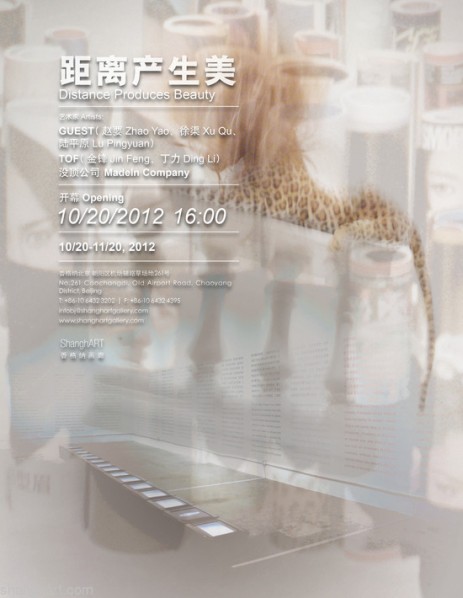 Distance Produces Beauty is a display co-curated and created by GUEST, MadeIn Company and TOF. Here, "distance produces beauty", the famous aesthetic discussion is planned to occur again under the name of painting, which now develops into an action of display about how to appreciate painting. "Beauty" becomes the "distance" which attempts at liberation. The surface of that appearance is altered by reverse thinking, which also converts it into a new field of perception.
GUEST is a new collective that comprises three of China's most convincing young talents: Zhao Yao, Xu Qu, and Lu Pingyuan, all of whom have also begun promising solo careers. Project: Standing on the Shoulders of Little Clowns, UCCA, Beijing 2012(Curating by MadeIn Company). Xu Qu was born in 1978 in China. Now he works and lives in Beijing. Recent solo exhibitions include: Xi Sha, South China Sea Projekt1#, Hemuse Gallery (Beijing 2011); Taikang Space, 51m2 11# Xu Qu,Taikang Space(Beijing 2010). Zhao Yao was born in 1981 in Luzhou, Sichuan Province, China. Now he works and lives in Beijing. Recent solo exhibitions include: 2010 "51m2: 3# ZhaoYao", Taikang Space, Beijing (China 2010); Zhao Yao: I AM YOUR NIGHT, Beijing Commune (Beijing 2011). Lu Pingyuan was born in 1984 in Zhejiang, China. He now works and lives in Shanghai. Recent solo exhibitions include: Capsule, Gallery Box, Gothenburg (Sweden 2011); Autonomous Breathing, M50 Creative Space, Shanghai (China 2010).
Since TOF (DING Li, JIN Feng) established in 2011, considering to provide service for "special" customers, fully using artistic producing experience as well as technique and learning the experience of expansibility from some certain samples become its starting point. It also draws out the possibility from the daily super real experience. TOF' s exhibitions include: 27-pamphlet, Taopu Contemporary Art Centre (Shanghai 2012); "Prevent 2012" Doomsday Party, Taopu Contemporary Art Centre (Shanghai 2012); The Escape Plan, Taopu Contemporary Art Centre (Shanghai 2011). Jin Feng was born in Shanghai in 1967, He graduated from the China Textile University, Shanghai Arts and Crafts Professional (now Donghua University) in 1991. He now works at Fudan university, Shanghai Institute of Visual Art Institute of New Media. Ding Li was born in Shanghai in 1979, and graduated from the National Academy of Fine Arts in Paris in 2008. He now works and lives in Shanghai.
MadeIn Company was established in 2009 in Shanghai by Xu Zhen, it is a contemporary art creation company, focused on the production of creativity, and devoted to the research of contemporary culture's infinite possibilities. MadeIn Company's exhibitions include: Seeing One's Own Eyes – Middle East Contemporary Art Exhibition, ShanghART Gallery & H-Space, Shanghai (2009), S.M.A.K., Gent, Belgium (2009) and IKON Gallery, Birmingham, UK (2010); Physique of Consciousness, Kunsthalle Bern, Switzerland (2011), Long March Space, Beijing (2011); Action of Consciousness, ShanghArt Gallery, Shanghai, China (2011). MadeIn company also participated in the 8th Shanghai Biennale and the 7th Busan Biennale, Korea (both 2010), and group exhibitions at UCCA, Beijing (2009) and Rijskakademie, Amsterdam (2011), among others. Curatorial projects in Shanghai include the group show, Bourgeoisified Proletariat, Shanghai Songjiang Creative Studio (2009), besides exhibitions at MadeIn Space (2010) and TOP Contemporary Art Center (2011).
About the exhibition
Date: Oct 20, 2012 – Nov 20, 2012, Daily 11AM-6PM (Mon. Closed)
Venue: ShanghART Beijing
Add: 261 Cao Chang Di, Old Airport Rd., Chaoyang District, Beijing, China 100015
T: +86-10 6432 3202
F: +86-10 6432 4395
Courtesy of the artists and ShanghART Beijing, for further information please visit www.shanghartgallery.com.
Related posts: