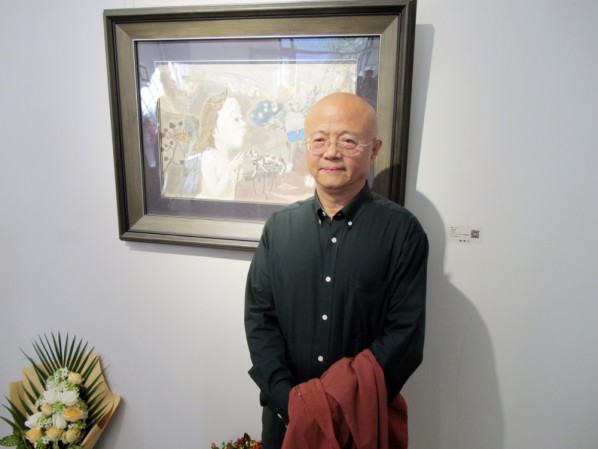 Last year, Cao Li's oil painting exhibition "The Dancer with Wings" opened at Can Art Center in 798 Art District, Beijing, to show his extensive collection of beautiful poetic and musical oil paintings. It is an echo that holds Cao Li's work on paper exhibition entitled "Walk on Paper" at the Can Art Center on September 12, 2015, the exhibition showcases his casual creation on paper since the 1980s, embodying the artistic pursuits of different periods and also presents a homogeneous artistic development path of the creation of oil painting.
He graduated from the Department of Mural Painting, CAFA, Cao Li was once a violinist, and he is an artist who has the quality of a poet and a musician. Cao Li graduated from Guizhou Province, the myths, legends and culture of the Southwest of China gave his art a fancy feeling, he always used expressionism and surrealism to look for a variety of possibilities between the "abstract" and "representation." Most of his paintings are false visual spaces, which are full of the imagination of fairy tales, the composition of work also breaks the space-time concept and perspective principle, unswervingly pursuing a change of shape, color and composition, boldly using the combination of dots, lines and the face, to present his bold exploration of formal language, it is full of poetic artistic conception and musical rhythm. These features make the work on paper of the artist have the same effect in presentation. The diverse creations involve pencil, ball-point pen, calligraphy pen, ink and wash, mixed media, which are all derived from his personality that loves freedom. He likes to discover the infinite possibilities with the limited material performance as far as possible. The exhibition presents a large number of manuscripts, watercolors, and mixed materials, which have never been displayed before, so that people can peep at the creating context of Cao Li over the years: he specialized in line drawing in the 1980s, finished a lot of experimental studies in the exploration of visual language; returned to China after inspecting Europe in the 1990s, influenced by European classical art, addicted to the exquisite and rich colors, and the both delicate up-and-down and firm structure of art; he has further stressed the Chinese tradition from 2000, harmoniously combining the imagery shaping, scattered perspective, free time-and-space and formative line with the perceptual Oriental ideas within Western classical, modern and postmodern ideas.
The exhibited work on paper is not as formal as oil painting, but presents a relaxed and unexpected effect, when Cao Li was interviewed, he said it had an internal continuity between these works on paper and the creation of oil painting, which were complementary to each other, but work on paper was different for it was a quick creation, to capture artistic moments and flexible shinning points. When it came to the sense of design, Cao Li thought there was a relationship where he was engaged in the creation and study of mural painting, it was necessary for the creation of mural painting to think about the relationship between the work and the wall, to think about the relationship between painting and manufacture. The exhibition tells us that, he considers line as a melody and rhythm of music, considering color as timbre and acoustics. Through the transformation, auditory and visual aesthetic feeling is connected, to create a poetic expression. The bright tonal and plump shaping makes the work fresh and pure, while a pure aesthetic feeling is implicit and flexible, plain and meaningful.
The exhibition continues to October 12.
Text and photo by Zhang Wenzhi/CAFA ART INFO
Translated by Chen Peihua and edited by Sue/CAFA ART INFO
Translated by Chen Peihua and edited by Sue/CAFA ART INFO
About the exhibition
Title: Walk on Paper – Cao Li's Work on Paper Exhibition
Artist: Cao Li
Duration: September 12 – October 12, 2015
Venue: Can Art Center
Address: No.11 East Street, 798 Art District No.4 Jiuxianqiao Road, Chaoyang District, Beijing
Courtesy of the artist and Can Art Center.
Related posts: