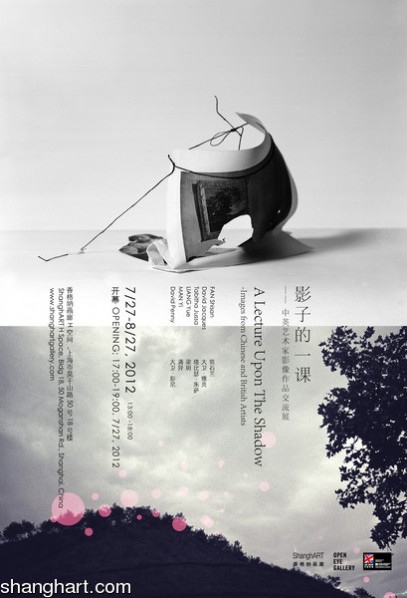 A Lecture upon the Shadow launches in Shanghai at ShanghART Gallery's H-Space from 27 July to 27 August 2012 as part of the UK Now Festival, a major visual and performing arts festival taking place across China from April – November 2012. Co-organized by Open Eye Gallery, Liverpool (UK) and ShanghART Gallery, Shanghai, it is an exhibition presents new works by six emerging artists. The exhibition then travels to the UK's Open Eye Gallery from 7 December 2012 to 17 February 2013.
The exhibition is an exciting collaboration between Open Eye, a publicly funded photography gallery in Liverpool, and ShanghART, Shanghai's leading commercial gallery. It brings together new work by six rising stars from both countries working with photography – three from the UK's North West and three from Shanghai. Using different approaches, the artists play with light, shadow and form to re-imagine familiar situations, exploring photography's relationship to illusion and the everyday. The six exhibiting artists are: David Jacques (Liverpool); Tabitha Jussa (Liverpool); David Penny (Manchester); Fan Shi San (Shanghai) ; Man Yi (Shanghai) and Liang Yue (Shanghai).
David Jacques' work explores history, narrative and the interplay between fact and fiction. North Canada – English Electric (2009-10) consists of 171 stereoscopic images of post-industrial landscapes. Invented in the 1830s, stereoscopy was an early form of 3D imaging. Jacques' stereoscopic images of industrial structures echo the photography of the highly influential 20th Century industrial photographers Bernd and Hilla Becher, prompting a re-thinking of modern photographic practice through the eyes of an obsolete optical media.
Tabitha Jussa's new work Eldon Grove (2012) documents the site of an abandoned utopian social housing development in North Liverpool. Built in 1912, Eldon Grove is an imposing site consisting of three separate buildings. The community was moved out in the 1960s and despite a preservation order the building has been allowed to fall into a state of disrepair while the conservation officers and developers struggle to agree on its future. Jussa's meticulous documentation of Eldon Grove involves 50 individual negative images, composited together digitally to create an impossible view of the buildings – a heightened realism.
David Penny's new series of work Dutch Paintings (2012) has been made through a process of constructing intricate sculptures from the pages of a reproduction art book (which was found by Penny in a junk shop) and then photographing them. Presented behind coloured glass, these art-objects have undergone a number of deforming processes and reconstructions, highlighting photography's transformational ability and its relationship to the history of art.
Liang Yue's new photographs taken in deteriorating lighting conditions capture frozen moments of everyday life. By subtly manipulating her images, Liang Yue enhances the effects of natural and artificial light on the camera lens and the surface of the image, creating imaginary scenes caught somewhere between twilight and darkness.
Fan Shi San's project Two of Us (2009 -) explores the identity formation of people born in China since the introduction of the one child policy (a population control measure that applies to married, urban couples, in place since 1978). Constructing images of young people together with their imaginary reflections, the works are suggestive of separation and loneliness, as the two characters in the images never seem to be able to communicate.
Man Yi's Memory of Water (2006 – 2010) traces details of a landscape surrounding the Yangtze River as it follows its natural course through the Yangtze region and into the East China Sea. Details are barely visible, caught in darkness, evoking a strange sense of detachment and unease. Man Yi's experiments with light and depth of field create illusory spaces that are full of suspense and difficult to define.
A Lecture upon the Shadow is curated by Patrick Henry (Director) and Karen Newman (Curator) from Open Eye Gallery, Ling Min (Director of International Projects, University of the Arts, Shanghai) and the team of ShanghART Gallery, Shanghai. The exhibition takes its title from a poem by the English Renaissance poet John Donne.
About the exhibition
Venue: ShanghART H Space, Bldg 18, 50 Moganshan Rd., Shanghai
Opening: 5pm-7pm, Jul.27, 2012
Duration: Jul.27-Aug.27, 2012. 1pm-6pm
Artists: David Penny, Tabitha Jussa, David Jacques, LIANG Yue, FAN Shisan, MAN Yi.
Courtesy of the artists and ShanghART H Space, for further information please visit www.shanghartgallery.com.
Related posts: