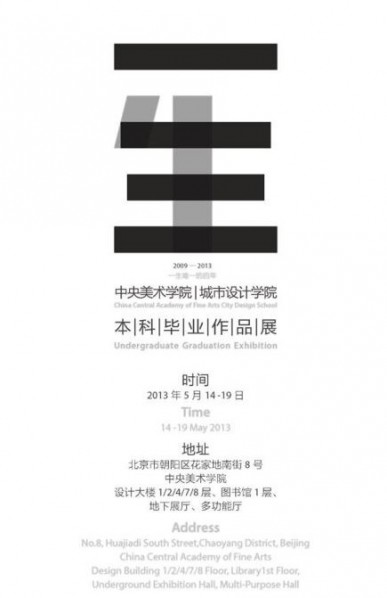 Open to the public, CAFA's annual Graduation Exhibition was inaugurated with "A Lifetime" –2013 Graduation Exhibition by School of Urban Design, which features work in a wide range of media created by 377 undergraduates on May 14.
Each student showcases a final body of work produces as the culmination of his or her experience in five specialized subjects: Urban Information Design, Urban Graphic Design, Urban Fashion Design, Urban Image Design, Furnishing Design. With custom-constructed galleries within 6 separate exhibition halls, students are given the opportunity to showcase multiple pieces or installations for their thesis work to summarize their four-year campus life in life. Themed " A Lifetime", it conveys "a unique experience of four years in life"–the manifestation of four years of study, experimentation, thinking, honing of their craftsmanship and expressive capabilities. It features not only the teaching achievements by the faulty from School of Urban Design, but also it comprehensively presents the thinking and exploration in "City of Art, City of Culture, City of Originality"
The exhibition will remain on view until May 19.
The Schedule of 2013 CAFA Graduation Exhibition
May 13 – May 20 School of Urban Design
Venue: Underground Gallery, Multi-function Hall, the ground floor of the Library, 2nd , 4th and 7th Floor at the Building 7;
May 21 – May 30 School of Design
Venue: 2nd , 4th and 7th Floor at the Building 7
May 21 – May 28 Department of Experimental Art, School of Humanities, School of Chinese Painting
Venue: Underground Gallery( Department of Experimental Art, School of Humanities)
Multi-function Hall( School of Chinese Painting)
May 29 – June 5 Department of Sculpture, Department of Oil Painting
Venue: Underground Gallery ( Department of Sculpture)
Multi-function Hall ( Department of Oil Painting)
May 31 – June 10 School of Architecture
Venue: 2nd , 4th and 7th Floor at the Building 7
June 6 – June 13 Printmaking Department, Department of Mural Painting
Venue: Underground Gallery (Printmaking Department)
Multi-function Hall (Department of Mural Painting)
Related posts: