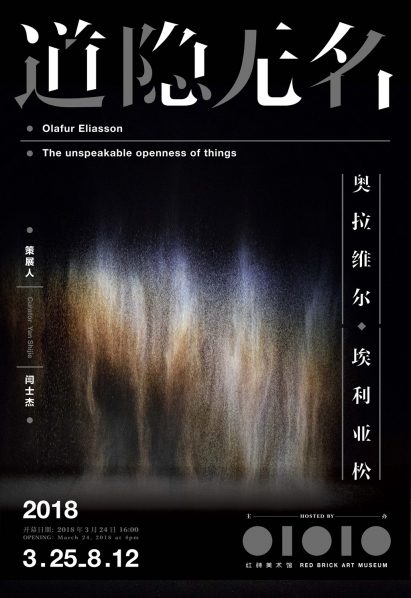 Olafur Eliasson: The unspeakable openness of things presents an array of large-scale installations and sculptures, at the centre of which are three major works in the museum's collection. In conceiving the exhibition Eliasson engaged in close dialogue with the museum's director, Yan Shijie, who opened the Red Brick Art Museum in May 2014. Each space conjures a discrete environment dedicated to a natural phenomenon – light, fog, shadows, water – or to an exploration of movement, patterns, and geometry.
The simple, yet effective mechanisms form experimental setups that address topics important to Eliasson throughout his career. As the viewer moves through the installations, she progresses from the intense light of the first artwork, The unspeakable openness of things, created especially for the site, into darker works, culminating in Rainbow assembly, 2016, in which light is refracted within a dark space to reveal the visible spectrum. A selection of watercolours made with melting glacial ice, as well as works dealing with ellipses, are on view in the more intimate spaces abutting the main installations, and a few artworks can be found in the garden outside the museum as well, among them The blind pavilion (2003), a seminal work first shown as part of Eliasson's presentation in the Danish Pavilion of the Venice Biennale, in 2003.
About the artist
Olafur Eliasson (born 1967, IS/DK) is a visual artist who works in a wide range of media, including installation, painting, sculpture, photography, and film. Since 1997, his critically acclaimed solo shows have appeared in major museums around the world, such as the Museum of Modern Art, New York; 21st Century Museum of Contemporary Art, Kanazawa; Martin-Gropius-Bau, Berlin; SESC Belenzinho, SESC Pompeia, and Pinacoteca do Estado, São Paulo; and the Venice Biennale. In 2003, The weather project, installed in the Turbine Hall of Tate Modern, London, was seen by more than two million people. In 2010, Eliasson created Feelings are facts at Ullens Center for Contemporary Art in Beijing together with the architect Ma Yansong, and, in 2015, We have never been disembodied was on view at Mirrored Gardens, outside Guangzhou. In 2016, Eliasson created a series of interventions for the palace and gardens of Versailles, including an enormous artificial waterfall that cascaded into the Grand Canal, and mounted two large-scale exhibitions, Nothingness is not nothing at all, at Long Museum, Shanghai, and The parliament of possibilities, at Leuum, Samsung Museum of Art, Seoul.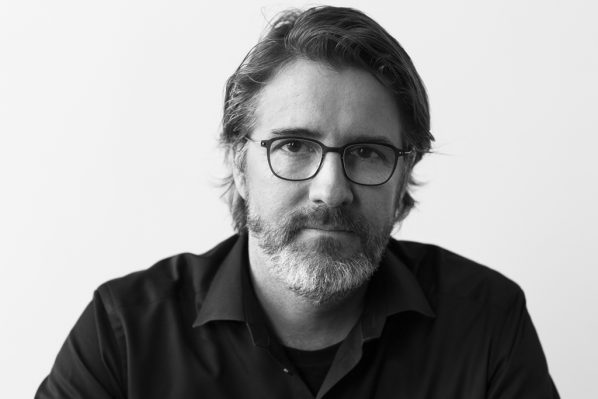 Eliasson's projects in public space include Green river, realised in various cities between 1998 and 2001; The New York City Waterfalls, 2008; the crystalline facades of Harpa Reykjavik Concert Hall and Conference Centre (in collaboration with Henning Larsen Architects), 2005–11; and Cirkelbroen (The circle bridge), Copenhagen, 2015. For Ice Watch, Eliasson and geologist Minik Rosing transported massive blocks of glacial ice from Greenland to Copenhagen (2014) and Paris (2015) to raise awareness of climate change.
Established in 1995, his Berlin studio today numbers about one hundred craftsmen, specialised technicians, architects, archivists, administrators, and cooks. They work with Eliasson to develop, produce, and install artworks, projects, and exhibitions, as well as on experimentation, archiving, research, publishing, and communications.
From 2009 to 2014, Eliasson led the Institut für Raumexperimente as a professor at the Berlin University of the Arts, and in 2014, he became an adjunct professor at the Alle School of Fine Arts and Design in Addis Ababa, Ethiopia.
In 2014, Eliasson and long-term collaborator Sebastian Behmann founded the international office for art and architecture Studio Other Spaces to focus on interdisciplinary and experimental building projects and works in public space.
Since 2012, Eliasson has directed the social business Little Sun, together with engineer Frederik Ottesen, which produces and distributes solar lamps for use in off-grid communities.
Eliasson lives and works in Copenhagen and Berlin.
About the exhibition
Dates: Mar 25, 2018 – Aug 12, 2018
Venue: Red Brick Art Museum
Courtesy of the artist and Red Brick Art Museum, for further information please visit www.redbrickartmuseum.com.
Related posts: