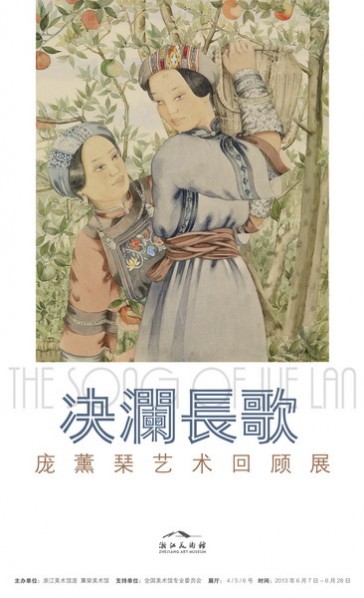 Twenty-eight years after he died, Pang Hiunkin (Pang Xunqin, 庞薰琹) is still one of the most valued artists in China. The retrospective exhibition showcases 155 pieces of his work to be unveiled at Zhejiang Art Museum, joins art objects and documentation, using an academic, classificatory approach toward understanding Pang and the times he lived in. Among these works are Pang's paintings of the Miao people, and the works display deep and profound vitality transforming into a simple and solemn energy. Pang visited eighty different villages in the Guizhou countryside to gain firsthand visual material in order to better portray Miao life. This direct field research confirms Pang's unique interest in tradition. He did not pursue the literati painting tradition, but rather a continuation of the five thousand-year-old tradition of inspired folk creation by nameless craftsmen.
Pang's (1906-1985) greatest contribution to Chinese art is that he gave traditional decoration art a modern context. After studying fine art in Paris in the 1920s, Pang returned to traditional Chinese culture and used what he learned about Western aestheticism to develop Chinese art. He searched for decorative patterns and images in ancient documents and artifacts and made systematic studies of them. The French Art Nouveau movement, which emphasized sinuous natural curves, had a great impact on Pang. "I realized for the first time in my life, that art was not just a few paintings, everywhere in life one needs beauty," Pang wrote. In the 1940s he made use of ancient Chinese images and patterns in the industrial design of carpets, vases, textile fabrics and so on. The elegance and clarity of these designs are still striking today. In 2011, Pang's designs were exhibited in Belgium and his paintings were shown at the Beijing Fine Art Academy, winning high praise among artists and critics.
About the exhibition
Duration: 7 June – 28 June
Venue: Zhejiang Art Museum
Address: No. 138 Nanshan Road, Hangzhou, China
Tel:+86-571-870787oo
Courtesy of Zhejiang Art Museum, for further information please visit www.zjam.org.cn.
Related posts: