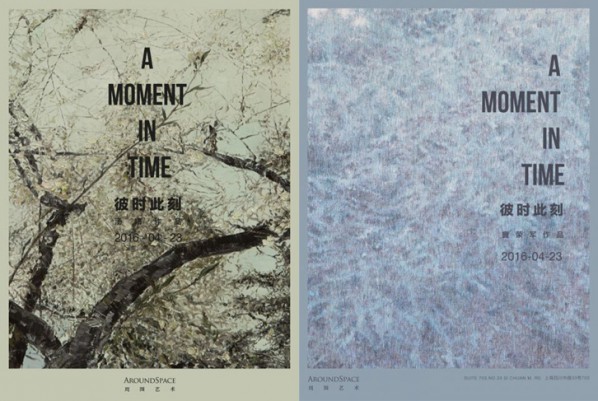 AroundSpace Gallery is pleased to present A Moment in Time: Recent Works by Dou Rongjun and Tang Shu in late spring 2016. Coincidentally, both artists turned to nature: water, forests, snowy bamboo, and peach blossoms. It is rare to see such pure and tranquil paintings in today's materialistic, chaotic world.
More than a century ago American author Thoreau moved to a self-built house near Walden Pond in Massachusetts and lived there for two years. By choosing to live in solitude, Thoreau did not intend to abandon or reject human society, but to get close to nature and contemplate the meaning of life. Thoreau was always against slavery and advocated for protection of the environment. His philosophy of civil disobedience remarkably influenced Indian independence leader Mahatma Gandhi and American civil rights activist Martin Luther King.
In these two artists' works, we discover their reverence for nature and empathy for all creatures, just like Thoreau. In his Tide series, Dou Rongjun continued his exploration based on the same series started in 2013, and concealed billows under peaceful surfaces. He mixed oil paints with pastel, rendered a thin layer as seen in old master paintings, somehow creating luxurious shades and tones. His Snow Bamboo series demonstrated the tenacious vitality of plants in the severe cold; meanwhile paying homage to a Chinese literati painting motif, Three Friends of Winter (pine, bamboo, and plum), with Western oil painting skill.
Another admirer of Thoreau, the late Chinese poet Wei An once wrote: trees are the wishes and the first inhabitants of the land; wherever there are trees, there are hopes of the land. Tang Shu kept close observance of nature, especially to trees. His seemingly careless brushstrokes captured the trees breathing in nature. The "looking up" perspective made the trees as grand as monuments. Paul Gladston commented on Tang's work, saying that his painting has "an austere and rigorously organized, though still evidently spontaneous, first-order depiction of nature."
Dou Rongjun and Tang Shu's paintings rejected any conceptual significance, and showed great interest in nature; they not only revealed the artists' admiration for nature, but also their deep concern for the destiny of human beings. In today's world, we face increasing destruction of the environment and see too many man-made products. A beautiful, natural moment in time is extremely invaluable. They are captured by these artists and framed on the canvases, in order to envoke our nostalgia for nature.
April, 2016
About the exhibition
Date: April 23 – June 11, 2016
Opening: April 23, 2016, 16:00, Staturday
Venue: AroundSpace Gallery
Courtesy of the artists AroundSpace Gallery, for further information please visit www.aroundspace.gallery.
Related posts: