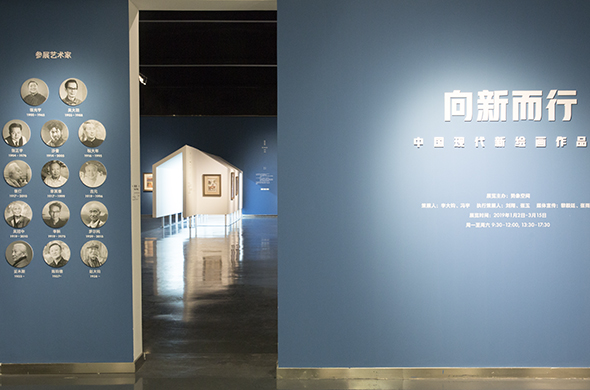 On January 2, 2019, "Moving Towards New Painting—China Modern New Painting Exhibition" was unveiled at the Shixiang Space, this exhibition presents more than 60 paintings by 14 artists including Zhang Guangyu, Wu Dayu, Zhang Zhengyu, Sha Qi, Zhu Danian, Zhang Ding, C.S.Tsung (Zong Qixiang), Gu Yuan, Wu Guanzhong, Li Hu, Luo Erchun, Tuomusi, Chen Junde and Zhao Dajun, in the collections of Shixiang Space, covering Chinese paintings, oil paintings, prints, watercolors, comics and line drawings. It does not just review modern paintings in China, it also presents an analysis and definition of "China Modern New Painting."
Modernist painting was one of the dominating genres of painting in China in the 20th century, and has its own clear artistic ideas and characteristics since it was introduced to China. Some modernists mainly created landscape paintings, such as Liu Haisu and Lin Fengmian, who paid attention to the expression of color and external light; some modernist groups were influenced by Western modernist paintings, such as Torrents Society and "China Independent Painting Art Association". Modernism together with realism was represented by Xu Beihong who makes outstanding contributions to Chinese cultural and artistic development. Since Shixiang Space was established in 2016, modernism has always been highlighted. The founder Li Dajun believes that, Chinese modernist painting has been inherited by generations of artists. Embracing its own art system and heritage, it has been further extended to the contemporary art system. Therefore, Chinese modernist painting is also called the "China modern new painting."
The British art theorist Tony Godfrey wrote a book entitled "New Image" in 1986, and put forward "New Painting", which has been widely used in academia and is popular in China now. Starting from the development of art in China, Li Dajun talked about his understanding of "new painting". Li believes that the May Fourth Movement ushered in a new chapter of modern China after 1919. In the May Fourth Movement, the traditional was replaced by the modern, and old things were replaced by new things, and some new disciplines such as new literature, new art, new opera, new poetry, and new painting appeared. The new paintings acted to correspond with the old paintings and old art. He recently wrote an article entitled "China New Painting: A Perspective on the Viewing of Chinese Modern and Contemporary Art", stating that it is the right time to talk about "new painting" in this context.
The representatives engaged in Chinese modern "new painting" after the New Culture Movement were divided into three generations by Li Dajun. Zhang Guangyu, Lin Fengmian, Wu Dayu, and Pang Xunqin who were representatives of the first generation of modernist artists; Wu Guanzhong, Zao Wou-Ki, Zhu Dequn, Sha Qi, and Zhu Danian were representatives of the second generation of artists; Luo Erchun, Tuomusi, Chen Junde, and Zhao Dajun were the representatives of the third generation of artists.
Among them, Zhang Guangyu, a representative of the first generation of modernist painters, was one of the flag bearers and founders of the Chinese Modern Comic Movement. At the same time, he was also the pioneer of Chinese modern design and design concepts. When Zhang was studying in Shanghai in the 1930s, he was greatly influenced by Western modernism, and he drew on the elements of modern art to create many representative pieces. However, he was not well known by academia because of the turbulent times and his early death. Wu Dayu studied abroad in France in 1922. Because he was engrossed in Paul Cézanne's paintings, he devoted himself to the study of the shape and color of painting, and created many paintings of a typical modernist style. As a representative of the second generation of modernist painters, Wu Guanzhong was a student of Wu Dayu, who taught Wu the language and concept of modernist painting. Wu Guanzhong used Chinese ink wash painting to create many semi-abstract and abstract paintings themed on southern water towns. Zhu Danian went to Japan to specialise in ceramic art in 1934, learning and integrating the essence of Western modern art. He was one of the important pioneers of modern Chinese realistic painting, mural and modern ceramic art. The representatives of the third generation Luo Erchun and Tuomusi loved to use bright colors in their creations, showcasing a unique style.
The works by those artists constitute the exhibition of "Moving Towards New Painting". Although it is not a large-scale exhibition, based on a batch of realistic paintings created in the 20th century it presents and reviews "new painting". As Li Dajun said "The mainstreams of the old and the new are obvious, while the boundaries between the both are blurred. Taking the ancient painters as examples, 'Four Wangs' were old while Shi Tao and Bada were new. As for the West, the classical and academic were old, while Cézanne, Matisse and Picasso were new."
Shixiang Space uses "Moving Towards New Painting—China Modern New Painting Exhibition" to review the modern painting system in China, and to make progression in perfecting the collection system. In addition, it has maintained a blank space, suggesting that there are many outstanding artists who have not been discovered and promoted. It remains on view till March 15, 2019.
Text and photo by Yang Zhonghui, translated by Chen Peihua and edited by Sue/CAFA ART INFO
Photos of Works Courtesy of the Organizer
Related posts: