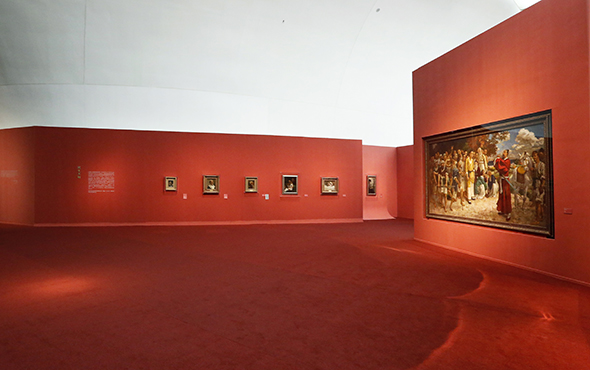 Academic circles have always paid attention to and developed the research of Xu Beihong (1895-1953). As the research is thourough, many exhibitions have been presented from different perspectives. On the occasion of centennial celebration for the Central Academy of Fine Arts (abbr. CAFA) in 2018, "Celebration of the Centennial of Central Academy of Fine Arts: Xu Beihong – Living Art Forever" and a series of academic forums, academic lectures are also part of the major commemorative events which were held at CAFA. The exhibition was named after the inscription carved on Xu Beihong's seal and used in a selected piece entitled "The Scroll of Eighty-seven Immortals", it attempts to start from Xu Beihong's oil paintings, Chinese paintings, drawings, calligraphy, art education and his collection of ancient Chinese paintings and calligraphy to comprehensively expound on and narrate Xu Beihong's artistic life, and it offers us an opportunity to fully understand Xu Beihong.
I
In the 1980s, the domestic art circles tended to "disparage Xu Beihong and praise Lin Fengmian", and some people believed that it was because Xu Beihong brought the outdated realism from Europe to China that the development of Chinese modernism was delayed. We now accept Western modern art advocated by Lin Fengmian, and even postmodernism and contemporary art. I guess many people would like to ask a question. Have Xu Beihong's realism and Xu Beihong's spirit become outdated?
Based on the newly-discovered material and new research, Hua Tianxue made a conclusion that the trip to Japan gave Xu Beihong mature ideas on paintings before he became determined to study in France. Determined to improve Chinese paintings, he actively studied and really understood the powerful charm of Western realistic art that has happened since the Renaissance. In the face of Chinese paintings that had been at a low tide since the "Four Masters in the Yuan Dynasty", Xu Beihong used the practice of Western realistic paintings to improve Chinese paintings.
In the opinion of Hua Tianxue, Xu Beihong's improvement of Chinese Paintings is divided into three phases based on forms. In the first phase, "Xu Beihong – Living Art Forever" presents the works created by the painter before 1919, including "The Fairy Sending Flowers" (1918), "Chinese Rose" (1918), "Ancient Pines and Cypresses of the West Hill" (1918). It portrayed the objects in watercolor, ink painting and line drawing. From 1925 to 1931, Xu Beihong focused on sketches and oil paintings. He returned to the tradition and it was a transition period of his creation. It is reflected in the works such as "Huang Zhenzhi's Portrait" (1930). From 1931 to 1953, Xu Beihong's exploration of Chinese painting gradually matured, and elements of traditional paintings gradually disappeared, and Western elements were naturally integrated into his creation, and then the works of a new form and a personal style were created, for example "Boatmen" (1936), "When Faith Moves Mountains" (1940) and "Portrait of Tagore" (1940). In the third phase, we can see Xu Beihong's drawing is integrated in the improvement of the brush and ink of Chinese paintings.
Xu Beihong pursued realism throughout his life. In 1929, the Ministry of Education of the Republic of China launched "The First National Art Exhibition" in Shanghai. The exhibition presented 354 works covering a variety of styles such as realism, formalism, romanticism, impressionism, post-impressionism and futurism. However, when Xu Beihong discovered there were too many works of modernism in the exhibition, he did not present his own work in the exhibition. He was the only person that absolutely pursued realism and he criticized others for failing in their pursuit of realism. Xu Beihong insisted on realism and attempted to improve Chinese paintings which were poor. It revealed a democratic spirit derived from the May Fourth Movement: destroying the old culture, studying Western culture, and pursuing democracy and science, which was the spirit of Xu Beihong and his generation at that time.
Professor Zhang Gan from the Academy of Arts & Design, Tsinghua University, was invited to give a speech, and he reviewed the contemporary meaning of Xu Beihong's realism from the perspective of its significance at the current academy. He believed that Xu Beihong hoped to change the art of China, he shouldered such a mission and in the end his determination led him to choose the path of realism, because Chinese art did not only face an issue of artistic exploration during those times, it also faced national salvation. Realism is a painting language that meets the needs of the times. Xu Beihong and his generation of artists studying in Europe brought the systematic education back to China. After returning to China, they experienced the warlord system, anti-Japanese wars, and civil wars. The art world began to learn from the Soviet Union after the liberation of New China, so the artists could not settle to explore the language of art. It has directly led to the fact that the level of Chinese realistic painting was lower than the level of the Western art academies. More than 90% of Chinese artists neither grasped the performance of the physical structure when they painted major historical subjects, nor grasped the performance of a spatial relationship, and they did not fully understand perspective and anatomy. Therefore, Prof. Zhang Gan pointed out that realistic art still had great vitality and possibilities to develop in China.
II
Ai Zhongxin once wrote a book entitled "Research on Xu Beihong" and commented that Xu Beihong placed art education in first place, and then his personal creation, while social activities connected both … "Xu Beihong – living Art Forever" uses documents to present Xu Beihong's ideas in art education, and this forms part of this exhibition.
In 1927, Xu Beihong returned to China at the end of studying abroad in Europe for eight years, and together with Tian Han and Ouyang Yuqian he established an art group named "Nanguo Society", and the Nanguo Art College was established. Xu Beihong served as the Director of Department of Fine Arts and a teacher. Xu cultivated the first group of students of fine arts, such as Wu Zuoren, Liu Ruti, Liu Yisi, and Lyu Xiaguang. Later, the Fourth Sun Yat-sen University in Nanjing (the Fourth Sun Yat-sen University was renamed Central University in 1928) invited Xu Beihong to serve as a professor of art education. In 1928, Cai Yuanpei recommended Xu Beihong as the Dean of the Art College of National Beiping University, but his idea of realism as applied in art education was not supported by many people. In the end, he returned to Central University because the "Three Professors' Strike" happened, which also proved that his ideas were not supported.
In 1946, Xu Beihong was once again invited to serve as the president of the National Beiping Art School (originally named the Art College of National Beiping University). Xu invited Wu Zuoren to serve as the Academic Director, and also invited Ye Qianyu from Sichuan, Li Keran and Pang Xunqin from Hangzhou National Art School, to move to Beiping. Since then he has successively employed 18 Chinese professors including Zhu Jiasheng, Li Ruinian, Hua Tianyou, Wang Senran, Zhang Daqian, Qi Baishi, Li Kuchan; 8 part-time professors such as Huang Binhong, Zhu Guangqian, and Jiang Zhaohe; 28 Associate Professors and part-time Associate Professors including Feng Fashi, Li Hua, Sun Zongwei and Ai Zhongxin; 26 lecturers and part-time lecturers including Dong Xiwen and Zong Qixiang; Wei Qimei and Situ Jie served as assistant teachers. In this way, Xu Beihong built a team of teachers at the National Beiping Art School.
Xu Beihong refined the techniques of Western realism that he learned in France and created a complete and mature system that applied to the teaching of the school. Xu Beihong's realistic creative approach emphasized the integration of art and Chinese realities and social needs, reflecting social realities on the basis of democracy and patriotism, and proposed the target of "The Art for Life", which laid the core idea of ​CAFA. It has played an important role in the art education of New China and in the educational system of CAFA which has continued. A group of teachers, who were supported by Xu Beihong, were also called "Xu Beihong School" by later generations.
III
In past exhibitions and academic studies, Xu Beihong's private collections of paintings have always been ignored, while "Xu Beihong – Living Art Forever" presents many remarkable works collected by Xu Beihong. It selected more than 60 pieces from more than 12,000 Chinese paintings and calligraphy collected by Xu Beihong, covering pieces from the Tang, Song, Yuan, Ming and Qing dynasties, as well as works by the artists of his generation and some Western artists. Among them there is a legendary Chinese painting entitled "The Scroll of Eighty-seven Immortals", which is of an high artistic value, which is on show for the first time since 2008.
Now, Xu Beihong has been gradually positioned with a reasonable following in art circles, along with an extension of research into him. Starting from the early introduction and records on many experts' opinions on this well-known artist, Xu Beihong was unilaterally positioned under the influence of political factors in the 1950s and 1960s, but now Xu has been prudently and fairly studied after the historical baptism. As an outstanding artist and art educator, Xu has gained outstanding achievements and tremendous influence. XuBeihong was one of the most important figures in the history of modern Chinese art.
Text by Yang Zhonghui, translated by Chen Peihua and edited by Sue/CAFA ART INFO
Photo courtesy of the organizer
References:
Ai Zhongxin, "Research on Xu Beihong", Beijing: Encyclopedia of China Publishing House, 2007.
Hua Tianxue, "Xu Beihong's Improvement of Chinese Painting", it is a doctoral dissertation of China National Academy of Arts in 2006.
Wang Wenjuan, "The Current Situation of Researches on Xu Beihong's Art at Home and Abroad", published in "Art Studies" vol.4, 2014.
Xu Beihong, "Xu Beihong's Essays", Nanjing: Jiangsu Literature and Art Publishing House, 2007.
Li Song, "Xu Beihong's Chronicle", Beijing: People's Fine Arts Publishing House, 1985.
Related posts: