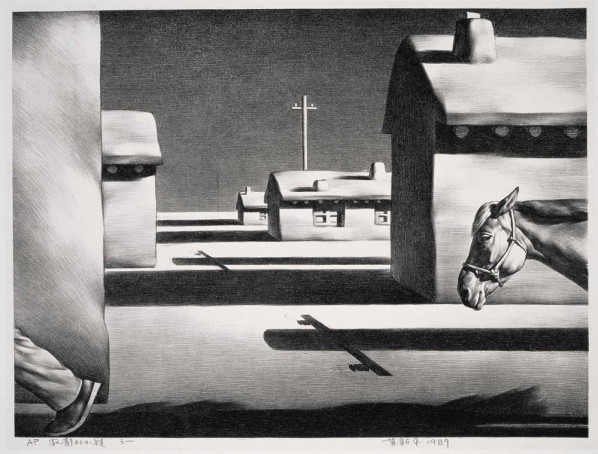 "A Song of Painting – Exhibition of the Horse Painting Collection in CAFA Art Museum" opened to the public on January 21, 2014.
The year 2014 is the year of horse in the Chinese lunar calendar. To celebrate the upcoming New Year, CAFA art museum has selected several horse-themed artworks from its collections for this exhibition, and has a similar title to the famous poem by Du Fu – "A Song of a Painting to General Cao". It is expected that these works of fine art are in diverse styles, with unique images and of great attraction so as to enrich the cultural life of the public during the festival.
Since ancient time, horses have been friends of human beings. In Chinese tradition, the horse is regarded as the incarnation of a dragon on earth, whose vigorous spirit is also a portrayal of self-discipline and social commitment to Chinese morality. Because of the close relationship between horse and man, the artists must learn more about the habits and specialty of the horse, and based on this they developed many understandings of aesthetic perception and spiritual morality. It was also these understandings which conferred vibrating aesthetic significance on the artworks as mentioned in the poem:
"Accepting the order from the emperor to paint the horse,
The General took painstaking efforts to convey the painting.
When the 'real dragon' appeared as if coming from the heaven,
All the horses on earth eclipsed, into shadow as they fell."
There will be about twenty paintings from the collection, created by both ancient and modern artists, included in the exhibition. It will be divided into two parts: one is themed "the individuality of the horse", including famous works by Ni Tian, Xu Beihong and Liu Kuiling, etc.; the other one is "horse and human", displaying the image of an horse within life, including works by famous artists Li Hua, Li Hongren, Fan Zeng, Hu Bo, etc. There will also be some works by artists of younger generations so that the whole exhibition will demonstrate different styles through varied media. In this way, it is possible to break the boundary of various styles, and with a comparison beyond time and space, it is able to offer an open perspective for both the public and the artists to experience the diversity of "horse" in art.
We sincerely hope that these fantastic "horses" will offer the audience a wonderful encounter with art and we present here the exhibition as a gift for the coming festival.
About the exhibition
Organizer: CAFA Art Museum
Curating: Collections Department of CAFA Art Museum
Time: January 24 to February 15, 2014
Venue: Gallery 2B, CAFA Art Museum
Courtesy of CAFA Art Museum, translated by Chen Peihua and edited by Sue/CAFA ART INFO.
Related posts: