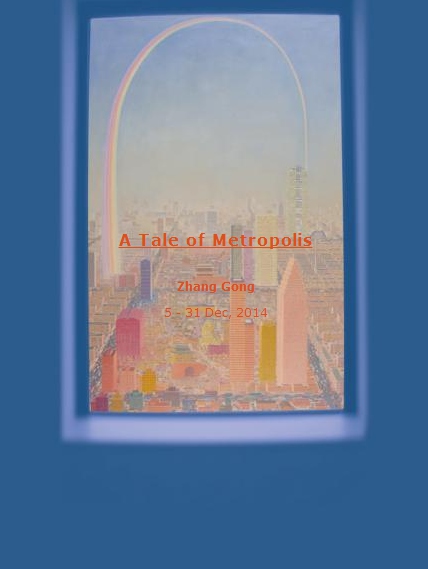 The exhibition will feature twenty paintings of Zhang Gong on urban cities. A large amount of American and Japanese cartoon characters, together with Zhang Gong's cartoon creations, are placed in a realistic yet extraordinary renderings that are created in reference to Beijing and New York cityscapes. These cartoon characters are like a consolidation and generalization of people in real life. They reflect the cultural shock of Zhang Gong during the period of rapid social changes, and convey his hope for the city's future.
Looking at the painting Beijing No.1, one would be immediately attracted by the sprawling blocks of skyscrapers and the streets teeming with traffic, people and cartoon characters. The city is shrouded by a tender and warm tone. The richness and meticulousness of the picture elements is impressive. At first glance, one might not recognize the urban scenes in the painting, but the atmosphere can be easily sensed. There are spire skyscrapers, classical bungalows, houses to be demolished and commercial buildings under construction. This bustling cityscape is created in accordance to Zhang's subjective feelings about Beijing and New York.
Zhang Gong said, "The two cities I like the most are Beijing, a city I am very familiar with; and New York, a city which I am not too familiar with. Beijing's multitude of changes coveys a pain of my reminiscence, whereas New York carries a hope that I can't explain." In 2010, Zhang Gong paid his first visit to New York, and was deeply impressed by the scenery and the atmosphere of freedom. He then started to create a series of paintings with the theme on urban cities.
Other than a faithful representation of Beijing and New York, Zhang created the urban scenes based on his own memories and feelings of these two places. Born in Beijing in 1959, Zhang has witnessed the dramatic changes of the modernization of the city. From a tranquil cluster to bustling metropolis, the thoughts and reflections of the city's history, society and culture are hinted in various symbols and icons in Zhang's works.
Artist Liu Ye described Zhang's painting, "Zhang Gong has all along been obsessed with creation of paintings on urban cities. Zhang delineated, with extraordinary patience, urban architectures, streets, traffics and people, as well as stories happened in cities. When we read his painting in depth, we would realize as an interesting point that the cities portrayed by the artist look very familiar, and yet strange, to us, whether it is Beijing, a place that I know very well, or any other cosmopolitan city in the world…Perhaps, where the interest of the artist lies is not a realistic city portrait, but rather a collage of his impressions of this city. In other words, this could be considered as a condensed portrait of the city."
More interestingly, one would find loads of cartoon characters, such as Donald Duck, Mickey Mouse, Kung Fu Panda, Batman, The Simpsons, etc. wandering between the buildings in his works. Zhang thinks that cartoon characters are actually products of real people who are generalized, purified and concentrated – they have the identity, cognition and experience that could be shared with everyone. A consolidation of cartoon characters in the paintings performs as a metaphor for the real world. In the clusters of cartoon characters, we would also find "Ms Red" and "Miss Panda" which are created by Zhang Gong. They are originally the characters from Zhang's animations produced between 1999 to 2009, a period of Zhang's exploration for another creative media that communicate with a wider range of audience. "Ms Red" is a representation of the stereotype with a pleasing appearance and an empty soul. They blindly obey and barely criticize. "Ms Red" is one of the icons that reflect Zhang's thoughts and criticism of the society that he is living in. Nevertheless, the painting is not hypocritical nor vicious. Instead, vivid colors, logical compositions, detailed depictions, and even a cheery atmosphere has been demonstrated throughout his works.
Artist Shao Fan talked about Zhang's works, "Zhang Gong paints with an inborn sensibility for details. In his works, imperturbable details fill up the whole pictorial space. These details look like self-replicating. They present a macro-view of the world as perceived by Zhang Gong."
Despite how intense and overwhelming of the buildings and people in Zhang's paintings, they always elude a sense of tranquility and serenity, just like Zhang's calm personality. He records this world with warm colours and tender brushes, as if he is telling us that even though the reality is ironic and absurd, there is still hopes for the future.
About the artist
Born in Beijing in 1959, Zhang Gong received his master's degree of Fine Arts from Central Academy of Arts and Design in 1993. His solo exhibitions include: Where We Go, Eli Klein Fine Art, New York, 2012, Castle in the Sky, Eaststation Gallery, Beijing, 2012, Miss Panda, Eli Klein Fine Art, New York, 2010, Zhang Gong, Palace Ridge Gallery, Tokyo, Japan, 2000, Ideals and Idols of Beijing, Schoeni Art Gallery, Hong Kong, 1994. His works have been exhibited in Kunstmuseum, Bonn, Germany, Singapore Art Museum, MOCA Shanghai, Art Miami, Art Basel in Switzerland, etc. Zhang has created animations, such as "Ms Red" (2009), "Black Pig, White Pig" (2005), "The Bird" (2004), "Trees" (2003), and were shown at international animated film festival around the world. Zhang is currently teaching at the Department of Information Art and Design at Tsinghua University.
About the exhibition
Duration: 5-31 Dec 2014
Venue: Kwai Fung Hin Art Gallery
Opening Hours: 10:00-18:30 (Mon-Sat, Closed on Sundays and holidays)
Tel: 852-25800058
Add: G/F, 20 Ice House Street, Central, Hong Kong
Courtesy of the artist and Kwai Fung Hin Art Gallery, for further information please visit www.kwaifunghin.com.
Related posts: