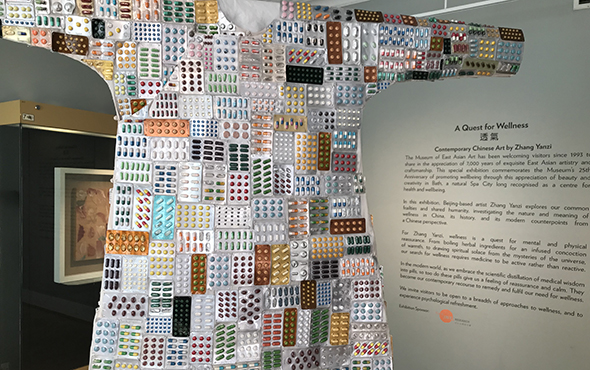 Recently, Zhang Yanzi's solo exhibitions entitled "A Quest for Healing" and "A Quest for Wellness" were successfully launched in Edinburgh and Bath. These two exhibitions centre around her recent artistic practice and long-term creative theory and bring about the creative integration between traditional Chinese ink and wash painting, medical science and contemporary art for the artistic community and the public in the U.K., her exhibitions with rich eastern philosophy and artistic features have attracted numerous journalists and a varied audience. The British media including The Guardian, The Herald, ArtAsiaPacific, New Scientist all reported on the exhibitions as soon as they were unveiled. Her solo exhibition in Bath also attracted the attention of Vera Hobhouse, an M. P. who used to be an artist and she paid a special visit and chatted with the artist.
Both of these two exhibitions by Zhang Yanzi are about "treatment" which does not only refer to medical treatment, but also indicates a communication between individuals, individuals and society, country and the spirit, and even the world. Chinese Confucianism pursues the way of "self-cultivation, regulation of home, ruling the country and pacifying the world", this rhetoric could be applied from the individual to the country and the world. In Zhang Yanzi's opinion, art is also a kind of "treatment", which is also exerting its role subliminally.
Celebrating the gallery's 'year of firsts' the first of these solo museum exhibitions, "A Quest for Healing" will remain on view till 4 November at the Surgeons' Hall Museums in Edinburgh. This is the first art exhibition to be shown at this museum – one of the largest medical museums in Europe. Moved by her residency at the Museum in 2017, the show's gentle yet probing paintings and installations have been inspired by the rich collections of the museum, its unrivalled collection of medical history and detailed notes from found medical notebooks that are part of the Museum's collection. "All volcanoes are nothing but acne" is an installation conveying her emotional eruption after she visited the Museum, which also embodies her reflections of the cosmological philosophy and view of the world. When we overlook the earth, all the erupting volcanoes are nothing but acne on a face, all terrific traumas seem to be insignificant, conversely, seemingly small human beings, or an ant, might be a universe.
With "Wishing Capsules", which has attracted much attention, the artist has collected wishes from thousands of ordinary people as she invited them to write their wishes on small notes and then they were rolled up and sealed in capsule packets. These wishes come from various countries, those who had made wishes include actors, lawyers, businessmen, students, as well as children from remote mountain areas in Yunnan. Their aspirations differ from each other but altogether they present the living state from all walks of life, as well as their aspiration for goodness, the wishes gradually gathered to become a form of energy.
In particular, "Secret Path", a series of four artworks which directly respond to western and eastern medicine, harness as reference, notes and medical illustrations from Notes in anatomy taken from lectures by Professor Turner, Session 1881-82 by David Middleton Greig (1864-1936) from the library of the Royal College of Surgeons of Edinburgh. The multi-layered works consist of landscape ink paintings on the lower layer, and a human face painted on silk on the upper layer. The face is drawn from a Song Dynasty book serving as a resource in Chinese face reading methodologies; and how patterns of facial moles might divulge clues to a person's character or destiny. 'Ancient Chinese people believed that everything mutually supports and restrains each other', says Zhang Yanzi on the idea of healing and well-being. "From the body to the spirit, we always have moments of confusion and look for a remedy. Whilst men were born to suffer pain, affliction of the soul needs consolation of the spirit and the strength and calmness from the inner mind and body.' The bottom layer depicts the blood vessels in the human brain. It looks like a tree in a landscape painting and it is very beautiful. The surface layer paints a Chinese traditional face with a stroke of paint on a very transparent enamel and marks it. Each acupuncture point and iliac crest are double-layered, and acupuncture needles are used to pierce the two layers and connect to blood vessels through the acupuncture points. In the exhibition hall, one can also see a magnificent scroll of "Qi," a 64-meter-long ink scroll that hangs in the museum's largest exhibition hall and is displayed with hundreds of years of specimens.
Zhang Yanzi believes that, "the ancient Chinese believed that the relationship between all things on the earth was mutual support and mutual restraint. So do traditional Chinese medical science and Western medical science, they have their own system and they can support and interact with each other." Chris Henry, Curator of Surgeons' Hall Museum felt honored that Zhang Yanzi brought her solo exhibition to Edinburgh and he said, as a first-ever contemporary art exhibition held by their museums with over 500 years of history, the artist made use of her inspiration and creativity to present these unparalleled artworks, they have brought tremendous strength to the audience, as well as dynamism and thinking to the city of Edinburgh.
As a response and interaction to the exhibition of "A Quest for Healing", "A Quest for Wellness" was unveiled at the Museum of East Asian Art, as a key moment that celebrates the 25th anniversary of the Museum. Bath is the only World Heritage City in U.K. and the Museum of East Asian Art is the only museum in the U.K. which focuses on art and culture from East Asia and Southeast Asia. The exhibition systematically presents the artistic concept of Zhang Yanzi, and Nicole Chiang, Curator of the Museum of the East Asian Art welcomed the Chinese artist to join in the universal discussions on "wellness" and "healing" in Bath, a small town with ancient Roman characteristics and she thought that Zhang Yanzi integrated contemporary elements perfectly with classical spiritual emotions.
British parliamentarian Wera Hobhouse attended the opening ceremony and congratulated Zhang Yanzi on the display. Wera Hobhouse studied art in Berlin and she later engaged in politics. She showed great interest in Zhang Yanzi's art and they communicated about her work and exhibitions. They discussed the concept and meaning of "treatment" and Wera Hobhouse showed concern and appreciated the inquiry into contemporary society and the artistic pursuit themed on "spiritual healing" conducted by Zhang Yanzi. She believed that the spiritual strength brought by this universal artistic expression, would surely bring new vitality and inspiration to the Museum of East Asian Art. After she had a video interview with Zhang Yanzi, she invited the artist to visit her artworks at her home.
In "A Quest for Wellness", the audience showed great interest in artworks such as "Excess", "Breathable", "Rainbow" and so on. "Excess" expresses the artist's thinking on the problems brought by the overwhelming information and over-abundance of material life, this state is full of various things every day, isn't it a drug dependency? "Breathable" conveys Zhang Yanzi's artistic pursuit in "black-and-white" in traditional Chinese paintings, rolled gauze look like blood but cinnabar landscapes could be found among the gauze like beautiful lyrics. In contrast, we can feel the confrontation and fusion between traditional art and contemporary art. "Rainbow" has a special meaning in religion and it also symbolizes beauty in the secular world, capsules are dressed like a string of beads, religion and art have been combined perfectly in this work and they jointly comfort the mind.
Thanks to the efforts of the organizer Galerie Ora-Ora, these two exhibitions were successfully held during the same period in the U.K. On May 3, 2018, Henrietta Tsui-Leung, Co-Founder and Director of Galerie Ora-Ora, gave a lecture at Bath Royal Literary and Scientific Institute, talking about "Adventures in Ink: Contemporary Chinese Painting", the exploration in the developments and significance of ink and wash paintings in contemporary Chinese fine arts, especially the significance that Zhang Yanzi's concern with common human propositions and meaning of life from the perspective of traditional ink and wash, which also extends to the contemporary connotation of ink and wash painting. Henrietta Tsui-Leung was also very glad that British art circles and the audience appreciate Chinese art, she expressed that she would like to introduce Chinese art to more countries so they can further understand Chinese contemporary art.
Courtesy of the artist, translated and edited by Sue/CAFA ART INFO.
Related posts: