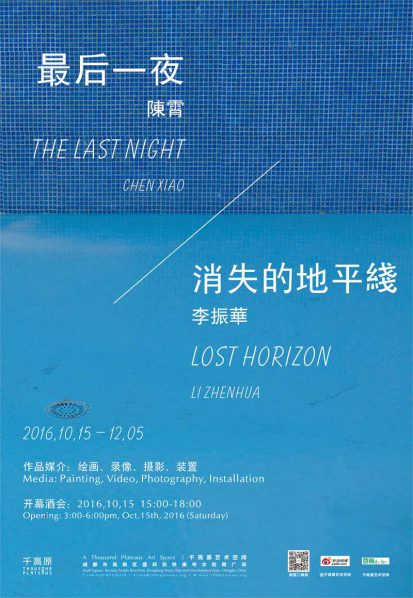 Solo exhibitions of two artist, Chen Xiao and Li Zhenhua, will be launched at A Thousand Plateaus Art Space on October 15, 2016, which respectively are "The Last Night" of Chen Xiao and "Lost Horizon" of Li Zhenhua. They will present their new media works in the same exhibition space following the venation of their creation and reflection, and explore new perceptions through colliding with each other on different themes in the same space.
With his rich and in-depth artistic practice, Li Zhenhua has worked across curatorial and creative fields. His entry point of creating usually is the generation and transmission of perception and knowledge and the relationships of daily life, society, history, cultural change in the state of post-modern history and society. His work often creates a path of reflection and feeling in interrelationships. The exhibition, "Lost Horizon", was influenced by the novel of the same name by British writer James Hilton, inspired by the fictional utopia in a Tibetan mountain as described in the novel; "Shangri-la" is a place name derived from this novel and afterwards several places in the real world, such as Zhongdian County, has changed to "Shangri-la". In Li Zhenhua's eyes, this novel is not about the desire of mystery or escape from reality, but something more abstract and essential – to search and confirm the existence or feeling which is existed but beyond the world, which is usually beclouded. Therefore, his work is about "lose" and "seek". The material form of the work is included in a simple pdf file, the audience can follow the document to interact with it. In this process, knowledge and imagination become clues, and what is been looking for maybe not "the distance" but "the miracle" in daily life, like the beauty prompted by light or dust. Li Zhenhua and Chen Xiao's work echo on their themes, and ultimately attribute to the inner exploration and purification.
About the exhibition
Dates: Oct 15, 2016 – Dec 5, 2016
Opening: Oct 15, 2016, 15:00, Saturday
Venue: A Thousand Plateaus Art Space
Courtesy of the artists and A Thousand Plateaus Art Space, for further information please visit www.1000plateaus.org.
Related posts: