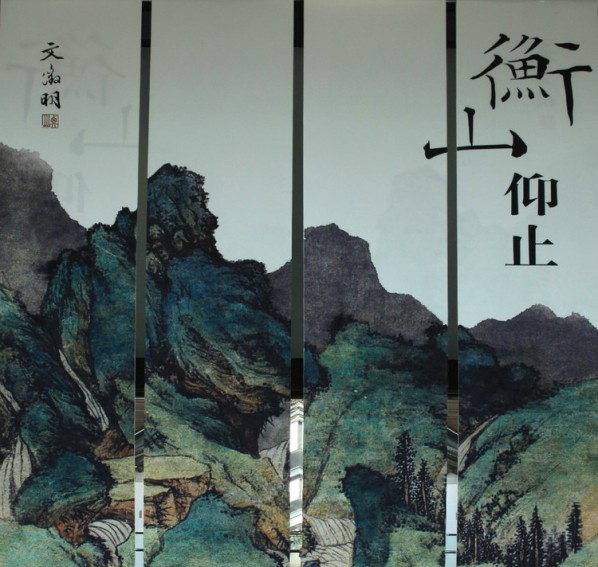 All the world's a stage,
And all the men and women merely players:
They have their exits and their entrances;
And one man in his time plays many parts.
— From As You Like It by William Shakespeare
Wen Zhengming, to whom this exhibition is dedicated to, was regarded as an all-rounder artist in his time. 540 years after his birth, when we review his works and flip through biographies by his offspring and contemporaries, the title, "literati painter", falls short of covering his abundant life. Since in his particular historical settings, he was a man of letters, painter, calligrapher, curator, teacher or even politician, not to mention the natural roles as a student, son, husband and father, all of which make this personage more attractively mystical.
Wen Zhengming (1470-1559), name Bi, style name Zhengming, Xing (from the age of 42) and Zhengzhong, sobriquet Heng Shang kulapati or Moored Cloud (named after his studio name Moored Cloud, Word Pondering and Yulan Studio). Wen Zhengming was born in an official family in Chang Zhou (now Wuxian, Jiangsu). An extremely talented scholar, Wen Zhengming was famous for his skills in painting, poem, calligraphy and literature. He ranked among Zhu Yunming, Tang Ying and Xu Zhenqing, as one of "Four Talents of Suzhou" in poem writing; and among Shen Zhou, Tang Ying and Qiu Ying, as one of "Masters of Ming Dynasty" in painting and calligraphy. There is no exaggeration to say, Wen Zhengming is a transitional figure who contributed to the development of painting, calligraphy, poem and literature in Mid-Ming-Dynasty.
Wang Shizhen, a younger contemporary and historian, claimed that "I had heard of Master Wen since my childhood, now he is known to all residents of Suzhou, and enjoys verbal complements everywhere." Moreover, in the endings of his Biography of Master Wen,Wang added, People in Suzhou acclaim Xu Zhenqing for his poems, Zhu Yunming for calligraphy and Tang Ying for paintings. They were famous for their expertise and invariably became friends of Master Wen. But unlike Master Wen, they are not endowed with multiple talents. In his late years, Master Wen is regarded as an equal to Zhu Gongjing (a well known scholar of Ming). However, Master Zhu has no expertise to boast of, thus you may wonder how great Master Wen indeed is?
As we may see from these words, Wen Zhengming is acclaimed by most of his contemporaries and this positive image was enhanced by generations downward. It would be imaginable that, if he held asolo exhibition in his Moored Cloud Studio or in Wang Xiancheng's Humble Administrator's Garden, the whole city would have been empty, all swarming to the exhibit.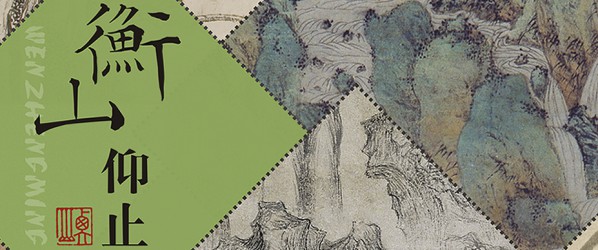 540 years since his birth, Suzhou Art Museum dedicates "A Tribute to Hengshan: a Special Exhibition of Wen Zhengming, Wu School Series" to this master, in the hope that deciphering of his works would help the audience to better understand the great artist's multi-faceted life: as a student of old-styled school, how Master Wen achieved excellence and stood out of eight-episode essay writers; as a Yingzhao (official title) in capital, how he went through vicissitudes of court struggles; as a follower of Ancient Chinese Prose Movement, how he determined his style between ancient prose and Cheng prose; as a torch-bearer among Suzhou literati, how he innovated while preserving the germ of literary tradition; as a traditional literati painter, how he created landscape paintings of Wen School; as a calligrapher, how he transformed his "awkward writings" into masterpieces; as a collector and expert, how he shared his aesthetic understanding to the ordinary people; as a tutor, how he taught his followers and disciples with his deeds and words.
The exhibition is to commemorate the great artist who "leads the literary trend for decades", and to draw the people's attention to the culture and social life in Suzhou during Ming dynasty.
Today, Wen Zhengming's meticulous art works converge from all over the world in Suzhou Museum, which sits next to the Humble Administers Garden designed by him. When we are amazed at the great works accomplished more than 500 years ago and wondering upon the scarlet words "since my birth in Gengying year (Chinese lunar calendar,1470)", a sense of déjà-vu may come to the audience and bring us back to the time where Master Wen created these great works, and thus enable us to gain a genuine understanding of this Master. 21 museums from mainland China and abroad had contributed their collections to this special exhibition.
The exhibition will remain on display until February 26, 2014.
Related posts: