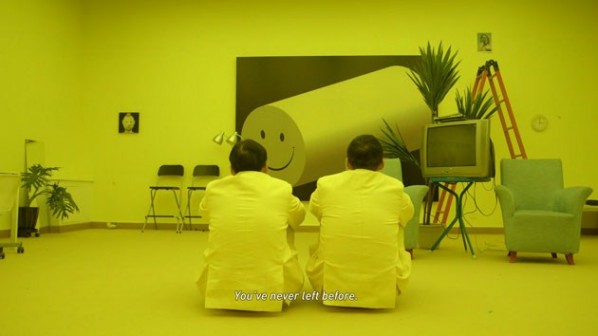 Since 2010, Chen Zhou has continually experimented with aesthetic languages in his video work. Through an exaggeration or simplification of semiotic forms, these works attempt to dissociate, reassemble and reproduce various narrative structures. Chen Zhou adopts the term 'hedonism' to describe the current stage of his work. It is also used to express uncertainties of aesthetic value in his work and at the same time present to us the anxiety he faces with the work.
With his solo exhibition currently on view at Magician Space, I'm not not not Chen Zhou centers around the artist's colleagues, friends, and curators. Chen describes the work as a 'yellow journey'. They explore fragments of the ego and the blurry relationships that connect together these pieces to reveal a path that this Chen Zhou (who isn't Chen Zhou) is about to embark on. The exhibition will remain on view until June 16, 2013.
Preface for I'm not not not Chen Zhou by Su Wei
About three months ago, by chance I began discussions with Chen Zhou regarding this exhibition. It began with one unpredictable exchange in that moment. Many words were spoken here and there, there were many desires to search for answers, and there were many times when we looked repeatedly at the role of the ego – all these things were accounted for within these contours of the time portrayed.
I first came into contact with Chen Zhou's work two years ago. In his video work, there was never a moment when the experiments with aesthetic languages stopped. Whether he enlarged or simplified forms to direct how meaning could be expressed, he would also obscure or even mock his own relationships to meaning. He alternatively performs between the role of Chen Zhou the filmmaker and Chen Zhou the artist – it is this casual attitude, which reinforces the aesthetic indeterminacy of his practice. Chen Zhou boldly uses the term 'hedonism' to describe the current stage of his work. To some extent, there are always certain things that impede the nourishment of an artwork. If hedonism is what Chen Zhou indulges in – what can we put in the straw hat to save and keep him grounded a little?
Applying the word 'exposure' for myself, the pressure of my role to perform increases with a split moment. In the imagination of people, between the artist and the curator there is no danger of going without an identifiable connection to bridge these separate roles. Inevitably, I have become implicated in Chen Zhou's predicaments. Under the pressure of this word, I view the non-presence of Chen Zhou as a 'delusion'. Even if the unbridgeable gap between Chen Zhou and myself could ever be reconciled, we can still give answers to our own individual hopes. Following on from these gradual step-by-step exchanges, we have initiated the beginning of a kind of 'return'. In other words, we have not continued in the direction that goes forward, but this time our biggest inspiration has been to accept the failures of our fantasies.
In Chen Zhou's film I am not not not Chen Zhou, he deliberately uses yellow as a dubious mock tribute to 'failure'. I am grateful for not appearing in the work and I am also glad to see a silent dialogue between the space of 'You' and 'I' – there are two twin brothers perform alternatively as Chen Zhou and his artist companions. Inexplicably and for no apparent reason, a soliloquy to oneself appears in the midst of the narrative movement. There are a plethora of ambivalent cues and teasers that still stubbornly subside. But undeniably, there is a suppression of aesthetics, which responds to the revelry of an expanding field of sociology. Following a return to the 'distance of origin' (Urdistanz) and by bringing to contact these blurry connections that take ideas of 'you' with remnants of the ego. This time, he seems to be compelled to embark on a 'reality trip' and this time he is seemingly destined to go on a detour.
About the exhibition
Duration: Apr. 18 – Jun. 16, 2013
Venue: Magician Space
Address: A 798 East R.d, 798 Art Zone No.2 Jiuxianqiao R.d, Chaoyang Dst, Beijing 100015
T +86 10 5840 5117 / 5978 9635
F +86 10 5978 9635
E info@magician-space.com
Courtesy of the artist and Magician Space, for further information please visit www.magician-space.com.
Related posts: