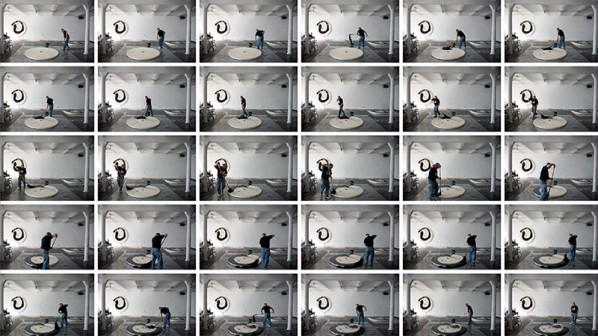 Hosted by the Department of Oil Painting, CAFA, Western Abstract Artist Lecture Series invited American abstract artist Max Gimblett to lecture at 18:00 on September 17, 2013. The lecture was presided over by Professor Xie Dongming, Head of the Department of Oil Painting and the School of Plastic Arts, Max Gimblett started from the theme of "color and abstract, by way of a combination of pictures and analysis" to share his paintings and creative states with the audience, answering the questions from the presented students of the Department of Oil Painting on issues related to abstract painting.
Born in 1938, Max Gimblett has the dual nationality from New Zealand and the USA, considered as one of the important abstract artists within American art circles, regarded as a "national treasure" artist from New Zealand. Max has travelled in Europe, India, Japan, Mexico and etc., and his art creations are greatly influenced by the oriental cultures of China and Japan, as well as Buddhist culture. Max Gimblett participated in the "Third Mind/ Thought" exhibition in the Guggenheim Museum in 2009, which was intent to showcase American artists, especially American abstract artists' thoughts on Asia.
Max Gimblett initially introduced his abstract works, including "Twenty-Five Feet" where Buddha heads were drawn on a quadrilateral canvas inlaid with gold foils; taking a mop as the media, by way of shouting loudly to draw an ever maximum sized abstract painting, which is eight feet high and six feet wide, in his studio; "Qomolangma (Mount Everest)", etc., Max is obsessed with Buddhism, his studio is filled with Eastern and Western elements everywhere. He believes that Eastern Zen and Western abstract painting are compatible and connected, but artists should "avoid thinking" in the process of painting, finish thinking before painting.
Subsequently, Max talked about his own unique painting of "four Fractional composition". In 1993, Max was inspired when he saw the "Trinity" in churches in the UK, he believed that "four in one" was our lives. Then Max showed several paintings entitled "four in one", produced according to the proportions of the human body; drawn according to the Japanese ukiyoe images; produced with the influence of Eastern landscape painting; and produced by borrowing splashy images. For artists, there is actually no difference between "abstract" and "concrete", because all the art forms are available for artists to use.
Talking about the influence of oriental culture, Max showed his abstract works produced with the use of Chinese brush and ink. Max said Chinese "black and white" culture was a very unique aesthetic which is gradually disappearing. He spoke frankly, the relationship between color and abstract had different meanings in different cultures. In different cultures, colors are assigned different meanings, while the changes of color give abstraction a wider space. Max stressed that, "We must find color out of life, emotion, painting with the use of feeling, as De Kooning said, painting with the use of 'the fifth sense', allowing sense to fall on paper instead of ahead of paper."
Max finally talked about the theory of Shi Tao: By transforming "one" into a state of fusion, everything in the world can be mastered. Max thought Shi Tao, an ancient Chinese artist is "the most contemporary" artist, and hoped that all in the present audience would read Shi Tao's "Discourse Record", which would benefit all people.
Q & A section:
Q: Today you have shown us your works, could you introduce your early works?
Max: When I was young, I had a very confusing period, I learned about many masters, within 15 years, I believe that, one artist should spend at least 15 years as an "apprentice" of masters. During that time, my paintings seemed to be painted by different people, because I didn't yet have the autonomy but I was located in the process of constantly learning from others, making my art at that time seemed to the synthesis of many trials. When I followed someone else's style, I believed it was the truth.
Q: In addition to abstract painting, have you ever tried any other style of painting?
Max: I initially painted abstract painting, and once spent one year and a half sketching and painting figures, as well as making a living by drawing children's portraits. I was still copying De Kooning's paintings when I was 35 years old, painting more than thirty sheets according to his style. It's painting that has only one way by painting in order to be successful, it certainly does not work by simply reading, except for copying and practice.
Q: How did abstract art get into the history of art?
Max: It's feasible for artists to get into the history of art and see trends from many points. When one tries to get into it from different points, he/ she will be "pushed out of it", coming to current times. Even if not everyone is going to become very important "dot" in the history of art, one will eventually become part of the history of art, even a small dot. The term of "abstraction" is very stupid and shallow, a pejorative word to describe a style of paintings by a journalist, when he saw them. As a Chinese artist, you should go to find a point which suits China, in order to go into the era and arts where you are located in.
Journalist: Yu Ya, Translated by Chen Peihu and edited by Sue/CAFA ART INFO
Related posts: