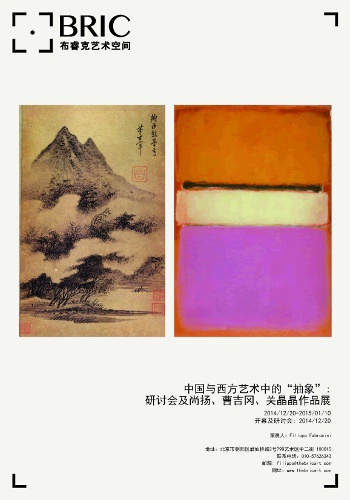 The BRIC Art Space will inaugurate its first cultural event, a workshop focused on a core concept in contemporary art, the notion of "abstract" in Chinese and Western art. The event will include as well an exhibition of works of three prominent and renowned Chinese contemporary artists: Shan Yang, Cao Jigang and Guan Jingjing. Both the panel discussion and the exhibition will be held at the BRIC Art Space.
The panel will look at the different philosophical traditions of abstraction in the Western and Eastern countries, explore the origins and the development of abstract art in those traditions, and the lingering influence of those traditions in contemporary art today. A number of selected art works from Shan Yang, Cao Jigang and Guan Jingjing will support and complement the discussion. The discussion will be chaired by Filippo Fabrocini, Art Director of the BRIC Art Space, and joined by: Mr. CAO Jigang (artist); Prof. CHEN Anying (Qinghua University); Prof. Darish W. Doust (Beijing Normal University); Ms. GUAN Jingjing (artist); Mr. GUO An (Director of Zhuzhong Museum); Prof. XIA Kejun (Renmin University).
As one of the newest established art centers in the 798 Art Zone, the BRIC Art Space aims to be a meeting point, a gathering space, open to anybody interested into artistic, cultural and spiritual topics. BRIC Art Space will focus its attention to art coming from the BRIC countries (Brazil, Russia, India, China), by keeping constantly one specific point of view: looking to the local from the global but as well looking to the global from the local. The panel about the notion of "abstraction" in contemporary art will be the first of a number of cultural and artistic events that the BRIC Art Space will organize during the next months. At the same time it will lay a solid foundation for the next coming events.
About the exhibition
Duration: 20 Dec 2014 – 10 Jan 2015
Venue: BRIC Art Space
Workshop time: 20 Dec 2014 Sat 14:30
Add: 798 Middle Second Street, Beijing
Courtesy of the artists and BRIC Art Space, for further information please visit www.thebricart.com.
Related posts: