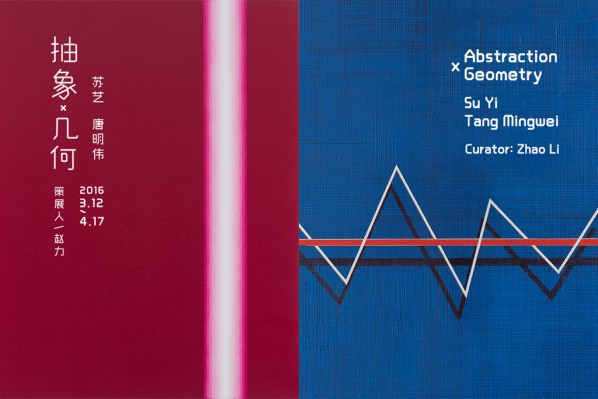 The Artist's Note – Su Yi
I go with such a way of expression as I first get involved in abstract way of artistic expression. I appreciate the freedom sense of this way on one hand, and I am fascinated with the boundaries of such a kind of freedom on the other.
My way of creation is to rationally observe the juxtaposition of line and plane and then combine the structure and color, pursuing a balanced aesthetics in view of plane space in a visual sense. Starting from researching on the relation between line and plane by evenly painting a certain color with a roller over the surface, at present I get used to painting with the roller layer by layer in hope of the halation-like delicacy of beauty generated from the varied thickness of materials. From start to finish, I insist on the way of creation of my own, expressing myself from the bottom of my heart. By continually observing the uncertainty and variety of the way of construction in my creating process, I spare no effort to properly present the uncertainty while creating artwork. This is why I am largely fascinated with the abstract way of expression.
In the process of creation, I never force myself to deliberately reflect on it, as a matter of fact, hopefully bit by bit I could appreciate the peace and joy that the creation itself delivers to me, and naturally perceive it all through creative practice.
The Artist's Note – Tang Mingwei
I would view my working as playing a game or making a performance. In this way, I have to set the rule in advance, I could play at will without breaking the rule. To be specific, my rule is that I have to build up a defined form by means of numerous horizontal and vertical lines, those lines are somewhat like a great number of a coordinates. Such an idea originates from how I print a black-and-white image. The grid pattern of the printer is too much a series of geometric coordinates, and the electric or mechanical error of the printing head results in an imperfect grid of the image, yet, such a kind of imperfection just conveys a unique sense of emotional expression. With such a definition, the geometric lines look clear and stable, in this way, a series of creations are followed, including disjunction, oppression, construction, bilateral elevation, and confusion of space. In a sense, the geometric lines are rather in a state of performance, thus, my mind just correlates with geometric lines and is visually expressed. Besides, the color highlights the consciousness, metaphorically, it is like a warrior with a mask or paint, color possibly doesn't help emphasize the fighter's power, it even weakens it, and however, this contributes to the liveliness of the theater, making it much like a performance.
About the exhibition
Curator: Zhao Li
Duration: Mar. 12 – Apr. 17, 2016
Venue: Asia Art Center Beijing
Courtesy of the artist and Asia Art Center Beijing, for further information please visit www.asiaartcenter.org.
Related posts: