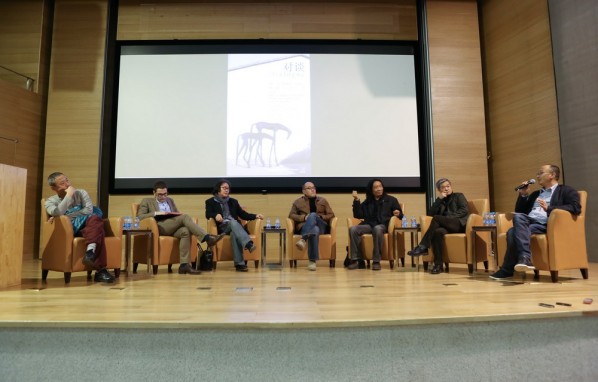 Hosted by the School of Plastic Arts, CAFA, a lecture named "Dialogue" was held at the Lecture Hall of CAFA Art Museum, at 2pm November 1st, 2012. The dialogue was presided over by Feng Boyi, curator, and Xu Bing, Vice-President of CAFA, Su Xinping, Director of Formative Arts, CAFA, Yu Fan, Associate Professor of the Department of Sculpture, CAFA, Chen Wenji, Professor of the Mural Department, Wang Yuping, Associate Professor of the Department of Oil Painting, CAFA, and Philip Tinari, Director of UCCA, had an in-depth discussion about the exhibition "On High: Works of Yu Fan" at CAFA Art Museum.
Academic Art: the Traditionalist Conservatism in the art ecology?
At the beginning of the dialogue, Feng Boyi highlighted the questions for the discussion. He said although he was not affiliated with any organization, he had curated for five academic artists participating in this dialogue, and he discovered that academic art was an interesting phenomenon in the process of communication with these artists. Academy had been considered to be the antithesis of contemporary art, a position for traditional conservatism, but not only teachers from academies, brought an integral academic atmosphere with their own variety of styles, but also the term "Contemporary Art" became integral to the academy. Then, what kind of position was the academic art in in a contemporary art context? What kind of relationship between academic art and non-academic art? What kinds of nutrients did today's academic art offer to contemporary art? The dialogue was performed around these issues.
Prof. Su Xinping was the first one to present, he pointed out that generally speaking students from colleges of art had a good academic foundation, however they shared the same thoughts and ideas of amazing consistency with each other when they graduated and worked as independent artists. The most important thing to an artist was to find his/her suitable way towards independent development. But a student polished by an academy often missed the independent systemic thinking.
Feng Boyi agreed with Prof. Su Xinping, he thought it was critical to find Chinese artists developing tracks in the same context as currently the case with most of them from academies. The majority were relatively independent, with an academic educational background, and they attempted to jump out into an active non-academic art ecology full of experiments. The minority preferred to stay and work in their college, and they chose a life far away from the hustle and bustle of contemporary art circles, persisting themselves, and elevating their own art to be pure.
Three artists: Art is Eternal when Environment is Changing
Following, Chen Wenji, Wang Yuping, Yu Fan, three artists successively nominated to the Central Academy of Fine Arts Annual Fine Arts Nomination Exhibitions from 2010 to 2012, expressed their views.
Firstly, Yu Fan, nominated artist this year, combed through for the reasons why he remained in the academy. He said, European Academicism (Classicism) was rebelled by Modernism in the 19th Century. At the beginning of the 20th Century, Postmodernism emerged and deconstructed Modernism, from then on, the art standard was missed, and art was hard to judge. Yu Fan said frankly, working in the academy made him discover that he was far away from the hustle and bustle of contemporary art circles, tracing back to classical methods of art exploration, and his mentality for art was more peaceful, even though his artistic road was less independent. On the other hand, contemporary art of endless speculation and packaging was the another reason that made him return to the academy, but he didn't think of it as an escape attitude, but intellectual thinking that led to jumping out of the impetuous after experiencing an artistic passion as a young man.
Then Wang Yuping briefly expressed his understanding of academic art. He quoted words by Zhong Acheng, "The art prior to Qin and Han Dynasties was given to Gods, the art after then was given to people." He believed that the art after Qin and Han was vulgar in the term of form, whether from an academy or not, but its internal touch made art works distribute vitality, and kept art eternal.
After hearing the former two teachers' views, Chen Wenji bluntly said: There was no academic spirit in Chinese academies." Firstly, he pointed out that the lack of modernism in China was the reason why modernism, which should be the criticism of contemporary art, transformed into academicism. And it was the reason why Chinese academic art and academic artists became a target for criticism. Therefore, Chinese academic art was badly in need of a support from an independent and growing spirit. At the same time, he pointed out that contemporary artists desire to succeed too much, which effects the purity of an art motive, and being manipulated by curators and critics, on the contrary, academic artists were relatively far away from so-called "Rules of the Game", compared with the purity in the artists' purpose.
External and Internal: the Visions by the Others and Self
After listening to three artists' speeches, Feng Boyi thought that, there were some hard problems to be solved between contemporary art and academic art, but which made a possible dialogue between both of them. Philip Tinari, Director of UCCA with the identity of a non-Chinese speaker, put forward his own views.
Philip Tinari argued that the relation between contemporary art and academic art was extremely subtle: academies were the bases of contemporary art and the original place for elite artists, and some large art districts (such as 798 Art District) were originally developed by teachers from the academy. And he gave an example, we could not declare which one was better between Wang Yidong's works and Zhang Xiaogang's, and in fact, it was a transformation from an academic spirit to a contemporary spirit, both of which were not opposites.
Xu Bing, Vice-President of CAFA, believes that the environment of an artist was extremely important. He pointed out what western countries focused on, Chinese art ecology: they had no ideas about why, under a background without any modernism experience in China, all the artists had a traditional educational mode, there were some outstanding contemporary artists emerging in China. In order to solve this contradiction, you must understand the Chinese context of the contemporary, an artist had to think about how to relate with the times they live in, based on how an artist should try to promote innovation in the artistic language. Therefore, different from contemporary artists, academic artists generally faced a dilemma: it was rather difficult to improve a traditional and advanced artistic language. So, a successful academic artist should seek a logical clue between "language and times", and handle the relation cleverly. Next, Yu Fan and Chen Wenji had supplemented Xu Bing's statement, they both believed that "contemporary" was elapsing, and artists should try to explain the world by their own methods, while maintaining the purity in art, keeping a distance with critics and curators.
At the end of the lecture, Feng Boyi joked that he was the only curator surrounded by artists, and felt "isolated", causing audiences to laugh. He mentioned that, in the complicated situation of contemporary art, most of artists chose to speculate and catered, but academic artists preferred going back to the ivory tower, building their own spiritual gardens. The reason why he accepted to be the curator of Central Academy of Fine Arts Annual Fine Arts Nomination Exhibitions 2012 was that he wanted to show audiences low-key academic art. Academic art in the context of contemporary art was not dead as we thought in a traditional way, and being a product of this era, academic art was still full of strong vitality.
Related posts: