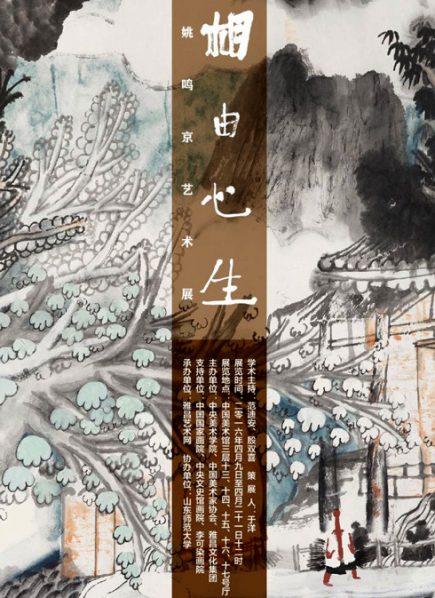 On the afternoon of April 9, 2016, "Appearances Formed by Thoughts: Yao Mingjing Art Exhibition" jointly organized by the China Central Academy of Fine Arts (abbr. CAFA), the Chinese Artists Association and the Artron Cultural Group was unveiled at the National Art Museum of China. It is curated by Associate Professor Yu Yang from the Central Academy of Fine Arts, with Fan Di'an, President of CAFA, Editor-in-chief of Art Research and renowned critic Yin Shuangxi serving as the academic hosts.
"Appearances Formed by Thoughts" is Vice Dean of CAFA Chinese Painting School Prof. Yao Mingjing's first solo exhibition at the National Art Museum of China since he engaged in art creations and higher art education 34 years ago. The selected works in this exhibition include over 80 of his representative works which are respectively exhibited in three parts, Creative Landscapes, Sketches and Zen Landscapes. In a systematic way, the exhibition intends to discuss Prof. Yao's academic explorations and achievements.
When talking about Prof. Yao's newest creation, Prof. Fan Di'an explained the artist's combination of a stream of sense with the spacial structure during his long term exploration of ink and wash, " he devotes himself to the integration of the East and West, Traditional and Modern art, the Natural and the Ideal. Yao has been inventive in both the spiritual content and the formal language in Chinese painting, as he created a visual schema that can be called a "Dreamy Landscape", which differs from both traditional landscape of hermits and the contemporary new literati painting and experimental ink and wash painting, constituting his own artistic outlook." Prof. Yao maintains the unification of the sensational brush and rational thoughts in a relaxed and compact tempo through the release of images.
At the opening ceremony, the academic host Yin Shuangxi started his talk with the simplicity of the curation, he thought that the exhibition corresponded to the features that traditional Chinese paintings emphasize with feelings and perceptions, which reflect the painting character and personality of Prof. Yao Mingjing. Imagination is the fundamental element of Prof. Yao's innovations and expansions. Chinese paintings have a solid foundation and Prof. Yao's innovation has based on it that lie in his treatment of sketching and imagination. As Prof. Yao Mingjing's works come from his practice in sketching and related experiences, they are not just reproductions of sketches, but he extracted his own imagination, appearances formed by thoughts while all appearances return to the heart. Therefore, Chinese painting represents the significant source of art development and Prof. Yao's creations avoid the repetitions of ancestors and himself. Divided in three parts, this exhibition reflects his innovations in the form of Chinese painting.
Curator Yu Yang expressed that, after over three years of preparation for this exhibition, they combined his romantic spirit of landscape and literati feelings, Zen mood which is epitomized as the rendering of the artist's mentality.
The exhibition will remain on view until April 21, 2016.
Text and Photo edited by Sue/CAFA ART INFO, the National Art Museum of China
Related posts: