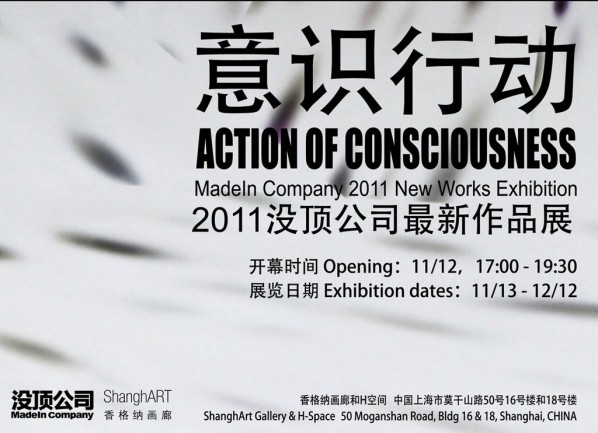 On November 12, 2011, MadeIn Company is going to initiate an exhibition titled "Action of Consciousness" at ShanghART Gallery. Gathering the new works by MadeIn Company in 2011, the opening of this exhibition will be accompanied by a catalogue.
In this exhibition, the company's artworks will be developed around the concept of "action". Since the first solo exhibition "Seeing One's Own Eyes, Contemporary Art from Middle East" in 2009, MadeIn Company always emphasizes on "action" as a method. At the beginning of the year 2011, MadeIn Company created a fitness exercise "Physique of Consciousness" gathering ritual movements and gestures related to spiritual beliefs. These thoughts and creations reflect this notion of "action", developed aside from artworks production.
In the recent series "Action of Consciousness", MadeIn Company innovated a new way of admiring artworks, extending the existence possibility of the "object", and redefining the rights of observing. Simultaneously, "Action of Consciousness" can be understood as the "ideology in action". MadeIn Company pointed out that in contemporary art "no matter how much is done it is never enough". In the continuous process of completing, transforming and redefining art, the "object" as an artwork and the "action" as consciousness become a new viewing content and challenge reality.
MadeIn Company was established in 2009 and exhibited in numerous international institutions, including Ullens Center Contemporary Art in Beijing, China; the Kunsthalle in Bern, Switzerland; Ikon Gallery in Birmingham, U.K.; S.M.A.K in Gent, Belgium,; Minsheng Art Museum in Shanghai, China; the 8th Shanghai Biennale and the Busan Biennale 2010, Korea.
About MadeIn Company:
MadeIn Company was created in 2009 by Chinese artist Xu Zhen, it is a contemporary art creation company, focused on the production of creativity, and devoted to the research of contemporary culture's infinite possibilities. This concept started to challenge and update standards in contemporary art creation model, collecting consuming system as well as authorship related issues. Therefore, judgment criteria of artworks built on individual basis have been broken. The question whether "using the model of a company to create something is still an artwork or not" became unimportant, the most meaningful and actual question has been brought out. Networks in art production such as: galleries, museums, curators and collectors working methods and relations are completely renewed, transcending usual reconfiguration.
Date: Nov 12, 2011 – Dec 12, 2011
Opening: Nov 12, 2011, 17:00, Saturday
Venue: ShanghART Gallery F Space (Shanghai, China)
ShanghART Gallery H Space (Shanghai, China)
Related posts: