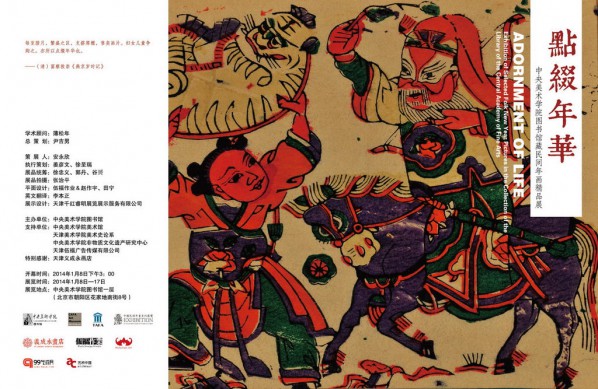 "Adornment of Life – Exhibition of Selected New Year Pictures of Folk Art in the Collection of the Library of CAFA" opened on the ground floor of the Library of CAFA on January 8 continuing to January 17, 2014.
The Library of CAFA has collected a large number of New Year Pictures of Folk Art, including the well-known locations of New Year Pictures, especially Tianjin Yangliuqing, Beijing, Henan Zhuxianzhen, Jiangsu Taohuawu, Fujian Zhangzhou, which account for the majority of the best quality of the collection. From of the collection, the exhibition selects more than 40 representative works, and is divided into six types according to the characteristics of the New Year Pictures, including: door-god pictures, historical and legendary stories, dramas, ladies and dolls, folk life, statues and paper horses.
Woodblock New Year pictures are one of the important featured collections of the Library of CAFA, they total of more than 4000, both the number of the collection and locations and themes are presented to create a splendid sight. In December 1995, Professors Tang Chi and Bo Songnian together with 120 selected works went to Bologna Italy for an exchange exhibition in December 1995 on behalf CAFA, and they were then invited to exhibit in Madrid Spain in 1997. Initially organized by the Library of CAFA, and opened to faculty members and students, and even enthusiasts and researchers of folk art, "Adornment of Life – Exhibition of Selected New Year Pictures of Folk Art in the Collection of the Library of CAFA" debuts in CAFA. At the same time, the special collections in the Library are for the first time presented in front of the readers and researchers in the form of exhibition.
As one of the major categories of folk art, New Year pictures once historically flourished,composed of extensive character and distinct regionalism. With the change of an era, folk New Year pictures of folk art gradually faded out fromlife, becoming an intangible cultural heritage in need of protection, however, its cultural value is more distinctively revealed. People with a breadth of vision have found that New Year pictures are an historical book recording a nation's image and containsrare images of data of history, folklore, sociology, and its unique value in the study of art history which is worthy of focus. When Chinese Lunar New Year arrives, these beautiful pictures will also adorn the life of the era.
Text and photo: Library of CAFA, translated by Chen Peihua and edited by Sue/CAFA ART INFO.
Related posts: