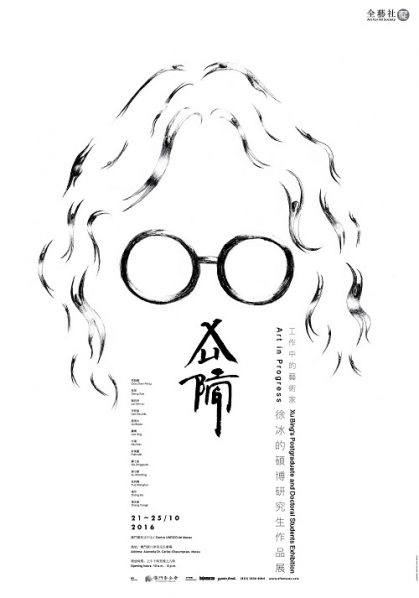 Preface
By Xu Bing
The exhibition, derived from 'Unspoken Understanding – Xu Bing's Postgraduate and Doctoral Students Exhibition', is voluntarily organised by my students. It focuses on displaying the track of thinking in the course of current students' creation by taking samples from their works, their notes and experiments in their creation in order to reflect the progression, sensitivity and vividness of these young artists.
It is fair to say that their works might not be mature and they still have a long artistic journey ahead. Neither can anybody nor art history reveal which path they should take, especially when the whole art sector does not have a standard perspective towards contemporary art, and that every individual in society is an independent case – this is exactly what motivates me and my students to go from strength to strength. A quote from the preface of the 'Unspoken Understanding' exhibition has revealed the essence of our works.
"The process of art creation is, after all, the contest between art and the artist's personality and will: the established artistic techniques and styles are all-powerful and textbooks have stated what good art should be; however, there lies the underlying feelings of individuals – 'This is what I am. Masters may have good syntax, but the message this syntax conveys is not what I want.' The difference could be slight, but sometimes the message entirely deforms. In our studies, we search from, compare, fuse and try the skills manifested in exhibitions, albums, on the Internet, and those of our classmates to check if any of these can match more ones innermost feelings. This is like purchasing shoes in the supermarket. If none of them fit properly, perhaps we shall restart the search through from the beginning of history of shoes – the age of straw sandals. Still it doesn't work. The logic of its development is so flawless and clear that loopholes are nowhere to be found. The only opportunity could lie in the age of bare feet. In fact, Buddha appeared where there are not any conceptions and prerequisites of 'shoes'. This statement is borrowed from the wisdom of Zen…
This is what we talk about when exchanging the idea of art creation with students.
"Art education leads to the elevation of learners' quality. I mentioned that throughout the process of teaching and learning, we are converted from crude to delicate, trained and skilled; not only do we know the methods, but we are discerning in acquiring the relations between the whole and the partial by experiencing every detail of a work and exchanging minor but subtle feelings. Whatever fields they are engaged in, students who receive such training will be equipped with the capability to penetrate, to include, and to digest various cultural phenomena as well as a skill to execute the ideas. It ultimately addresses the quality of the individual."
Consequently, I expect that they will achieve outstanding and creative results in any fields, regardless of whether they are engaged in arts in the future.
I would like to extend my gratitude to Macao Foundation, The UNESCO Centre of Macao and Art For All Society for their support and all those who contribute to the exhibition.
About the exhibition
Curators: Park Miri, Xu Xiaoding, Zhang Ke, Zhang Yongji
Dates: 2016.10.21–10.25
Artists: Gao Zhenpeng, Geng Xue, Lai Hsin-yu, Lee Deulnib, Liu Boda, Luo Jing, Niu Han, Park Miri, Xie Dingquan, Xu Xiaoding, Yue Xianghui, Zhang Ke, Zhang Yongji
Courtesy of the artists and AFA, for further information please visit www.afamacau.com.
Related posts: