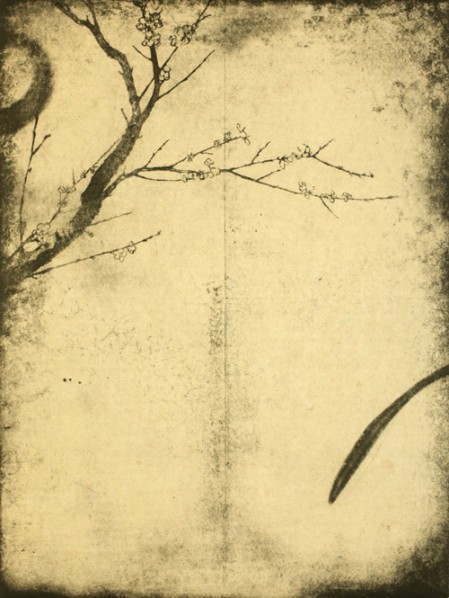 By James Chu, Curator
Macao, a small city of unique historical significance, served as the first transfer station for Western missionaries arriving in China at the end of the 15th Century. They brought the first batch of Western etchings, and gradually introduced the letterpress printing machine and lithography to Macao. After hundreds of years of development, Macao began to boast its own creative printmaking. There is no doubt that the serenity and profound knowledge evident in the works of James Wong, a leader of the local printmaking industry, demonstrate his cultivation of this printmaking learning period.
Soon after graduating from high school in the 1980s, James Wong went to Hong Kong and Tokyo to study design, printmaking, ceramics and visual arts psychology. In the early 1990s, he went to London to study printmaking and engaged in arts education and research. Based on what he said, the research and education experience in London greatly broadened his horizons, encouraging him to explore numerous new art ideas. In addition, the rigorous study in Tokyo steeled his persistence. Upon returning to Macao, he pursued art creation, teaching and writing, keeping to his own unique, calm art path.
Art reflects one's heart. The works of James Wong resemble his characteristics – quiet, poetic, and slightly sad with some ancient charm, telling stories light-heartedly and humorously. His works are in various forms, from printmaking to oil painting, sketching, illustration and sculpture. Printmaking and oil painting, however, are still his major creative media. In recent years, he has concentrated on the elements of traditional Chinese painting and calligraphy, portraying images such as flowers, grasses, insects and birds in his paintings. The retro colours and exquisite composition in his art works echo the characteristics of the literati. The small objects in the background and the strong colouring, are like the vestiges left following a storm or the patina of time.
Wong has held solo exhibitions in Macao, Tokyo, Belgium and Portugal among other places. The exhibition A Thousand Words – Works by James Wong is his first solo exhibition in Beijing. It showcases 27 paintings from various series such as Unfolded Story, A Little Winter Scene and Day Note, and include coloured etchings and acrylic paintings.
The symbols and hazy background in Unfolded Story make the works look like dusty old photos. These works freeze the most beautiful scene of a past memory – whether gain or loss, happiness or sorrow – all expressed in more than words. The blistering, lonely colour in Day Note is like recording the day and night of the artist. Although art creation sometimes triggers lonely feelings in artists it also enables artists to enjoy themselves during the process. It seems that artists prefer to draw all their soul experiences on paper rather than speaking about them. Each work is like a diary transmitting his thinking and recording his story of his artistic career, as if using thousands of words to express what is in his heart. Wong never stops pursuing art. His accumulated power, art journey and rich life experiences throughout the years, all transform into colourful and touching strokes that express the feelings of his works.
No matter bitter or sweet, a thousand words are presented in these yellowish paintings.
About the exhibition
Duration: 2013.01.19-03.31
Venue: AFA Beijing
Opening Hours: 11:00-18:00 (3/23-9/21), 10:30-17:30 (9/22-3/22) (Closed on Monday and Public Holiday)
Add: 706 North First Street,No.2 Jiuxianqiao Road,Chaoyang District, Beijing
By Bus: Take Bus 401, 402, 405, 445, 909, 955, 973, 988, 991 to Dashanzi
Tel: (8610)-59789625
Email: beijingafa@gmail.com
Courtesy of the artist and Art For All Society, for further information please visit www.afamacau.com.
Related posts: