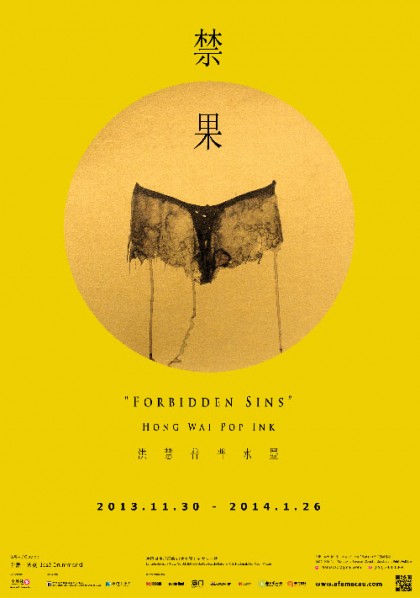 "Forbidden Sins" showcases a selection of paintings from "La Collection" and "Love and Peace" – two recent series of works from Hong Wai. The subjective matter of the two series creates a sensible relationship between feminine intimacy and some, always disturbing, firearms representations. It's interesting to note that while the lingerie seduces us the guns represented makes us smile cause they look like toys. That's possibly where the first link is established as both themes can be considered to exist on the playing ground. This relationship is then stitched together by the round paper surface where they were produced.
Nevertheless there's more to look at. One can feel that there is a willingness of the artist to seek new challenges, to embark on new directions with precision and conviction, and to build from a traditional media while remaining up-to-date. It is clear that there is a specific engagement with a contemporary expression and a contemporary content as the elements of the series are being displaced from their own initial function and are presented by means of painting with unexpected hybrid cultural dichotomies.
This dual side of culture is something that Hong Wai knows well – being a Chinese woman living in France – and is further validated by a mixed artistic expression. A fusion that is found by the way she blends the themes and objects portrayed with the transient flow of the black ink, calling up our attention to the traditions of Chinese painting, while exploring a pop perception. This action of reusing and adapting two apparently different worlds is made stronger by the way her particular narrative with specific repetitions and fragmented iconography of hope and love is incorporated on each piece.
Sexuality and violence, both elements of dominance and complex contemporary issues, are carefully combined in an attractive way. One could say that there is a compulsive confrontation with the reality of sex consumption and the decline of violence and there is a message of love and temptation. It is for us to grasp this human obsession on understanding both, lingerie and firearms, as weapons of desire.
"Forbidden Sins" could be an intellectual erotic thriller or a sordid film noir but it is richer in content, which does not immediately yield its secrets but nonetheless remains very accessible.
About the exhibition
Opening Hours: Mon – Sat 12:00-19:00 (Closed on Sunday and Public Holiday)
Tel: 853-28366064
Add: 10th Floor, Edificio da Fabrica de Baterias N.E. National, Estrada da Areia Preta No. 52, Macau
Courtesy of the artist and Art for All Society, for further information please visit www.afamacau.com.
Related posts: