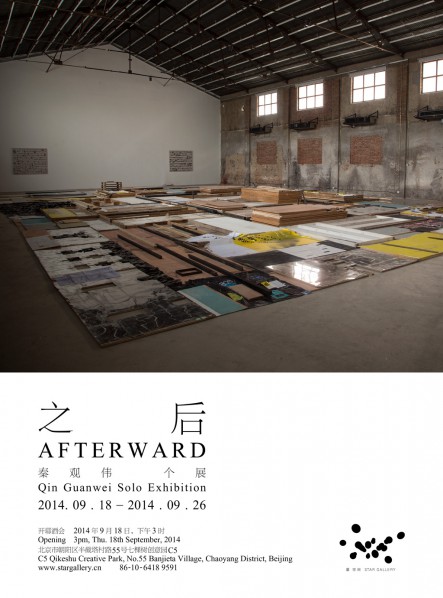 From September 18 to September 26, 2014, "Afterward: Qin Guanwei Solo Exhibition" was held at the Star Gallery. It is the first time for Qin Guanwei to hold a solo exhibition at the Star Gallery, and he presented his latest three works, "Surprise", "Puffiness" and "Afterward".
About the "Afterward"
These works were originally diverted from thinking about the boundaries of "art". It is an old topic to define whether an item is art or not, so I hope through the work and exhibition to explore the so-called "rule", to cause a review of all the rules, I place the raw ready-made objects in front of audiences, so the audiences could find the answer about this topic themselves.
Most of the "unclaimed keys and locks" can't be used any more. But many people would like to keep them all the year round, so that these useless things are "collected", which gives them a new "function". I am also this kind of collector, stubbornly and properly keeping them, moving from one place to another. In the work "surprise" (2014), it presents a large number of dazzling "collections" by my friends and me, and through this, we experience a collective psychological treatment.
Medicine Instruction is like a dictionary or "Bible", with the feature of a "reference book", it is a descriptive and practical text, but its effectiveness is not as "eternal" as "classic". I apply a casual way to combine them, and entitle these series of "books" as "Puffiness", hoping the audiences will review the "true" things. (See "Puffiness", 2014)
Exhibitions and galleries are places or institutions which relate to the "definition" of art, in contemporary exhibitions, some temporary scenarios or one-time locations, where they use artworks which are built for "project art" or "conceptual art", when the show is ended, what is the fate of these items? Whenever I see the large amount of materials which are discarded I have a feeling of compassion, so that after the end of CAFA Biennale, I keep the "garbage", and put them in the exhibition hall again, hoping to know what the audiences think of it. (See "Afterward", 2014)
Qin Guanwei
Text and photo by Star Gallery, translated by Chen Peihua and edited by Sue/CAFA ART INFO.
Related posts: