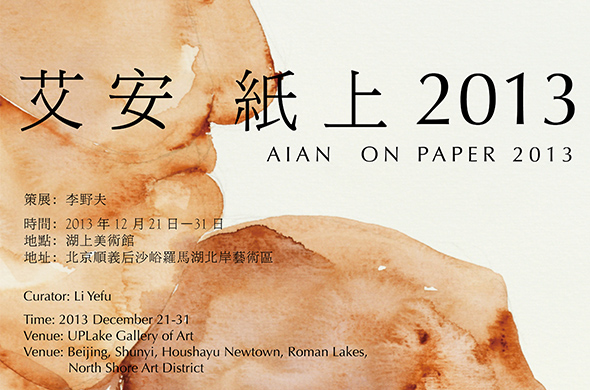 "Ai An: On Paper 2013" opened at UPLake Gallery of Art on December 21 continuing to December 31, 2013. It showcases his latest works of watercolour nudes, which is clearly alienated from earlier works "The Silent City", not a slightest trace of overlooking "sky" like sleepwalking, but a return of the paper, stretched, rambling-like, unfolding a roam on paper using watercolors.
Ai An is enthusiastic and overcritical in dealing with the language and control of water, thus it renders the extremely subtle effect of skin on water, he uses a monochromatic effect to create a sense that looking at it in a close quarter and impulsively – touching and sensual, traditional and modern is indistinctly interwoven in the bodies.
In these bodies of watercolor, we can see that Ai An tries to reduce the complexity of the painting, making it more sincere, simple, natural and smooth, which may be more explicitly expressed in his pious heart when staying alone as an artist.
Like playing a game, Ai An expresses the inner freedom and happiness in a painting. Dreamily swinging in between the figurative and abstract he creates a unique artistic language.
No one can escape the social change and alienation of human nature. Good artists are the sun, and record the changes of society and human nature, while they are covered with thorns. Ai An is one of them. No matter how impetuous the era is, he always patiently works and continues to discover.
Translated by Chen Peihua and edited by Sue/CAFA ART INFO.
Related posts: