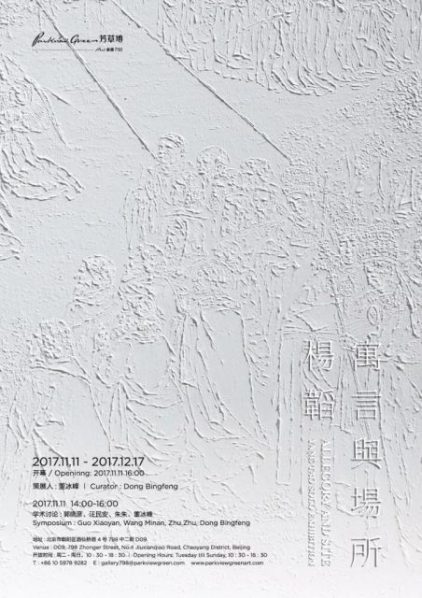 Yang Tao's contemporary art work over a dozen years is characterized with diversity and multiple meanings in terms of both theme and form. On one hand, he is able to make creative use of painting, moving image, animation, conceptual sculpture, installation and some other media to lend the minclusiveness and openness, and on the other hand, the creativity can actually be attributed to the artist's adventurousness and experimental quality: practice in "integral art" on the basis of social scene that connects the individual with the group, single art works with large-scale public art projects.
Over the past dozen years, contemporary art has undoubtedly shifted from something marginal to the center piece in the Chinese art scene, in terms of both research and market, particularly after 2000 when contemporary art got legitimated. In contrast to "experimental art" in the 1990s, artists in the new era know better the structure of art in China, and even their reflections and the interaction between art and society become part of the motif in their practice. In brief, artists cannot afford to remain aloof from the accelerated social reality, and rather, they have to be an active part of the social progress — in the name of artistic expression. Such deep understanding of social conflicts and cultural complexities obviously constitute the basis of Yang Tao's art. His works at this exhibition mainly consist of artistically processed images or pictures we are quite familiar with in art history, like "The Last Supper", "Ghent Altarpiece", "Buddha of Medicine   Bhaishajyaguru", and symbolic codes in religion orideology, like constructions for political purpose in China. Some artistic intervention or deliberate semantic dislocation, however, leads to big changes and defamiliarization, transforming these images or pictures into something both familiar and surprising, like projection of the grotesque social landscape in contemporary China.
On one hand, "Allegory and Site", as title, corresponds to the three series featured in this exhibition, that is, paintings, sculptures and public art projects, because of their radicalism in reshaping classics and their symbolic vocabulary of contemporary allegory; on the other, there is a tricky connection among the three series, like the symbolic conversion in "dialogue" and form between painting and sculpture, as well as the spatial correspondence between sculpture and public art projects. "Allegory" here means expression and concretization of the metaphysical dimension of the site and the exhibition space, whereas "place" or "site", becomes a vehicle and target of the allegory.
This exhibition "Allegory and Site" serves as a review of Yang's art midway thorough his career and also marks the beginning of an important transition. Active dialogues between the individual and the public space, as well as social issues, run through his art. As shown in these works of art, the artist has clear awareness of active public participation and experimental creation instead of closing in on himself. While trying to approach Yang's experimental and challenging public art projects, we might wonder what kind of art can keep up with the time or what kind of locus or communication system should contemporary art adopt. It is the undiscovered and heterogeneous dimension of Yang's works that invites us to review the imagination and futurity involved in our present practice in art.
About the exhibition
Curator: Dong Bingfeng
Dates: Nov 11, 2017 — Dec 16, 2017
Venue: Parkview Green Art
Address: D09, 798 Zhonger Street, No.4 Jiuxianqiao Road, Chaoyang District, Beijing
Courtesy of the artist and Parkview Green Art, for further information please visit www.parkviewgreenart.com.
Related posts: